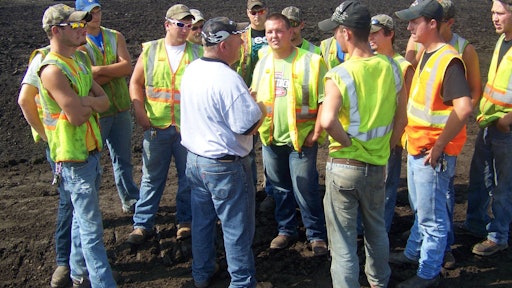 Leica Geosystems has entered into a multifaceted partnership with Northwest Iowa Community College, located in Sheldon, IA, in which Leica Geosystems has donated a PowerGrade 3D machine control system for use in the NCC Heavy Equipment program. Nick Guadagnoli, Product Marketing Manager, North American Leica Geosystems Machine Control Division, says, "Leica Geosystems is proud to partner with NCC to give students the opportunity to develop crucial experience with machine control technology, which will enable them to seek job opportunities with contractors confidently after they graduate."
The Leica Geosystems PowerGrade 3D machine control system, installed in the program's John Deere 670D grader, works in tandem with a Leica Geosystems PowerBox GNSS base station donated by Titan Machinery - a dealer of CASE equipment and Leica Geosystems machine control technology. In addition, Leica Geosystems will be donating a PowerGrade 3D Touch Screen GPS global positioning and guidance system to assist students with developing critical skills for entering a challenging job market.
Roger Solberg, lead instructor for the NCC Heavy Equipment program, says, "We are excited to be able to use state-of-the-art machine control technology provided by Leica Geosystems to train our students, and hope that in the future every piece of NCC's equipment can be upgraded to have this type of technology."
Guadagnoli adds that Leica Geosystems will be exploring ways that NCC can serve as a new product development and testing site as well as for training of Leica Geosystems employees and customers.