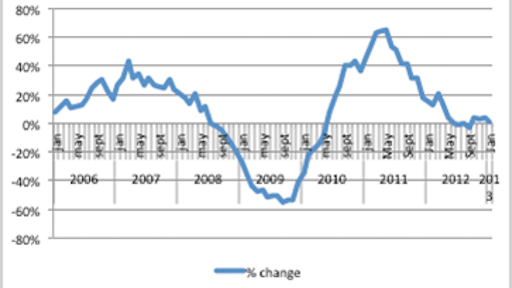 The good news is that the 2012 European equipment market was up 37% compared with 2009, which was the worst year in many decades. Retail sales in 2009 of slightly more than 78,000 units were down 60% compared with the 2007 peak. Since 2007, the market has been crawling back with gains of 13% in 2010 and a gain of 14% in 2011 compared with 2010. The growth rate is expected to slow to just 2.8% in 2014 versus 2012 and improve slightly by approximately 3.8% in 2014. We expect the market to remain below the 2007 peak of slightly less than 200,000 units for at least the next five years.
The forecast is based on slow economic growth expected in most of the European countries. The traditional economic powerhouse economies of Germany, France, Italy and the U.K. are all coming off disappointing years. Italy has been in a deep recession. We expect negative GDP growth there again in 2013.
The German economy slowed dramatically in 2012 and barely remained in positive territory during 2012. We expect positive growth in 2013 of 0.8% and acceleration to 2% in 2014 that is far below the 3 to 4% at the beginning of the decade. The German Construction Equipment and Building Material Machinery association said that construction activity actually decreased by 1% compared with 2011. According to the association, 2013 will not see any peaks. However, there is optimism among manufacturers who are participating in bauma 2013 in Munich, Germany, April 15 to 21. The event, which takes place every three years, has always been a business trend barometer for the coming year for many manufacturers.
The U.K. slipped back into a recession in 2012. Moody's (an essential component of the global capital markets providing credit ratings, research, tools and analysis that contribute to transparent and integrated financial markets) just downgraded the U.K.'s domestic- and foreign-currency government bond ratings by one notch based on its high debt burden and its view that the country is faced with a period of sluggish growth which Moody's expects will extend into the second half of the decade, as well.
Generally the northern countries of the Euro region have fared better than the southern countries. Spain, Portugal and Italy are the laggards. Interestingly little has been mentioned recently about Greece. The European Central Bank was lurching from crisis to crisis with Greek debt last year. Perhaps debt markets have become inoculated to the news by now and are looking at positive signs of growth beyond the next year or two.
We estimate that product markets will grow in 2013 by approximately 2.8%. The articulated truck, wheeled excavator and backhoe loader markets are expected to improve the most due to expected improvements in housing markets. The crawler excavator and mini excavator markets are expected to remain at relatively high levels. We expect very low growth rates in the wheel loader and rigid frame truck markets due to low demand in the mining and mineral extraction sector.
Fourth quarter results have been announced by a number of publicly traded manufacturers that report their sales by region. Volvo reported that its fourth quarter revenues in total were down 7%, but revenues in its European region dropped slightly more than 20%. Caterpillar reports a monthly survey of its dealers. The data is the average of three months. The January report—the average of January, December and November—indicated that its dealer sales in Europe, Africa and Middle East were up 1%. The percent change began trending downward in early 2012 and was been essentially flat for the last three quarters of the year.
We expect a continuing positive trend for 2014 with retail unit sales improving 3.8%. Our optimism for a continued positive trend is based on statements by most European manufacturers that they expect equipment owners in the region to begin updating their fleets. For example, in a statement from Haulotte management "Despite the European economic environment remaining difficult, the need for fleet renewal in Europe and the positive orientation of the emerging markets in which we operate support the business outlook for this year and should allow Haulotte Group to show growth of around 10% of sales in 2013."
Our machinery growth forecast is based on estimates by most economists and government officials of whom say that the worst news is behind us and normal growth will begin by at least the second half of 2014.