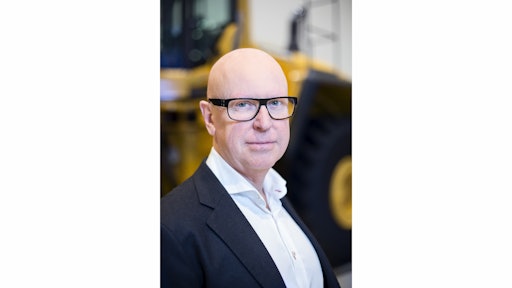 responses by Anders P. Larsson, Executive Vice President of Volvo CE's Technology function
[CONSOLIDATION] Now that Tier 4 Final is underway, many companies' engineering resources have been freed up to refocus on developing new products instead of refining existing products to meet regulatory expectations. Have you seen this refocusing? What does this mean for future equipment designs and advanced system development?
With Tier 4 Final machines launched, the resources and budget allocated to these projects have been freed up allowing our engineering focus to shift away from emission compliance and back to customer-focused R&D. The Tier 4 Final legislation brought a great benefit to society as a whole and now we have achieved this we can refocus our efforts on introducing new features that benefit our customers. In the Technology function we have a long wish list of things we want to do now.
[TECH OF THE FUTURE] What current technologies have the most potential for future gains?
Volvo Construction Equipment (Volvo CE) is working on technology to support the following focus areas which we believe represent the future of the industry. This vision has the potential to drastically reduce the cost of machine usage and increase safety in hazardous environments. Reaching forward and working on futuristic technology drives the development of new innovations which support short and mid-term developments before it's possible to realize the ultimate goal much further down the line.
Zero unplanned stops: A world without machine breakdowns where equipment can predict and plan its own maintenance – making unplanned stops a thing of the past.
Zero accidents: With pioneering safety innovations machines could instinctively avoid accidents – creating a completely safe working environment.
Intelligent machines: From active safety to fully autonomous machines that do the work for you – even without you – increased machine intelligence will bring numerous advantages. A Volvo research project has already devised a wheel loader and an excavator that can demonstrate simple loading and digging tasks without an operator on board. This technology may still be decades away from production but the progress being made is exciting. In the future we will see systems that detect obstacles and humans in the vicinity of the machine. This technology will not only help to avoid collisions but also facilitate an efficient flow of equipment. Volvo has set itself the target of reducing accidents relating to its equipment to zero and future technology like machine-to-machine communication (where machines 'talk' to one another and to a central control point) will play a major part in achieving this ambition.
10x higher efficiency: The electrification of construction equipment will produce cleaner, quieter and more efficient machines. Together with site optimization, this will reduce energy consumption to a fraction of today's requirements.
Zero emissions: Zero emission machines and fuel for life solutions will make businesses environmentally sustainable.
Total business solutions: All machines, products and services will be tailored to the specific needs of the customer, providing a completely integrated business solution.
[TECH OF THE FUTURE] Where is the heavy-duty vehicle industry lagging technologically?
Generally speaking, the automotive industry leads the way in terms of new technology and then we see developments in trucks followed by construction equipment. If you look at cars there's a lot of interesting technology that we don't have yet today in the construction industry. For example, technology related to connectivity, electronics and software. There is still a lot more that can be done in our industry to improve fuel efficiency. But construction equipment brings added complexity and each machine is very different – an excavator uses approximately 95% hydraulic effort and 5% propulsion while an articulated hauler is about 90% propulsion and 10% hydraulics and a wheel loader uses an equal mix of both. This means we need to look at both propulsion and hydraulics as well as how they are connected in order to further optimize fuel consumption.
[TECH OF THE FUTURE] What technology breakthroughs would help to propel mobile off-road vehicles ahead?
Volvo CE is investigating and developing many different avenues of future technology that will contribute to increased machine performance, efficiency and safety. There are a lot of technology trends at the moment from hybrids to CVT and electrification. The big question for us is 'will it add value for our customers?' Every technology option comes with a price tag so it needs to offer a benefit that outweighs the increased product cost, such as fuel efficiency. For example, currently hybrid machines are an expensive solution. Today, if you compare fuel savings to the extra cost of a hybrid excavator you'll see that it's very difficult to achieve a return on your investment. One way of reducing the cost of a hybrid machine is through creating economies of scale. But while the market hasn't yet fully accepted this technology and we haven't seen any major breakthroughs in terms of volume, this isn't possible. In some countries, such as Japan, there are government subsidies offered which allow the customer to earn a return on their investment in a shorter amount of time. At Volvo CE we do not want our customers to rely on subsidies to achieve payback on their investment. Using CVT in construction equipment will require a big investment in terms of time, money and the manufacturing equipment needed. From a pure technology stand point, it's not rocket science anymore but it doesn't mean we should make a half-hearted decision. Technology moves so quickly it's important to look to the future and consider what areas you want to invest in.
[CHALLENGES] What new challenges have arisen that effect how you design and manufacture your product, how you do business and/or how you go to market?
Machines are becoming increasingly more customized for specific market and customer needs. This means that we need to work to minimize complexity and manufacture our products in a smart way – for example with modularization and standardized sub-systems. This will speed up the development process and increase quality, because components are used and tested in different applications. However, at Volvo CE it is definitely not a case of 'one size fits all', we have different products tailored and adapted for different markets to ensure we satisfy all our customers' needs. Our L105 wheel loader – developed specifically for emerging markets – is a good example of this. The engineers at our Jinan Technology Center in Shangdong province, China, specifically focus on developing products and components for customers in emerging markets. At Volvo we believe that it is vital to have a design and manufacturing presence where the machines are used. It gives us a greater understanding of our customers and their needs – and that's a big advantage in today's highly competitive global marketplace.
[CLIMATE] Have you seen extreme temperature and weather conditions affect the performance expectations of off-road equipment? If so, how?
At Volvo CE we design and build our machines to perform in the toughest conditions – from sub-zero temperatures to the scorching heat as well as at high and low altitudes. As the machines are already tested and validated in these conditions, extreme weather has not had an effect on our equipment.
[CONSOLIDATION] Have you seen an increase in industry consolidation through mergers and acquisitions this year over previous years? If yes, to what do you attribute this trend?
Although we have seen some acquisitions recently – such as Volvo CE taking ownership of the rigid and articulated hauler business from Terex – I wouldn't say we are seeing an increase no, it's fairly stable. However, an economic downturn normally creates the need for consolidation so with the current slow-down in the Chinese market it will be interesting to see if there is a consolidation of Chinese equipment manufacturers.
[CONSOLIDATION] What positive or negative effect has the industry's trend toward consolidation and system co-development had on your business model and how you evaluate new projects and opportunities?
Developing new technology and components is increasingly expensive so one positive effect is that it allows you to look for synergies where you can add value both relating to technology as well as processes and systems. If you have components or subsystems that don't differentiate the two brands then you can make use of economies of scale and pass that saving onto your customers. For example, following our strategic acquisition of Terex, the company now has the strength of the Volvo Group behind it and all the benefits this brings for knowledge and technology sharing.