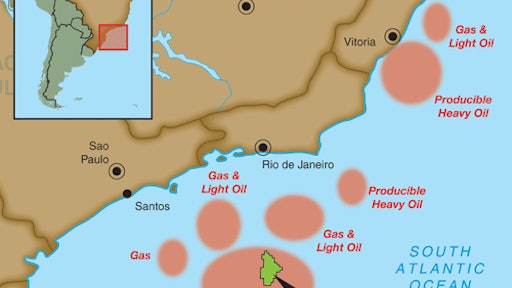 During INTERMAT, I decided to attend the Brazil Construction Market information session. Since last INTERMAT's foreign sessions had translators, I was surprised to walk in to a session in complete Portuguese translated only to French. I know Spanish and enough French to be dangerous, so it was a fun game to see if I was following their train of thought compared with the English words on the slide presentation.
The presentation was put on by Sobratema - the Brazilian Association of Technology for Equipment and Maintenance, and covered the time frame from 2011 to 2016.
Brazil makes up about 3.5 - 4.0% of the world wide construction equipment market, but about 40% of the overall Latin American market. Of the new equipment demands in the country, it is estimated that 70 - 80% is for construction equipment, 10 - 15% is for mining equipment and only 5 - 10% for agricultural equipment.
Most of the local OEMs (meaning they have manufacturing facilities in Brazil, not just distribution or support centers) have expanded over the last three years, including more factory locations, and OEM product importers have also recently announced factory expansions in the area. The number of new factories in 2011 and 2012 leads Sobratema to believe that by 2013, Brazil's import market will decrease.
Related News on expansions in Brazil:
Abimaq and Sobratema are currently in discussions with the Brazilian government in order to come to an agreement on equipment standard norms to allow for easier regulation development and requirements.
Positive projections through 2016
The fleets of construction equipment in Brazil are generally new with about 57% of equipment less than 5 years old. This can mean that new equipment purchases may be lower than expected with the anticipated infrastructure boom over the course of the next four years due to the 2014 FIFA World Cup Brazil and 2016 Olympic Games being held in Rio de Janeiro.
Click here to read related news: Work advances on the World Cup opening game stadium
Projects already underway or planned for the next four years include upgrades and new stadiums for the World Cup; 13 airport expansion or upgrade projects (worth an estimated $3.7 billion); transportation infrastructure development for improved urban mobility to accommodate the mass population influx during the games; an additional 17,000 hotel rooms; upgrades and enhancements to the Olympic Games four venues; and an estimated $11 billion in other infrastructure and transportation projects.
Click here for a picture of the planned Rio Olympic Park.
Other major investments in Brazil's economy include an opportunity in sub-salt petroleum energy with a planned $111 billion investment by 2020. The energy source can be found approximately 300 km off the cost of Rio and Sao Paolo, and is suggested to contain around 50 - 80 billion gallons of the fuel. A noted 37 deep water rigs are already under construction for the extraction.
More information on Brazil and subsalt petroleum energy: