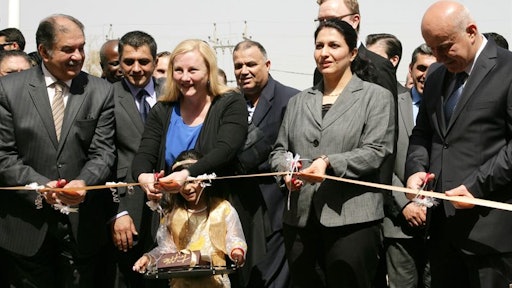 Sweden's Minister for Trade, Ewa Björling and ministers of the Kurdistan Regional Government inaugurated the Swedish Transport Academy in Erbil, northern Iraq. The training is targeted at young unemployed Iraqis with a secondary school background and offers occupational skills demanded in the transport sector. The establishment of the school is the result of close cooperation between Scania, the Swedish International Development Cooperation Agency (Sida), the United Nations, EF Education First and the Kurdish Regional Government's Ministry of Labour and Social Affairs.
The Swedish Transport Academy opened in early April, when almost one hundred young Iraqis commenced their training in three different courses – information technology (IT), English and basic mechanics. Later this year, the Academy plans to expand its activities to include courses in advanced mechanics, driver training and also in sales and marketing.
"The school will serve as an important base for recruitment of the employees needed for the continued expansion of our service and sales units in the country," says Gustaf Sundell, who is Scania's Country Manager for Iraq.
The establishment of the Swedish Transport Academy was made possible through financial assistance from Sida, which is investing SEK 20 million over a four-year period. The operations are supervised by the UN's development organization UNIDO together with the Kurdish Regional Government's Ministry of Labour and Social Affairs, which is also providing premises and paying part of the personnel costs. Scania is contributing certified teachers and equipment for the training of service technicians, while EF Education First will be providing free access to its online English language school.
"Sida's task is to help reduce poverty in our partner countries. Creating jobs and sought-after skills is tremendously important for stability and growth in conflict-stricken countries. It is gratifying that we have found a way for Swedish development assistance and companies to collaborate where we have common interests – it will offer so much more development for money," says Henrik Riby, Coordinator, Business for Development at Sida.
"This investment in training is a good model for cooperation between business and the public sector which should be interesting for more Swedish companies. Scania is already conducting discussions with Sida and UNIDO about the prospect of similar cooperation in other developing countries," concludes Sundell.