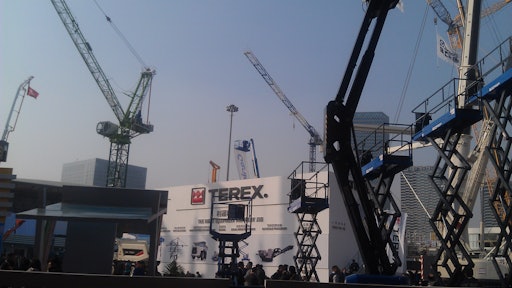 China continues to amaze me. Despite the so-called economic slump, the place is still bustling with activity.
The 2012 bauma China show authority reported the show, which was held at the Shanghai New International Expo Centre from November 27 to 30, had attendance of approximately 180,000 visitors, up 15.6% compared to the 2010 show. There were 2,178 exhibitors, up 46% compared with the previous show which filled up 300,000 square meters (3.2 million square feet) of space—also a record, up 30%. For comparison purposes, the 2010 CONEXPO-CON/AGG show space was 2.3 million square feet. Chinese companies accounted for two thirds of the exhibitors.
The 2012 China market for hydraulic excavators is expected to be about 130,000 units. The only problem is manufacturers have been producing at a 200,000 unit annual rate. The result is an estimated 70,000 new or nearly new excavators that are unsold or reposed, owned by manufacturers, dealers and banks. Let's call it inventory for lack of a better word. That inventory will have to be sold off before manufacturers will be able to sell more units. Most but not all manufacturers have kept producing. That inventory overhang could mean producers won't build much of anything new during the first half of 2013.
Everyone, including the manufacturers, are saying the industry is due for a consolidation. There are too many producers within a market that will eventually stabilize lower than recent sales levels indicate. But the city, provincial and central China governments want companies to create jobs, not reduce them. There were rumors at the show that many manufacturers were given outright grants (some as large as one billion RMB, about $600 million) to continue their business. For example the province of Anhui gave grants to the Chery Automobile Co., Ltd. that Chery used to start up a new line of pretty good looking excavators, tractor loader backhoes and on-highway trucks. Chery launched the products at bauma China.
Chinese companies have not experienced a slowdown before. They are reducing labor costs by reducing employees' salaries rather than outright layoffs.
The Chinese government's 12th five-year plan calls for the country to reduce its reliance on foreign manufacturers for mining equipment. China generates approximately 67% of its electricity from coal as well as uses it to heat homes and commercial kitchens. Most of the coal comes from China's own mines. In addition, the country has greatly increased the amount of coal it imports especially since the decline in coal prices started this year in the U.S. and Australia.
Sany and XCMG both displayed new entries to the electric mining truck business, both rated at 400 metric tons capacity. The Sany unit is equipment with GE electric wheel motors while the XCMG is equipped with train locomotive motors built by XCMG Railway Equipment Co. Ltd., a sister company that XCMG controls.
Crane capacity wars
The gloves were definitely off when it came to large lift cranes. Zoomlion featured a 2,000 ton hydraulic all terrain crane with 12 axles. Sany featured a 3,600 ton crawler mounted lattice boom crane with twin booms front and rear, a total of four booms.
Many people were discussing a recent news item in the China Daily newspaper that the Sany Group would move its headquarters from Changsha (the capital of the Hunan Province) to Beijing. The newspaper was unable to get any official confirmation for its story, but everyone at bauma China was speculating what impact it would have on Changsha if the story is true. Changsha is also the home of the headquarters for Zoomlion and Sunward.
If true, it would cause a major void in the Changsha economy which is in a rivalry with Xuzhou, in the Jiangsu province, for the right to be named the "Peoria of China." The headquarters relocation appeared to coincide with the possible appointment of the company's founder and chairman Liang Wengen to one of the communist party's major decision-making committees. If his appointment is approved, relocating his company to Beijing would put him closer to the central government headquarters, also in Beijing. Speculation is that of Sany's four core businesses located in Changsha - cranes, road construction machinery, port machinery and concrete pumps - only the pump business would remain in Changsha with all three others moving to Beijing.
I visited Caterpillar's remanufacturing facility south of Shanghai. The facility was established in a building provided to the company by the Chinese government. The property is in an economic development zone where the government has built a series of heavy-duty industrial buildings in the hope of attracting manufacturers and jobs to the area. The facility occupies one building but the company has secured the rights to another that is directly across the street from the occupied building. Two other western companies have their names on buildings, Atlas Copco and Dover Corp.
Cat Reman is processing used cores of 6,000 different parts. The cores are shipped almost entirely from North America to a Caterpillar facility in Singapore where they are given an initial cleaning as the Chinese government will not allow the importation of ordinary used parts. Once repaired and reconditioned, the remanufactured parts that receive new serial numbers are then sent back to North America and sold through the company's normal dealer network. The expectation is that the parts remanufactured in that facility eventually will remain in the company's Asia/Pacific region.
The Chinese have an aversion to buying anything used even though the reman parts are like new and carry new warranties. Caterpillar is hoping to change the Chinese perception of its reman parts—and reman machines for that matter. Moreover, I was told that the Chinese prefer to use their machines until they fall apart which limits the number of cores that could be sourced from China and put into the remanufacturing process.
I had a one-on-one meeting with Ed Rapp, a Caterpillar Group President who has recently been put in charge of the company's Construction Industries business worldwide, replacing Rich Lavin who is retiring. Rapp is relocating his office from Hong Kong to Singapore. Singapore always has been the location of Caterpillar's Asia/Pacific regional office. Rapp wants the company's China employees to look to his newly appointed China Country Vice President Qihua Chen for decision-making. Chen was General Manger of Caterpillar (Xuzhou) Limited. Chen will take on his new beginning in 2013 and will be headquartered in Hong Kong. Rapp pointed out that one-third of Caterpillar's employees worldwide are located in the Asia/Pacific region, so it is appropriate that he should have his office in Singapore.
Rapp believes that Caterpillar's strategy to engage Chinese competitors will work best if the company competes with them in their home market. Caterpillar plans to continue selling its products through its traditional dealer network despite the relatively low machine population levels achieved so far in China. He believes that the breadth of the Caterpillar product line—construction machinery, mining machinery, power generation equipment and engines—will eventually provide their dealers with ample profit opportunities. Furthermore, the Chinese government's push to urbanize its population will benefit Caterpillar's Building Construction Product (BCP) line of small- and medium-sized products for the urban market. He says that BCP could also mean Big City Products.
In remarks he made at a general press conference, Rapp reiterated his company's commitment to the China market and to the 15,000 employees who work in 22 facilities there.
More news at bauma China 2012
Ritchie Bros. Auctioneers received approval from the Chinese government to form a Wholly Owned Foreign Enterprise—the first auction company in China to ever achieve this status. The company is preparing to hold its first unreserved public auction at the Beijing Tianzhu Free Trade Zone during the Spring of 2013. Ritchie has leased land in the Tianzhu Free Trade Zone (Shunyi, Beijing). The Tianzhu Free Trade Zone is connected to one of China's largest roll-on, roll-off ports in Tianjin. The approval process has been a long time coming for Ritchie. The company has maintained a representative office in Beijing for the past seven or eight years.
LiuGong announced a joint venture with Metso for the manufacture of two mobile crushing and screening plants. LiuGong had on its display a Dressta bulldozer, the first model sold in China since it bought the Poland-based business last year.
Shantui introduced what it claims is the largest bulldozer built in China, its 105 ton model SD90-5. Powered by a 708 kW (950 hp) diesel engine, the crawler dozer is designed for large-scale earthmoving projects and mining. The 950 hp rating makes it the second highest horsepower in the world behind the Komatsu D475 that is rated at 1,150 hp. The Shantui SD90-5 is equipped with a 45 m3 (60 cubic yard) capacity blade and a ROPS- and FOPS-certified cab. The machine features color display instruments with automatic fault detection systems and a remote monitoring system to allow real-time diagnosis of servicing needs and a new hydraulic fan system which adjusts its speed according to working conditions—technology that Shantui claims helps reduce fuel consumption.
Companies in this article