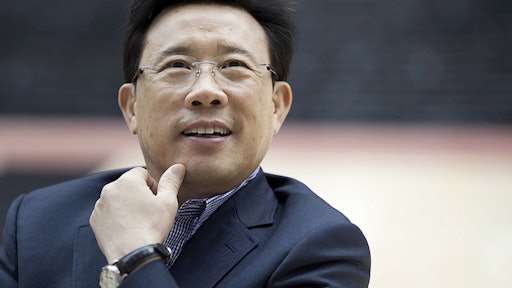 SANY Group Chairman Liang Wengen is one of 10 business and economic leaders named 2012 "Economic Person of the Year" by the Chinese broadcast network CCTV.
Liang's inclusion on the Economic Person of the Year list was announced December 12 at a ceremony in Beijing, China. In making the award, the network cited SANY Heavy Industry Co. Inc.'s acquisition of German concrete pump manufacturer Putzmeister Holding GmbH. The 2012 purchase made SANY the world's top manufacturer of concrete pumps. The move was part of SANY's drive to become a more global equipment brand.
CCTV also cited the decision by SANY-related Ralls Corp. to sue U.S. President Barack Obama after the U.S. government blocked Ralls from developing a wind farm located near a U.S. military facility in Oregon. Ralls is owned by two SANY executives.
Other notable 2012 person of the year recipients were Jack Ma, chairman and CEO of e-commerce giant Alibaba Group; Yang Yuanquing, CEO of computer maker Lenovo; and Ning Gaoning, chairman of China state-owned food company COFCO.
Chairman Liang last won the Economic Person of the Year Award in 2005.