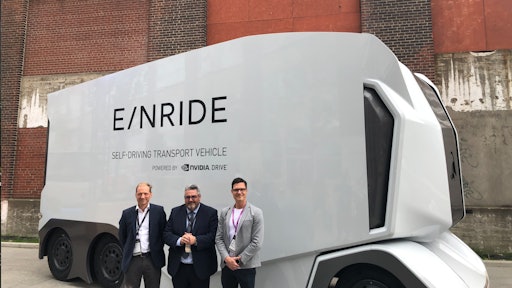 The Movin'On Summit once again provided an array of technologies and insights into sustainable mobility. Everything from scooters and bikes to passenger vehicles and heavy trucks were discussed and on display to see firsthand—as well as take for a test drive.
For the show's third iteration, a new venue was used which brought most of the activities into a single building and provided new opportunities for experiencing the technologies on display.
The 2019 summit focused on five key themes:
Decarbonization and air quality
Multimodal urban transit and society
Innovative technologies
Goods transportation and multimodality
Circular economy
Michelin—host and organizer of the event—kicked things off the first day with the introduction of the next stage toward the realization of its Vision concept tire introduced at the 2017 event, the Uptis prototype (aka Unique Puncture-Proof Tire System). This tire, designed for passenger vehicles, is based on the company's Tweel technology used in several off-road applications already. It is an airless, puncture resistant tire that will help minimize the need to replace the tire and reduce unplanned downtime due to punctures and flat tires. Approximately 200 million tires worldwide are scrapped prematurely every year as a result of punctures, damage from road hazards or improper air pressure that causes uneven wear.
Read more about Tweel and other airless tire technologies in the article "Improve Uptime with Airless Tires."
Uptis features improvements in architecture and composite materials, which enable it to handle the weight of the vehicle when traveling at road-going speeds. It also meets the company's goals of creating sustainably produced tires.
Michelin is also partnering with GM to conduct real-world testing of the Uptis prototype, including on Chevrolet Bolt EVs in Michigan. The companies intend to validate the tire with the goal of introducing it on passenger models as early as 2024.
To further aid Michelin's sustainability efforts, the company also announced during Movin'On it will be using Einride's autonomous electric transport system, used for instance in its T-pod truck, for goods transport in France. It will first test the truck in a fenced in area at one of its facilities, then move on to road testing of it between multiple facilities in France.
There were several interesting sessions again this year covering topics such as truck platooning and how it could lead to implementation of Level 4 autonomous trucks on roadways, as well as discussions with cities and companies about their initiatives for sustainable mobility. In a panel about impact of 1.5 C rise in the earth's temperature on mobility, Philippe Montanteme of Total Marketing & Services said it is important the company shifts from being solely an oil supplier to an energy supplier, offering several options to meet the various needs of users around the world.
A key theme in many of the sessions was the matter of trust—that companies need to earn it when developing new products, such as autonomous vehicles, and that consumers also need to be trusting of new technologies. Often new technologies or methods of doing things fail, but as one speaker noted, that's part of innovation; it's okay to fail. It helps to get to the final, optimized product.
When attending an event like Movin'On, there's so many topics of interest to learn about and innovations to see that it's hard to encapsulate it all, but it makes me eager to return each year to see what's next in the realm of sustainable mobility.
Did you make it to this year's Movin'On? What were your favorite aspects? What aspects of sustainable mobility are you most interested to learn about? Let us know at editor@oemoffhighway.com.
Companies in this article