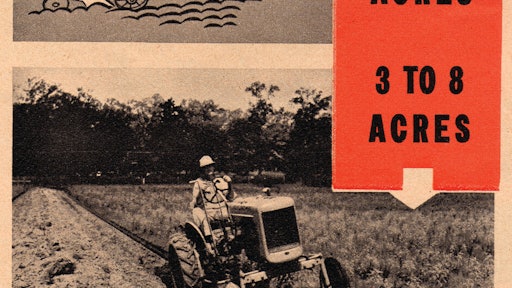 Few of the names of those who worked behind the scenes in this industry have stood the passage of time like Harry Merritt's, a big man who has been credited with, among other things, the mechanization of small farms.
Born Aug. 28, 1881 in Vermont, IL, Merritt became an expert in steam engines and threshers. This helped him become a top Hart-Parr tractor salesman, and in 1911 he moved on to open a branch in Great Falls, MT.
Hart-Parr was a leader in the tractor industry, but as the industry evolved it was among a handful of firms that remained devoted to gigantic tractors.
Merritt sold the machines to huge wheat farms, where he began to see a trend toward smaller tractors. He figured he could sell twice as many tractors if they weighed 50% less.Merritt and the Hart-Parr sales manager at the time made some drawings and presented their ideas to company founder Charles Hart. Hart was not only unimpressed with the suggestion, he was livid. As the shredded drawings drifted to the floor, Hart declared that when a new Hart-Parr tractor was built, it would be even bigger.
The industry was changing. Hart-Parr eventually offered the compact Little Devil ('let the Devil do your work,' said the ads). The machine was such a disappointment the firm condemned every Little Devil it could buy, but soon found itself in financial trouble. In 1919 Hart was ousted, and the new management said good-bye to most of the sales force, including Merritt ' by then the sales manager at the office in Charles City, IA.
Merritt's path led to Wichita, KS, where he worked as a branch manager for Allis-Chalmers. It was said Merritt never gave anyone his undivided attention unless the subject was about tractors, and he was well-liked. He was remembered as the sort of guy you'd 'go through Hell for.'
Allis-Chalmers was a leader in industrial equipment, but its tractor division wasn't going to live far into its 'teen years. The tractors were well-built but the firm was losing money. Allis president Otto H. Falk needed the right man to move the inventory as painlessly as possible. He surveyed the employee roster and came across Merritt, who accepted a role as the tractor division's manager, ostensibly to close the doors.
Merritt dropped the price of the 20-35 from $1,950 to $1,250 and suddenly had a hot-seller. He asked Falk for a little extra time. Merritt's engineers went through a 20-35 and removed cost from as many parts as possible, and he worked on the tractor's appearance to give it sex appeal.
Merritt's 'smooth and clean-cut' 20-35 was introduced in 1927, and sales more than doubled from the year before. They doubled again in 1928. By selling the best possible tractor at the lowest possible price, the tractor division would live after all.
As it made money, Merritt had more resources to invest in research and development. One of Merritt's revolutionary achievements was Allis-Chalmer's work with pneumatic tires in the early 1930s.
Merritt was a big man in stature and reputation, but he never gave up the focus on smaller tractors. During the 1930s he saw that the majority of farmers on fewer than 100 acres (and there were more than four million of them) were using horses.
Merritt's answer was the one-plow Allis-Chalmers B. It 'was revolutionary in price, weight and adaptability, weighing only 2,100 lbs., wrote Walter F. Peterson in An Industrial Giant. It was priced around $500. 'Compared with tractors of 10 years before, it weighed and cost only one-third as much, but it would do 20% more work.'
The B found an untapped market. Its success and that of the other innovative models helped Allis shoot from the 'insignificant' category to No. 3 tractor maker ' during the Depression. No longer a liability to Allis-Chalmers, the tractor division was two-thirds of Allis' total net profit between 1934 and '38.
Merritt was promoted to vice president in 1938, and was awarded the Cyrus Hall McCormick medal from the American Society of Agricultural Engineers in 1941. Unfortunately, Merritt's health was failing, and he retired in July, 1941. When he passed away on Nov. 18, 1943, many of his ideas were still on the drawing boards or being tested at Allis-Chalmers.