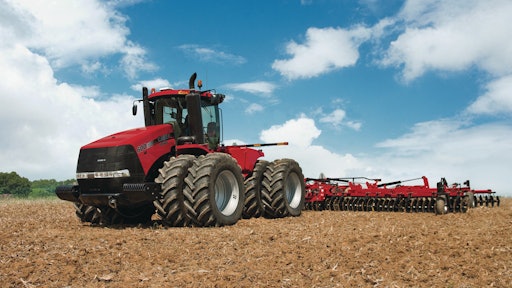 At this year's Farm Progress Show in Boone, IA, relatively new terms such as "Tier 4" and "SCR" were being kicked around. They're new in the sense that many equipment users may have only heard rumors about the changes that will be necessary to meet upcoming emissions regulations. They're not new for equipment engineers: at various locations throughout the event, OEMs such as Case IH showed their strategies for meeting the regulations.
"Emission-compliant power has been a major focus for research and development," says Tom Dean, marketing manager for high-horsepower tractors for Case IH North America. "It's an evolving process to ensure we meet emissions standards, while still optimizing engine performance."
Earlier this year, Case IH announced that its strategy for Tier 4 Interim (also known as Tier 4A) would include both cooled exhaust gas recirculation (EGR) and selective catalytic reduction (SCR). Its approach includes an SCR system for tractors with medium- and heavy-duty engines (greater than 100 hp) and EGR for light-duty engines (less than 100 hp).
This summer, at Case IH's historic engineering center in Burr Ridge, IL, farm journalists were given a sneak-peak at the machines that would be wrapped around those emissions-reducing technologies, particularly SCR. Farmers saw them in person in Boone.
Starting January 2011, all off-highway machines with engines above 174 hp will be required to meet EPA-regulated Tier 4 Interim emission standards. Tier 4 regulations require a minimum 90% reduction in particulate matter and up to 50% reduction in nitrogen oxides over Tier 3 requirements. "For design engineers, there is a trade-off," says Leo Bose, training manager, Case IH. "No diesel engine can be designed to meet both PM and NOx standards without some type of exhaust aftertreatment system. If you want the engine to reduce particulate matter, you will increase NOx, and need to use SCR. To reduce NOx in-cylinder, particulate matter increases and EGR comes into play."
Case IH will be utilizing EGR technology in smaller tractors because they are popular with rural lifestyle consumers and are subjected to less intensive use compared to high-horsepower equipment.
EGR requires no additional fluid, and returns exhaust gas back to the engine. These systems require a diesel particulate filter (DPF) and a larger cooling package, as there is a 25 to 30% increase in hot exhaust gas going back into the engine.
Proven engine families with SCR
For high-horsepower tractors, Case IH and its engine partner, FPT Powertrain Technologies, believe that SCR may offer longer service intervals, lower fuel consumption and wider fuel compatibility over EGR systems. FPT helped pioneer SCR systems in Europe, where FPT-powered, SCR-equipped trucks have logged more than 20 million miles. As part of its commitment to the CNH brands, FPT has installed engine test cells at Burr Ridge, enabling it to perform a full evaluation of performance and emissions on-site.
Three proven engine families—the 6.7-, 8.7-, and 12.9-liter engines—provide the power for the 2011 Case IH Steiger and Magnum high-horsepower tractors.
"These are the engine families we're moving forward with," says Dean. "They have a fairly long history with Case IH. They're not brand-new engines, but they are new in the sense of meeting Tier 4A."
Along with Case IH SCR technology, the six-cylinder, 24-valve Tier 4 Interim engines incorporate technological innovations that include fully electronic high-pressure fuel systems and the traditional Case IH cross-flow design approach for optimal cooling performance.
By treating the exhaust post-combustion, Case IH says its engine performance and fuel efficiency is better because the SCR system functions separate from the engine. In an SCR system, engine exhaust passes through the catalytic chamber where it is sprayed with a non-toxic, colorless, odorless mixture of urea and purified water, known as diesel exhaust fluid (DEF). When the mixture combines with hot exhaust, it breaks down the exhaust into water vapor and nitrogen.
"Since the SCR aftertreatment system is separate from the main engine function, it doesn't interfere with engine performance and allows the engine to perform at its absolute best," says Dean. "The system runs cooler and quieter in high-horsepower applications and lengthens service intervals because the post-combustion process preserves the physical properties of engine oil, which reduces maintenance."
There is some agreement among engineers that a form of SCR will be needed to meet the more stringent Tier 4 Final standards beginning in 2014. "We want to provide our customers with more than a short-term solution," remarks Dean. "Embracing the SCR technology in 2011 allows Case IH to stay focused on developing the next generation of equipment."
With most 2010 heavy-duty on-highway trucks and many 2011 off-road equipment manufacturers now requiring DEF, the product is already available at truck stops and at most agricultural input suppliers. From Case IH, DEF is available in bulk as well as large totes, 55-gal. drums and 2.5-gal. jugs. One DEF mini-bulk tote holds 275 gallons, and, for example, a Magnum tractor with average usage will use one tote per year.
The Magnum tractor's polyurethane DEF tank is located in front of the fuel tank, and can be filled from ground level. An 18 to 20 gal. tank holds DEF, in which a heating element prevents freezing.
Largest in the line-up
The most powerful tractors in the Case IH line are the Steigers, ranging from 390 up to 660 peak engine horsepower. This line includes three models (350, 400 and 450) configurable in the narrow wheel tread settings needed in row-crops, along with three wide-frame models (500, 550 and 600) for handling large implements.
Powering Case IH's Steiger four-wheel-drive tractors is the 12.9-liter engine, introduced in 2006. Below 500 hp, the engine uses a single turbocharger with electronic high-pressure unit injectors. Above 500 hp, the engine employes a new two-stage turbocharger with common rail fuel system. The secondary turbo provides increased boost to the primary turbocharger, which helps maintain maximum torque rise and ensure maximum power.
To match the torque produced, Case IH equipped the Steiger 550 and 600 tractors with heavy 5.5-in. axles and 18-bolt hubs and wheels.
The Steiger 450, 500, 550 and 600 are available in the Case IH Quadtrac configuration, which uses an independent, four-track, positive drive system to minimize ground pressure, reduce compaction and improve traction.
More than just a clean face
Case IH is aware that most farmers won't buy tractors based on their emission control capabilities. Its engineers have worked to enhance comfort, as well.
Designed around feedback from producer focus groups, the new Steiger cab is designed to function as an office in the field. Steiger tractors feature an exclusive 40-degree, right-hand swivel seat which provides operators with an ergonomic field of vision to see the tractor's front, while also monitoring the rear-mounted implement, to help minimize neck strain. Used with Case IH Advanced Farming Systems (AFS) AccuGuide autoguidance, operators in the swivel position can more easily monitor the implement behind the tractor.
Several cab controls have been relocated to the upper right-hand side of the cab headliner, while the most frequently used functions are contained in the new MultiControl Armrest console, bringing all vital tractor operations into one easy-to-operate controller. The MultiControl Armrest controls up to eight hydraulic remote valves, shifting capabilities and the automatic end-of-row function. The end-of-row button allows operators to transition implements from the end of one pass to begin the next with the push of a button.
The new Steiger tractors can be equipped with a 113 gpm parallel flow hydraulic system to accommodate large planters and seeders, which require higher hydraulic flow rates to maintain accuracy.
Case IH also increased fuel tank capacity, equipping Steigers with larger fuel tanks up to 470 gallons. The steel fuel tank is built into the tractor frame, which adds strength and minimizes risk of damage.
Big Magnums get cooler
Case IH also redesigned the hood, front surround frame and cooling system in the Magnum 235 and 340 models, which now use the 8.7 liter engine (Magnum 180 through 225 will continue to use the 6.7 liter unit).
To handle higher horsepower engines in the new Magnums, a redesigned cooling package provides better efficiency. There are typically four different cooling units on a tractor for the radiator, hydraulics, air conditioner and turbocharger.
"When you stack these, it takes a lot of horsepower to pull air through that package," says John Bohnker, Case IH marketing manager for Magnum tractors. "So for the highest-horsepower Magnum tractors, we separated three of the four cooling units. This requires less horsepower for cooling and leaves more power available to get the work done."