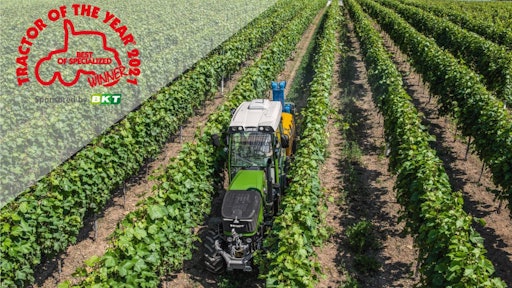 Fendt
On December 18, the winners of the annual Tractor of the Year (TOTY) awards were announced. Each year a group of independent journalists specialized in the agricultural equipment industry evaluate and vote upon the best tractor in the European market.
There are four categories in which a winner can be named:
Tractor of the Year
Best Utility
Best of Specialized
Sustainable TOTY
According to BKT—the main sponsor of the awards—this year's award winners have made it clear that tractors of the future are more than a vehicle. "Instead it is a genuine system, a data incubator intimately digitally connected to the world through the cloud. Inside the cabins, which are equipped with every comfort for the driver, it will house a digital console of monitors that can provide all the real-time data related to carrying out its work, from the external weather conditions, to the physical-chemical conditions of the land, up to indicating the level of wear and tear on the tires.
"But above all, besides this, today's tractor is becoming a central and integrated part of a new global approach in agriculture, where the work in the field must be related solely and exclusively to the sustainable yield, with a global saving that can help people and their environment," the company said in its press release announcing this year's TOTY winners.
"TOTY highlights the best ideas from the best tractor manufacturers. TOTY is synonymous with innovation. It looks to the future and sets trends," said Lucia Salmaso, CEO BKT Europe, during the award ceremony which was held as a digital event.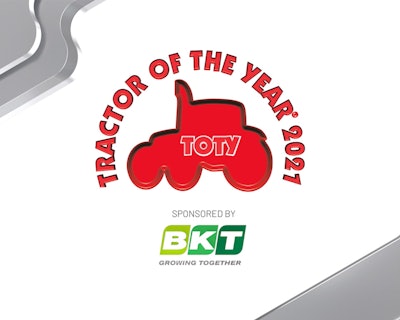 TOTY winners demonstrate agricultural equipment advancements
Agricultural equipment manufacturers continue to improve their machine designs by incorporating more operator comfort features, advanced technologies and more, all with the goal of enhancing farming operations. This year's TOTY winners once again demonstrate these continued advancements by OEMs in the industry.
This year in particular, features which help to improve sustainability efforts and increased digitization—a growing trend throughout the off-road equipment industry—could be seen in many of the nominees and award winners.
Several tractor designs from various global OEMs were considered for the 2021 TOTY awards. The full list of finalists can be found on the TOTY website.
Tractor of the Year award
AGCO's Massey Ferguson received the Tractor of the Year 2021 award for its new 8S.265. The tractor features brand new styling as well as new transmission, cooling system and hydraulics system. According to the company, it began with a blank slate when developing its new 8S series of tractors, and used feedback from customers to guide its design efforts.
The tractor utilizes the latest AGCO Power Stage V 7.4 L engine which includes Engine Power Management to provide up to a 20 hp (14.9 kW) plus power boost, plus extra torque when needed. New transmission technology employed on the tractor series is designed to help improve productivity and efficiency.
Parameters voted on for the Tractor of the Year category include:
Engine
Transmission
Electronics
Cab Comfort
Innovative Technical Features
Options
Design
Connectivity
Precision Farming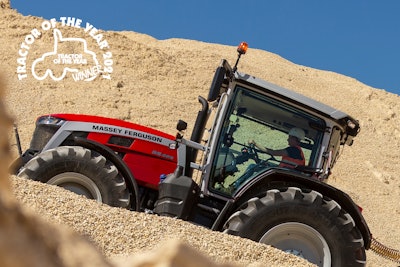 Best Utility award
Another AGCO brand, Valtra, received the Best Utility award for its Valtra G 135 tractor model. The 70 hp (52.2 kW) multipurpose tractor is a new model which is part of Valtra's 5th generation of tractors.
It features a compact design and the power necessary to meet farmers' everyday needs, says the company. The G Series of tractors is designed to easily maneuver in tight spaces due to its tight wheel base and front end design which has been optimized for a maximized turning circle.
Additional features of the G Series include an advanced power lift and effective working hydraulics, as well as a high visibility hood and 5.7 sq. m of glass area to maximize visibility for operators. The G135 Versu is equipped with the SmartTouch tractor terminal designed to provide "easy to use" technology and a full suite of precision farming features.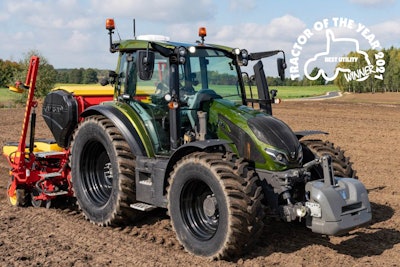 Best of Specialized award
A third AGCO brand, Fendt, received the Best of Specialized award for its Fendt 211 V Vario. The jury selected the tractor due in part to the design of its full new cab, which provides an improved working environment for tractor operators. Inclusion of Fendt's Dynamic Performance technology extends power range; the extra power (10 hp/7.5 kW) is controlled and released automatically according to the working needs of the application. An efficient transmission design helps to assure a high level of performance.
"The specialist tractor Fendt 200 V Vario challenges our engineers because it combines intelligent technology like FendtONE with a very compact design and a lot of comfort. I am delighted that the Fendt 211 V Vario has received this award from an international and independent jury of experts," said Christoph Gröblinghoff, Chairman of the AGCO/Fendt Board of Management, in Fendt's press release announcing it had received the award.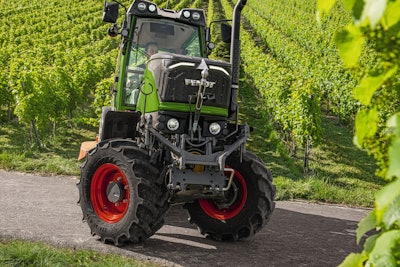 Sustainable TOTY award
The Sustainable TOTY award is presented not necessarily to the most "green tractor" but instead one which utilizes innovative solutions to achieve the variety of factors considered to be part of sustainability. According to the TOTY organizers, this includes aspects such as comfort, safety, efficiency and connectivity all of which will help farmers to their jobs every day.
In addition, it pertains to the use of smart systems and technologies such as Big Data and the Internet of Things (IoT) working together with hybrid and electric power systems to create machines which reduce emissions and improve efficiency.
The CLAAS AXION 960 CEMOS was selected as the Sustainable TOTY due to all the technology included on the tractor. According to the jury, this helps make the machine even easier to use. In addition, there is a high level of optimization of all the technology and electronics utilized. Tire pressure has been optimized, as well, to help provide fuel savings and more efficient performance in the field in any working conditions.
CLAAS' CEMOS is a self-learning tractor system which recently received a DLG approved label for achieving up to 16.8% fuel savings and 16.3% increase in productivity when cultivating. "The unique CEMOS for tractors system has proven to significantly increase efficiency on top of the pure effects of ballasting and tire pressure. This not only benefits farmers and contractors in terms of time and cost pressure, but also the environment in many ways. Fuel consumption, CO2 emissions and soil compaction are only three aspects that are positively influenced by CEMOS for tractors from a sustainability perspective," said Christian Radons, member of the CLAAS Executive Board and responsible for sales and service, in the press release announcing CLAAS had received the TOTY award.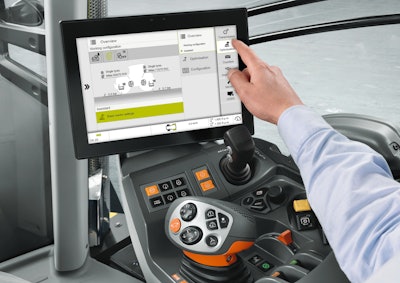 The right components help make the difference
Dana Inc. announced its advanced drive technologies are utilized on all four TOTY award winning tractors.
The Massey Ferguson 8 S.265 high-horsepower tractor features a Spicer modular steer axle as well as Dana's high-precision gears and shifting solutions.
The

Valtra

G 135 Versu multi-purpose tractor utilizes a Spicer steer axle, along with gears and shifting solutions from Dana.
The

Fendt

211 V Vario narrow-track tractor uses a Spicer steer axle.
The Claas Axion 960 CEMOS tractor is equipped with a Spicer suspended steer axle, driveshaft, and gears.
Altogether, Dana technologies are featured on 10 of this year's 18 finalists .
Front suspended axles from Dana deliver enhanced speed and operator comfort for compact tractor applications as well as tractors with increased performance requirements. Dana also offers independent suspension axles for open-field tractors up to 375 kW (500 hp).
"Advanced drive technologies deliver the superior traction, fuel efficiency, sustainability, and operator comfort that boost the productivity and competitiveness of agriculture operations," said Aziz Aghili, Executive Vice President and President of Dana Off-Highway Drive and Motion Systems, in Dana's press release announcing its products were used in the TOTY winning tractor designs. "Once again, this year's 'Tractor of the Year' awards competition clearly demonstrates how drive innovations from Dana contribute to the exceptional performance of the best tractors in the world."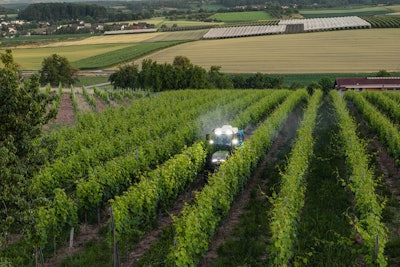 Companies in this article