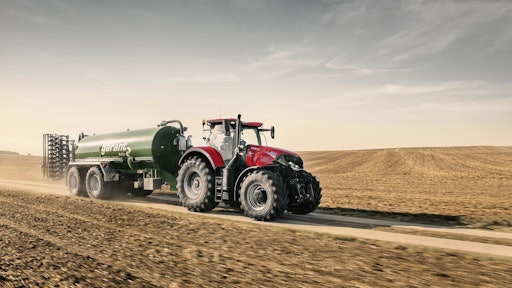 Case IH is using EIMA 2018 to reveal the technology it will be using to meet the forthcoming EU Stage V emissions legislation.
While there are no visible external changes to the Optum 250, 270 and 300 CVXDrive tractors, the Stage V emissions solution from Case IH engine supplier and sister firm FPT Industrial uses internal technology covered by a total of 13 different patents. With no exhaust gas recirculation, fuel consumption is minimized and combustion more efficient. Layout is also simplified and there is no additional turbocharger complexity. As a result of the design, operating costs are kept low, the after-treatment system is maintenance-free, and reliability and uptime are maximized.
Internal upgrades have also meant that it has been possible to extend the engine oil service interval to 750 hours, up from 600 hours. At the same time the transmission oil change interval is extended to 1,500 hours, up from 1,200 hours. For the owner, this means less time in the service bay and a reduced total cost of ownership.
Further enhancements due for the Optum models include the full availability of AccuTurn Pro, which combines the benefits of both Case IH HMC II headland management and AccuTurn automated headland steering to fully automate the headland turning process. Designed to further ease the burden on the operator and boost productivity, as well as minimising the area of trafficked headland land, the option is now available to order on Optum CVXDrive tractors, and can be configured on current Stage IV Optum CVXDrive tractors.
There is also a new tyre offering for the latest Optum CVXDrive tractors. With the introduction of the Michelin Axiobib 2, it is now possible to specify this tyre in VF 650/85 R42 and VF 620/75 R30 sizes.
Companies in this article