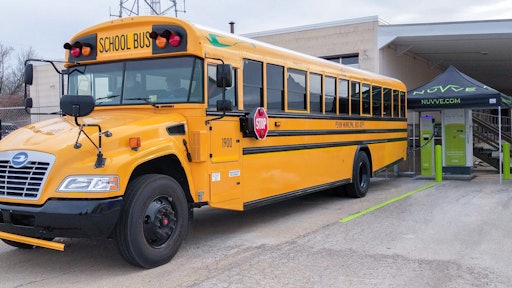 Business Wire
OEM Industry News Briefs provides a weekly round up of the latest news and company announcements you may have missed in the heavy equipment engineering and manufacturing industries.
New acquisitions expand capabilities
CNH Industrial has announced the acquisition of a minority stake in Bennamann Ltd., a UK-based agricultural technology company in the field of clean energy. The acquisition will make the company Bennamann's exclusive strategic agricultural technology partner.
CNH says in its press release announcing the acquisition that it will help strengthen its clean energy commitment. Bennamann helps farmers maximize use of on-site renewable energy resources to provide energy to the farm and its equipment in order to reduce costs and emissions.
This is the third minority stake CNH has made in an agricultural technology company in the past few weeks, emphasizing its efforts to continue expanding technology capabilities for customers.
Epiroc has agreed to acquire Meglab, a Canadian company with expertise in providing electrification infrastructure solutions to mines. According to Epiroc's press release announcing the acquisition, the solutions developed by Meglab help mining customers transition to battery-electric vehicles.
Meglab designs, manufactures, installs and supports practical and cost-effective electrification and telecommunications infrastructure solutions. This includes system design, substations, switchgears and automation system solutions, enabling the infrastructure needed for mine electrification and equipment charging solutions, as well as for digitalization and automation of operations.
"The acquisition of Meglab will strengthen our capacity to provide the infrastructure required as mines transition to battery-electric vehicles," said Helena Hedblom, Epiroc's President and CEO.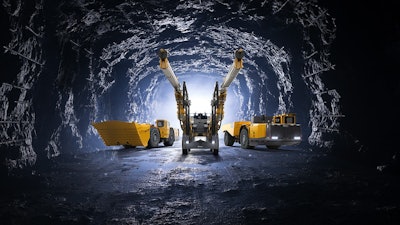 Volta Zero makes debut in Spain
Electric commercial vehicle manufacturer Volta Trucks has brought its Volta Zero full-electric truck to the Spanish market. The company is currently taking its electric truck on a tour of major European cities.
Volta Trucks is displaying its zero-emissions vehicle with customer Petit Forestier and charging infrastructure provider Siemens in Madrid and Barcelona. Petit Forestier is one of Europe's leading refrigerated truck rental companies; it announced in December 2020 the purchase of 1,000 Volta Zero vehicles. According to Volta Trucks, this is believed to be Europe's biggest single purchase of large full-electric commercial vehicles and comes alongside a strategic partnership to develop a refrigerated version of the Volta Zero with Petit Forestier's own body builder, Lecapitaine.
"We were overwhelmed by the response to the Volta Zero in our recent customer events in Paris, that saw more than 300 individual vehicle demonstrations delivered over 5 weeks, all in a safe, Covid-secure environment. And I am delighted that we can now introduce the Volta Zero to our customers in Madrid and Barcelona too. Both are C40 cities, taking bold action on climate change to deliver a healthier and more sustainable future – exactly as we are aiming to achieve with the full-electric Volta Zero. I'm looking forward to introducing the Volta Zero to our Spanish customers, researching the market, and further understanding their vehicle requirements. And we are already planning the next stops of our European tour and look forward to being able to confirm more details shortly," said Business Development Manager of Volta Trucks, Carla Detrieux, in the company's press release announcing the arrival of the Volta Zero in Spain.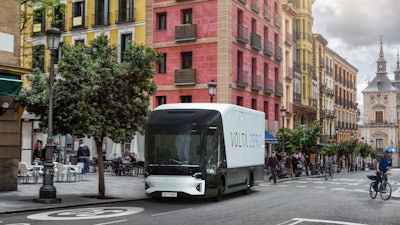 Companies expand operations
NAF Neunkirchener Achsenfabrik recently held a groundbreaking ceremony for its new test center at the company's Neunkirchen am Brand site. The new 2,000 m2 building will include a production shop, offices as well as outdoor facilities.
According to a press release from the company announcing the ground breaking, the new test center will be used to test the strength of NAF products on ultra-modern, sound-insulated test rigs, some of which are equipped with decoupled foundations with vibration isolation. Test rigs will be equipped with state-of-the-art technology and will permit endurance testing of the structure and drive capabilities of the axles and transmissions. With the new facility NAF says it will be able to bring new products to market faster.
A photovoltaic system (1,000 m2/200 kWp) will be installed on the new building, which, together with energy-efficient construction and energy recovery, will contribute to environmentally friendly operation.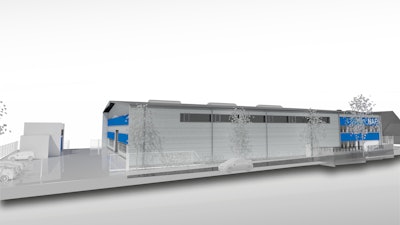 T/CCI Manufacturing has opened a customized Advanced Testing Center to meet customer specifications and validation requirements and to develop new compressor and HVAC products.
According to T/CCI, the new test center is one of only a handful of comparable testing sites in the world. The new facility will help the company develop and optimize systems for customers. It will be able to do so at a fraction of the cost of traditional wind-tunnel testing, as well the company notes in its press release announcing the new facility. The center's dual systems have 50 kW capability and are able to precisely recreate real-world conditions without the power requirements, overhead, and risk associated with wind tunnels.
"Testing in tunnels and over the road is really expensive—the vehicles themselves cost multi-million dollars just to build," said T/CCI President Richard Demirjian, in the company's press release. "With this one-of-a-kind center, we are able to test key measurables in a wide variety of conditions to see where potential problems could arise and make adjustments to designs before the first product reaches the customer."
"If a vehicle is too large to fit in, or it's halfway around the world, you don't want to have to ship it to test in a wind tunnel," said Dick Ennis, Director of Engineering. "Now, if a customer wants some testing done, they can send us the system by air freight, and we can set it up and evaluate our product within their system—and actually handle development at that point. The Advanced Testing Center is flexible and capable of a multitude of tests that we never could have done in a wind tunnel."
Link Manufacturing also recently broke ground on a new 50,000 ft.2 manufacturing and training facility. The new Plant 4 facility will be located on Link's Sioux Center campus, adjacent to and connected with its existing plant 3 building.
"The contemporary new space will enable the company to better manage its suspension, suspension control and specialty products business and anticipated growth across new and existing product sectors. And the integrated training facility will help us to provide continuing education to our existing workforce, and educate new staff on the latest in today's high-tech manufacturing techniques," said Jim Huls, President of Link Manufacturing, in the company's press release announcing the groundbreaking.
Huls noted that the new space will allow Link to add and reconfigure manufacturing cells to accommodate the company's new, broader product line. He also explained that the Plant 4 space will help Link as it turns more and more of its attention to engineering and manufacturing suspension control technologies.
"Link's recent acquisition of Hadley SmartValve Electronic Height Control Systems, Smart Air Management Systems (SAMS), dynamic air suspension control technology and expert staff significantly expands Link's capabilities, increases its overall product depth and will stimulate the development of new innovations, while enhancing the company's electrical engineering and software development capabilities," Huls said. "Link now moves into the whole-vehicle suspension control segment of the heavy truck market, extending its reach into medium- and heavy-duty truck, tractor, trailer, motorcoach, transit bus, shuttle bus, recreational vehicle and specialty vehicle markets."
Mack LR Electric available for incentives
Mack Truck's fully electric refuse vehicle, the Mack LR Electric, is eligible for several incentive packages in the U.S. and Canada. Incentive programs help ease the initial purchase cost for customers, which in turn can help to increase market uptake of electric vehicles.
"Fleets desiring battery-electric vehicles now have the opportunity to apply for funding, helping them more easily transition to an electric fleet," said Jonathan Randall, Mack Trucks Senior Vice President of North American Sales and Commercial Operations, in the company's press release announcing availability of the incentives. "Mack is pleased that there are now several programs available to support the efforts of customers choosing to move toward zero greenhouse gas (GHG) emissions and a more environmentally friendly operation."
Available incentive programs include:
MOR-EV Trucks Program, Massachusetts, up to $90,000 per electric vehicle;
CleanBC Go Electric Specialty Use Vehicle Incentive (SUVI) program, British Columbia, Canada, up to $100,000 per electric vehicle;
New York City Clean Trucks Program (NYCCTP), up to $185,000 per electric vehicle for fleets sized with 15 trucks or less;
Utah Clean Diesel Program, up to 45 percent of the total cost of an electric vehicle; and
Ecocamionnage Program, Quebec, Canada, up to $175,000 per electric vehicle.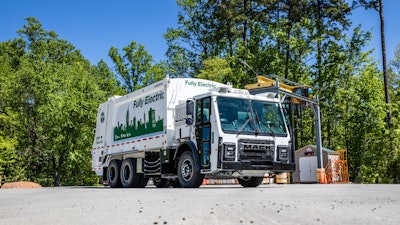 Cummins collaborates on vehicle-to-grid school buses
Cummins recently unveiled DC fast charge vehicle-to-grid (V2G) enabled school buses in Peoria, IL. The electric school buses are powered by Cummins technology and are being delivered to the Pekin Public School District and the Hollis Consolidated School District.
Per Cummins' press release announcing delivery of the electric school busese, V2G technology enables energy stored in the battery to be exported from the electric vehicle. With this technology, electric school buses can act as a power source, providing power back to the grid, or to anything else that may require it, also known as vehicle-to-everything (V2X). This technology can be used to reduce building energy consumption costs at peak times or provide back-up power during emergencies.
According to Cummins, this is the first time in which the V2G technology has moved beyond pilot phase and into full commercial production and operation for the school bus market.
Cummins notes in its press release that all Cummins powered Blue Bird electric school buses have been V2G capable since July 2020. Cummins has since worked with green technology company, Nuvve, to develop and deploy the necessary software to be paired with compatible chargers. Starting mid-2021, all Blue Bird electric school buses delivered will be fully equipped with V2G hardware and software. Cummins powered Blue Bird electric school buses already delivered with the V2G hardware will be receiving the V2G enabling software by the end of 2021.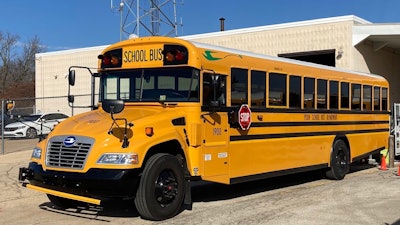 Voith Turbo appoints new CEO
Voith Turbo announces Cornelius Weitzmann, current member of the Board of Management, will be appointed President & CEO of Voith Turbo and member of the Corporate Board of Management of the Voith Group effective June 1, 2021. He succeeds Dr. Uwe Knotzer, who is leaving the company on May 31, 2021 at his own request to pursue new opportunities.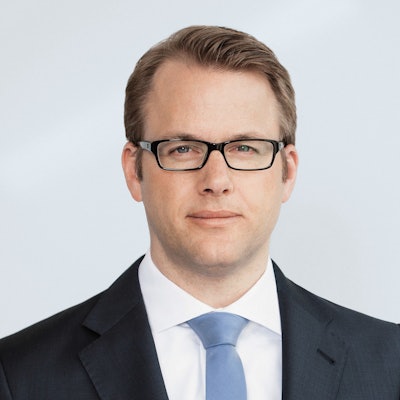 "We thank Dr. Uwe Knotzer for his many years of extraordinary commitment and his great service to our company. He made a significant contribution to the further development of the Group and the Voith Turbo Division. We wish him all the best in the future and continued success also in his new role," said Prof. Siegfried Russwurm, Chairman of the Shareholders' Committee and Supervisory Board of Voith, in the company's press release announcing the new CEO appointment. "At the same time, we are delighted to appoint Cornelius Weitzmann, an experienced Voith manager who knows the Turbo business very well, to the Corporate Board of Management as he leads the Group Division into the future."
Weitzmann has served in several roles with the Voith Group since joining the company in 2007.
Blackwood Engineering Celebrates 75 years of business
Blackwood Engineering, a castings and counterweight OEM based in Abergeeg, South Wales, will celebrate 75 years of business in 2021.
The company began as a general foundry, and diversified into counterweights for heavy equipment in the 1970s. It then further diversified its product offerings to include more complex, engineered castings in a variety of materials in the 1990s.
Per the company's press release announcing its anniversary, the business is continuing to grow and invest in its facilities, with a recently acquired a second UK site (Blaina, South Wales) and expansion within its European facilities in Dilsen-Stokkem, Belgium. Alongside this there has also been in personnel with the South Wales business, now employing over 100 people to help meet the growing demands and needs of their customer base.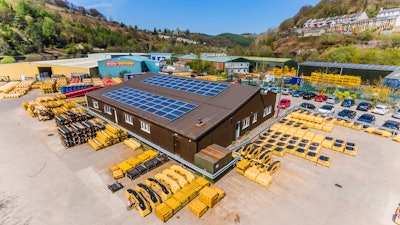 Companies in this article