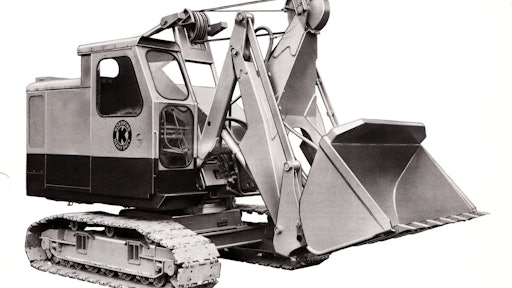 The Skooper line originated in 1957 with the model 205. Rated at two yards capacity, it was substantially larger than other such machines of the time, and its 1957 introduction made it the first American-made hydraulic shovel.
That said, it wasn't a true hydraulic machine, as only the crowd and dump were hydraulically powered with all other functions operated by cable. The hydraulic crowd gave it the capability to dig on a level plane from a fixed position up to 7 feet across a 7-foot range.
The combination of horizontal crowd and a full-revolving excavator resulted in several advantages over competing products. It had the level digging plane and breakout of a crawler or wheel loader, and its ability to dig and dump from a fixed position rather than continually cycling from cut to dump reduced fuel costs and eliminated wear or transmission and tracks or tires while reducing operator fatigue. The only real drawback was that when it did need to be repositioned, its travel speed was much lower than that of a crawler or wheel loader, and it didn't have either machine's ability to work from a variety of positions in the pit over a short time if needed.
The cable/hydraulic Skooper had another advantage that its all-hydraulic successors did not enjoy. By using the cable hoist works of a standard 205 cable excavator, it could be converted to a cable-operated shovel, crane, clamshell, backhoe or – ironically – conventional shovel.
The 505 Skooper (read more, The first American hydraulic excavator) was first introduced in 1960 as a similar cable/hydraulic machine, and was redesigned two years later as the first all-hydraulic shovel made in America.
The Historical Construction Equipment Association (HCEA) is a 501(c)3 non-profit organization dedicated to preserving the history of the construction, dredging and surface mining equipment industries. With over 4,000 members in twenty-five countries, our activities include publication of a quarterly educational magazine, Equipment Echoes; operation of National Construction Equipment Museum and archives in Bowling Green, Ohio; and hosting an annual working exhibition of restored construction equipment. Our 2015 show is Labor Day weekend at Janesville, Wisconsin. Individual memberships are $32.00 within the USA and Canada, and $40.00 US elsewhere. We seek to develop relationships in the equipment manufacturing industry, and we offer a college scholarship for engineering and construction management students. Information is available at www.hcea.net, or by calling 419-352-5616 or e-mailing info@hcea.net.