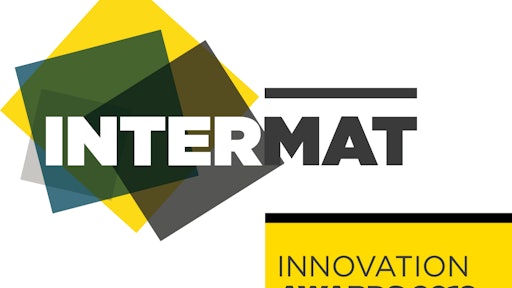 INTERMAT, the international trade show for construction and infrastructure, announced the winners of the INTERMAT Innovation Awards on Thursday, January 18 in Paris (Maison de la Mutualité). In its role as a springboard for worldwide innovation in the building and public works sector, the competition designated 13 prize winners from the 90 competing entries.
International innovation in the spotlight
Widely acknowledged as a showcase for the construction sector, the 2018 INTERMAT Innovation Awards offer a stage for the display of innovation in the field of equipment, machinery and processes used in construction and materials production. For its 2018 vintage, the international competition highlighted several powerful market trends such as digitalization of tools (development of applications, BIM and robotics), the proliferation of environmental solutions and the growing consideration for safety and risk prevention in processes.
The judging panel chaired by Bruno Cavagné, the chairman of the French Public Works Federation, comprised 13 international experts representing user industries of the construction machinery exhibited at INTERMAT 2018: public works, civil engineering, roads, buildings, equipment rental and the concrete industry.
The 7th INTERMAT Innovation Award winners
Eight prize winners were rewarded for their innovation in the following four categories, reflecting the new organization of the exhibition into four hubs of expertise:
EARTHMOVING & DEMOLITION
EQUIPMENT AND MACHINERY AWARD: VOLVO CE - EX2 (Protoype of all-electric, zero carbon emission excavator offering 10 times higher efficiency and 10 times lower noise levels than a conventional version).
COMPONENTS AND ACCESSORIES AWARD: DMIC - UBIWANSMART (Connected management solution for construction machinery and equipment).
ROADS, MINERALS & FOUNDATION
EQUIPMENT AND MACHINERY AWARD: FAYAT - TRX 100% (A unique-in-the-world highly mobile hot mix asphalt plant capable of reincorporating 100 to 0% of RAP in hot and warm mixes).
COMPONENTS AND ACCESSORIES AWARD: RB3D - EXO PUSH (An exoskeleton which assists the raker in manual asphalt levelling operations. This is the first "wearbot" to emerge in the public works field).
LIFTING, HANDLING & TRANSPORTATION
EQUIPMENT AND MACHINERY AWARD: HINOWA S.p.A. – Lightlift 33.17 Performance IIIS tracked aerial platform - (16.5 m operating outreach, 32.5 m working height, load capacity of 230 kg, multiple simultaneous movements and a new wider and more comfortable basket).
COMPONENTS AND ACCESSORIES AWARD: MANITOU GROUP – Machine stabilization recognition system (the MRT 2470 and MRT 3050 use a strain gauge inside the pin of the stabilizer cylinders to obtain information on the force exerted on the ground).
BUILDINGS & CONCRETE SECTOR
EQUIPMENT AND MACHINERY AWARD: ALPHI - MaxUpDown (a tool to assist with the handling of MaxiDalle formwork panels. The system, formed by a compressed air-powered telescopic mast, helps to effortlessly raise and lower MaxiDalle panels at great height from the ground).
COMPONENTS AND ACCESSORIES AWARD: 360SMARTCONNECT – Connected concrete (by transforming concrete into an interface with data and services associated with the structure, 360SmartConnect enables each of these stakeholders to create new values for themselves or for their successors).
Five Special Awards reflecting the most up-to-date issues at stake in the construction sector were also presented:
DIGITAL TRANSITION: EFA FRANCE – EVAS (first embedded voice control system with integrated database communicating in CAN BUS interface: multi-speakers, multi-languages, and works off-line).
ENERGY TRANSITION: MECALAC - Mecalac e12 (the world's first compact wheeled excavator running only on electricity, without compromising on battery life, performance and compactness).
START-UP BY EUROVIA: MATOS - Matos Connect (paperless solution for operated equipment rental companies in the public works field).
WORLD OF CONCRETE EUROPE: SIKA FRANCE – 3D concrete printing process (combining robotic innovation applied to the concrete industry, it produces a concrete item in an original shape or design in a short space of time. The fundamental advantage of 3D concrete printing is its outstanding flexibility).
SAFETY: SIMA - HandSafe wood cutting saw (Beyond the many mandatory safety elements with which this machine must comply, the new SIMA HANDSAFE features a unique and exclusive safety system to instantaneously stop the blade the second that it touches human skin).