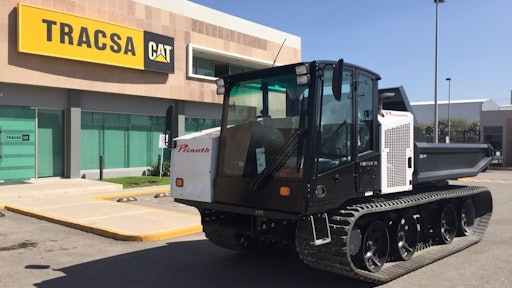 As one of the world's leading manufacturers of tracked vehicles, PRINOTH announces its latest dealer agreement with TRACSA & SITSA of Mexico.
Located in Guadalajara, TRACSA & SITSA is one of the largest dealers in Mexico and serves the entire country. The group is made up of two companies: TRACSA and SITSA.
On the one hand, TRACSA is a heavy machinery supplier for the industry based in the Mexican state of Jalisco that started its operations in 1974. It offers leasing and sale of equipment in mining, agriculture, construction and infrastructure, amongst other areas. TRACSA's services also include on-site consulting and project management-oriented tasks such as planning, maintenance and production analysis.
SITSA was also founded in 1974 through the acquisition of the assets of a heavy machinery distributor. It has operations throughout the country, in construction, mining and agricultural industries, and they offer sale and rental of new and used machinery, as well as spare parts and technical service for repair and maintenance.
New solutions to the Mexican construction industry
"This partnership represents a breakthrough in Latin America for PRINOTH," comments Alessandro Ferrari, Vice-President of Sales for the Tracked Vehicles' Business Unit at PRINOTH. "We have been looking to expand south of the United States for quite some time and we were looking for an important partner. We finally found that partner in TRACSA & SITSA." The company is confident that the Mexican dealer will represent it well and thus, provide innovative solutions to the Mexican construction industry through its crawler carriers. TRACSA has already started purchasing models of the PANTHER lineup, namely a T8 that was delivered in February 2017.
The Outcome of Years of Innovation
Innovation is at the heart of PRINOTH's mission and vision. The company strives to always go further, and to create new generations of vehicles that fit the needs, realities and eco responsibilities of each of its customers. PRINOTH's expertise in building utility vehicles and other machinery such as snow groomers has translated into designing the efficient and powerful PANTHER carriers. One of the unique aspects of this type of soundly engineered vehicle is the advantage of extremely low ground pressure. PRINOTH vehicles offer optimal contact with the terrain, yet only gently touch the ground. This means that crews can access hard-to-reach work sites while benefiting from the smoothest ride imaginable. In the early 2000s, its ongoing quest to provide optimal performance, flexibility, reliability and safety to all trades lead to the creation of the PANTHER Series.