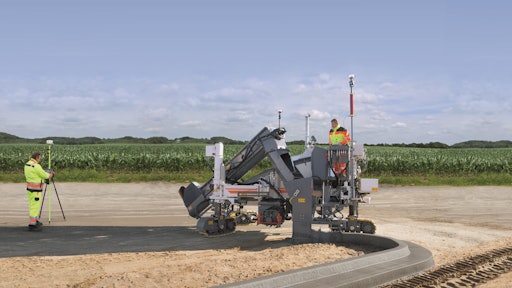 At World of Concrete 2019 in Las Vegas in January, Wirtgen Group will introduce the new AutoPilot 2.0, present three Wirtgen slipform pavers plus a texture curing machine, and show a Kleemann mobile crusher. Wirtgen Group will exhibit at the Las Vegas Convention Center, Central Hall, stand No. C5426 and Bronze Lot, stand No. B51404.
AutoPilot 2.0: Higher paving accuracy with lower costs
The highlight of Wirtgen will be the newly developed Wirtgen AutoPilot 2.0. This 3D control system can produce any kind of offset and inset profiles. Even more, it creates a new, digital data model at the site. Wirtgen supplies the AutoPilot 2.0 for two slipform pavers -- the SP 15/SP 15i and SP 25/SP 25i -- which also will be displayed. AutoPilot 2.0 can also be retrofitted to existing machines. AutoPilot 2.0 will be demonstrated with an SP 15i on the Bronze Lot, stand No. B51404.
The 3D system can be used, for example, for making concrete safety barriers, curbs, traffic islands, or for road surfaces with a width of up to 12 ft. (3.5 m). The advantage: Surveying, setup and dismantling of string lines is no longer necessary, and the lines no longer get in the way of the teams working around the paver. As a result the overall process is more productive and profitable.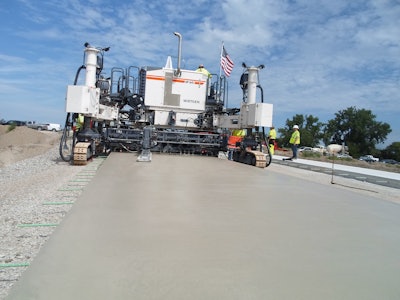 SP 15/SP 15i and SP 25/SP 25i Multipurpose offset pavers
Wirtgen's versatile multipurpose offset pavers – the SP 15/SP 15i and SP 25/SP 25i - are the smart choice for paving high quality monolithic profiles. The offset molds can be positioned on either side of the machines, within or outside the chassis. In addition to paving a diverse range of offset profiles, the SP 25/SP 25i can also be used as an inset paver, placing narrow pavements, such as golf and bicycle paths. Transport poses no problem due to both machines' compact design.
SP 64/SP 64i: Top-quality paving of large concrete slabs
With the SP 60 series - consisting of the offset slipform paver SP 61/SP 61i, the two inset slipform pavers SP 62/SP 62i and the SP 64/SP 64i - Wirtgen complements the offset SP 15/SP 15i and SP 25/SP 25i series. For inset slipform pavers, the SP 60 series for medium pave widths between 6.56 and 24.6 ft. (2,000 and 7,500 mm) closes the gap between the small and medium-sized models  and the larger SP 90 series. The comprehensive product portfolio of Wirtgen's inset slipform pavers thus covers all performance classes and application areas.
In Las Vegas, Wirtgen will present the SP 64i slipform paver. With its 245 hp (180 kW) power plant, the SP 64i offers the performance demanded by the North American market. Concrete slabs in widths between 6.56 and 24.6 ft. (2.0 and 7.5 m) with a paving thickness of up to 17.7 in. (450 mm) can be paved with high precision using this machine.
TCM 180/TCM 180i: Self-propelled curing unit with new features
The Wirtgen pavers will be complemented by the self-propelled, track-mounted TCM 180/TCM 180i texture curing unit on display. The curing unit's modular design permits working widths between 13 ft., 1 in. and 59 ft., 1 in. (4 m and 18 m). The TCM 180/TCM 180i can create different surface textures using one single system to meet all requirements, in addition to the well-established functions of transverse brushing and spraying, and longitudinal brushing and spraying; even a diagonal finish is possible. Meander spraying is a special option: this method permits transverse spraying during uninterrupted travel.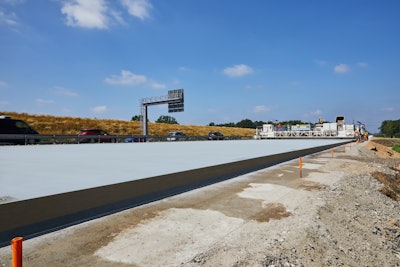 Hot-water system for easy cleaning
Cleaning the spray systems of curing machines economically is something of a challenge. With this in mind, Wirtgen has integrated a hot-water system with a 24-gal. (90 L) tank in the TCM 180/TCM 180i. With this system, curing agent adhering to the inside of the pipes can be completely removed with water up to 140 F (60 C) in temperature -- and the entire spray system quickly and reliably cleaned -- all at the push of a button and by shifting two ball cocks.
Brush-cleaning unit ensures quality of the surface texture
Another new feature is the lateral brush-cleaning unit. It removes slurry build-ups which adhere to the brush during changes of direction when applying a transverse brush finish. Before the brush is lowered back down to the concrete surfacing, it is set to the optimum angle of incline via the adjustable system to meet customer requirements. This prevents deep impressions which might damage the edge of the concrete pavement.
High-Performance Impact Crusher MOBIREX 130 Zi EVO2
With its MOBIREX MR 130 Z EVO2, Kleemann offers a mobile impact crushing plant that is particularly suitable for demolition concrete recycling and aggregate production. The plant is designed for simple transport and is quickly ready for operation. The diesel-direct drive concept also ensures high performance with economical consumption at the same time.
The plant is controlled via a 12-in. touch panel based on Kleemann's exclusive SPECTIVE control concept. SPECTIVE simplifies the operation of the plant, as all functions are recognizable at a glance and clear symbols point the way. This way operating errors are avoided and occupational safety is improved.
Fast relocation of the plants is made possible by the extended radio remote control Quick Track. With the plant running, a direct switch from crushing operation to driving operation and vice versa is possible. This increases the plant performance and reduces waiting time.