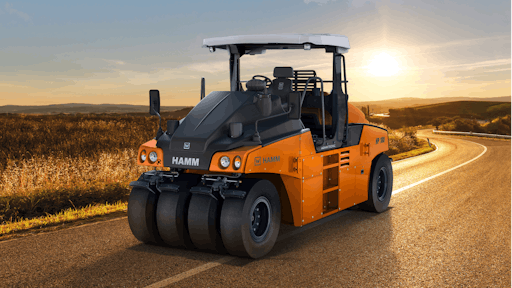 HAMM
HAMM is showing itself to be as innovative as ever at bauma 2019. The manufacturer is presenting innovations in all product segments, including a few world premieres. The spectrum ranges from a completely new series of pneumatic tire rollers and the first tandem roller with true split oscillation drums to numerous new options for earthwork compaction.
HP series: The new generation of pneumatic tyre rollers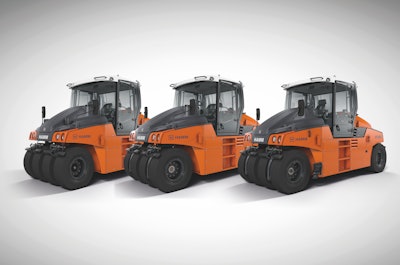 The HP series of pneumatic tire rollers is one of the world premieres from HAMM at bauma 2019. All of the models in the new series of pneumatic tyre rollers are based on a common platform that combines proven advantages with attractive new features. HP series rollers offer drivers simple, intuitive operation and an ergonomically optimized operator's platform. Together with a number of sophisticated details in terms of machine design, the asymmetrical frame provides for excellent compaction and optimal visibility at all times. 
HAMM has also further improved the unique ballast flexibility with prefabricated ballast body kits available in various weights, and the facility for straightforward self-ballasting. There are also new solutions for water and additive sprinkling: these are large tanks, a pressurized filling system as standard, a large additional water tank that can also be used as ballast, and a novel additive preparation process which is as simple as it is efficient.
The HP series pneumatic tire rollers will be available in various basic versions (HP 180/HP 180i and HP 280/HP 280i) with operating weights ranging from 8 t to 28 t. HAMM will supply the models worldwide in accordance with the locally demanded weight classes and equipment variants – taking into account local emissions regulations at all times. In addition, HAMM also offers a wide range of options, from classic features such as the tyre inflation system and the edge pressing and cutting equipment, to new innovations such as anti-slip control for optimum traction.
Many new innovations in oscillation
Renowned as a pioneer in efficient and intelligent oscillation compaction, HAMM continues to develop this technology. At bauma 2019, the manufacturer is presenting two exciting innovations: a split oscillation drum and the VIO compaction meter for oscillation. HAMM has also further optimized the drive concept for the oscillation drums, making the next generation of oscillation drums completely maintenance-free.
Split oscillation drum satisfies the most exacting requirements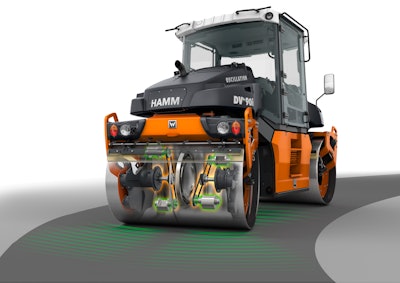 Alongside the split vibrating drums, HAMM now also offers split oscillation drums, which combine the benefits of oscillation with the added value of a split drum. Oscillation enables these drums to deliver excellent results for compaction on bridges, of thin layers, in vibration-sensitive areas or at critical temperatures. Thanks to their split drums, they are ideally suited to challenging tasks such as compacting difficult-to-compact asphalts and curved sections.
Developed and patented by HAMM, this premium solution is the only one of its kind on the market. It can be seen in the DV+ 90i VS-OS at bauma 2019. A separate, mechanically-independent oscillation unit operates in each half of the split oscillation drums. An integrated control mechanism adjusts the rotational speeds of each half of the drum to match one another. The synchronization is done electrohydraulically. Because the system reacts quickly and precisely, synchronous vibration in each of the two drum halves is guaranteed in any situation. This reduces the danger of cracks in or displacement of the asphalt, and is ultimately a great advantage in terms of quality. 
World premiere: Compaction measurement for oscillation
With the world's first VIO compaction meter, HAMM is expanding its range of modules for compaction measurement and documentation at bauma 2019. HAMM is thus the only manufacturer offering the ability to measure compaction in oscillation mode. This means that HAMM rollers can document their passes in a traceable way, even for continuous dynamic compaction control applications with oscillation. The system is already available for the H 7i VIO and H 13i VIO compactors.
Easy Drive: One operating concept for four series of rollers
Over the past few years, HAMM has launched the innovative operating concept Easy Drive onto the market. It is the result of an extended research and development project over a number of years in which HAMM has collaborated with universities and ergonomics specialists as well as roller drivers from different countries. Easy Drive offers machine operators ample clearance, optimum ergonomics and plenty of comfort, in addition to advantages such as intuitive and therefore safe user guidance, the shortest possible learning and familiarization times and an operator's platform that can be adjusted to practically any body height.
Easy Drive has now been introduced into all new generations of machines: it is now available for all DV+ series tandem rollers and H series compactors, as well as for most HD+ series tandem rollers and HP series pneumatic tyre rollers. The system for operation is the same for all of these rollers, with each one adapted to the specific functions of each individual series. As the design allows for rapid, stress-free orientation, drivers can be deployed flexibly on different roller types.
The amount of feedback received from operators and construction companies also shows that Easy Drive provides added value. They all agree that the overall concept makes for sustained concentration and very safe and relaxed operation.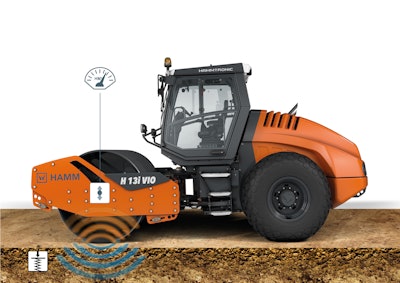 Top performance in earthwork
To date, HAMM has predominantly enjoyed synergies with the Wirtgen Group in the area of asphalt compaction. The integration into Deere & Company is giving the compaction specialists additional opportunities, particularly in the area of earthworks. HAMM is highlighting this with a separate exhibition area dedicated to earthworks at bauma 2019. Here, the manufacturer will present a number of machines with solutions for all markets and a wide variety of applications from its broad spectrum of products for earthworks – including various configurations and options. These also include innovations such as the C compactors for heavy earth work, and the newly developed dozer blades.
C compactors: for tough jobs
At bauma 2019, the range of H series compactors is being expanded to include the "C models." These machines are fitted with a reinforced hydrostatic drive and provide up to 30% more torque, giving them much better traction and climbing ability than that of the standard models. They are perfectly equipped to deal with heavy earth work, landfill construction and the compaction of cohesive soils. Despite this, they are still economical: fuel consumption in the models with and without reinforced drives is almost identical because the same diesel engine is used in each of the rollers.
2 in 1: Compactors with dozer blade
HAMM is also expanding potential applications in earthworks with a new dozer blade for compactors. The geometry of the new dozer blade allows more material to be moved and distributed than before, while special skid shoes prevent it from digging into the ground. In addition, the patented high-visibility cross member provides an unobstructed view of the area in front of the dozer blade. Importantly, the dozer blade can be controlled quickly and extremely sensitively thanks to the proportional valve. Two versions of the new dozer blade are available for H series compactors.