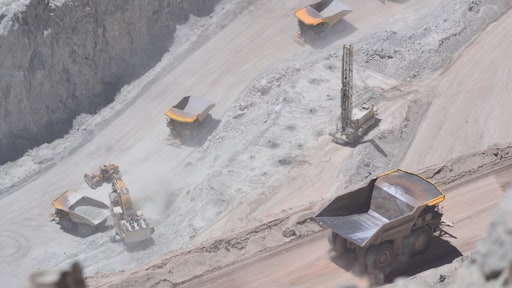 IMDEX—which develops cloud-connected devices and drilling optimization products for the mining industry—works with some of the global mineral industry's leading organizations.
The company's global footprint in key mining regions throughout the world gives enables it to provide a glimpse of the some of the emerging trends and challenges facing the sector.
Technology - the Cloud
The global minerals industry has turned to technology to improve safety, enhance efficiencies and reduce the cost of exploration and extraction. When people think about innovation, most minds turn to autonomous haulage or remote operations. But there's an enabler to this innovation. The Cloud. And it's occupying considerable thought.
Companies, not least of which are those in mining services and the resources sector, are utilizing cloud platforms to store data remotely and retrieve it via the internet. Remote mining operations using an array of software, sensors and communications are becoming routine because of these systems.
But the Cloud also provides the opportunity to improve productivity.
IMDEX General Manager, Product Development, Dr. Michelle Carey, says clients are increasingly wanting to use the Cloud because it enables them to get data faster and in real-time. "We refer to it as the single source of truth," says Dr. Carey. "Accurate, reliable data delivered in real time that can be seen simultaneously by many people, which then enables real-time decision making.
"It also means there are no issues about the chain of custody. Using the Cloud gives clients the confidence that no-one has tampered with the data so they can make decisions based on data they trust."
Business' enormous appetite for the collection and storage of data is making these platforms increasingly popular. A decade ago, it would have been unthinkable that we'd be sharing computing and IT resources over the internet. Today the Cloud is a business imperative.
The resources sector, once satisfied its concerns regarding access and data security were met, have been quick to capitalize on cloud computing.
Cloud computing of course does have its downside (similar to any technology). To work properly, cloud systems require reliable internet access, but increasingly that is becoming an essential on even the most remote mine sites.
Professional services firm EY's September 2019 poll of mining executives indicated that ensuring digital (and data) effectiveness continues to rank within the top risks for their respective organizations. EY also notes further that cloud related investment will account for the largest share of technology spend (over the next two years) in more than 50% of companies.
IMDEX has been in the Cloud for over 10 years and is known for its real-time, subsurface intelligence solutions with numerous sensors on the drill site, at the core farm and increasingly on the bench collecting high quality data.
These technologies can be connected to IMDEXHUB-IQ™ – an award-winning cloud-based web portal that collects, stores and provides critical operational data. This data is protected through a validated chain of custody and a secure database, accessible from any internet connection to smart phone, tablet or PC.
Social license to operate
Most are familiar with the notion of 'social license to operate'. It's a key theme for the global minerals industry. But the notion of license to operate is evolving. Society is expecting more from organizations.
Once, companies in the minerals and resources sector focused primarily on ensuring compliant operations. Today, compliance is just 'step-one'… the minimum standard.
External stakeholders are scrutinizing companies more than ever; how an organization is managing environmental responsibilities and the health and safety of their workforce. They're insisting on local content and strong community investment; ensuring there's support for local indigenous communities and that a company is committed to addressing climate change.
The effective management of these requirements ensures the community will have confidence in an organization. They'll grant their social license, because they trust the company.
And earning trust and confidence is seeing a shift in how organizations structure the management of community stakeholders.
Organizations are now taking a more integrated approach. Elements of the business such as community investment, management of health, safety and the environment and stakeholder/investor relations are coming together as part of a more strategic approach. One that ensures not just appropriate operational compliance, but incorporated into a broader strategy to engage with key stakeholders. An approach that views the community as not merely stakeholders…but as partners in their businesses.
Not only does this ensure enhanced stakeholder relations, it mitigates business risk. Ensuring sustainable operations; and sustainability is very important.
IMDEX will include additional economic, environmental and social impacts of its activities in its 2020 annual report, with the aim of preparing a sustainability report in accordance with Global Reporting Initiative standards within 3 years.
Dr. Carey says IMDEX already has a suite of products and services that support the sustainable operation of mining industry stakeholders.
"Our technologies improve productivity by providing information that affects decisions throughout the life of the mine, but they also have sustainability and environmental benefits," Dr. Carey says. "The technologies enable clients to understand material properties accurately at a finer scale and in real-time enabling them to mine with less waste and process ore more effectively.
"Improved precision in exploration, drilling programs and mining means a reduction in waste. Things like our Solids Removal Units and BOS tool means reducing the use of water during the drilling and the size of the footprint disturbed during drilling."
Sustainability and emissions reduction
Notwithstanding COVID-19, climate change and the imperative to reduce carbon emissions remains the most considerable challenge of our time.
The global mineral industry, as much as any other industry, has led the way in accepting the scientific evidence linking the release of greenhouse gases such as carbon dioxide, with global warming.
On the back of increasing stakeholder pressure, we've seen most mining companies taking steps to reduce their greenhouse gas emissions.
And the business case for decarbonization is strengthening, with some insurers denying coverage to miners (particularly in the coal sector). Organizations or industries perceived as 'polluters,' may well struggle to attract talent while customers will increasingly seek partnerships with producers able to demonstrate carbon-neutral or 'clean' commodities.
Mining companies need to take the lead. As Deloitte outline in their February 2020 Insights, that means carbon reduction targets, along with more specific targets addressing particular industries, to meet emissions reduction goals. In fact, some organizations are setting more audacious goals, to be entirely carbon neutral.
In outlining the 'Top 10 business risks and opportunities – 2020,' EY suggests the transition to clean energy will be mineral intensive with increased demand anticipated for lithium, cobalt, copper, nickel and many other minerals.
And that's a good thing for the global mineral industry.