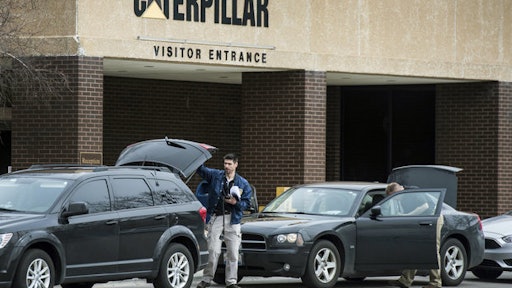 Fred Zwicky | Journal Star | AP
Yesterday was a tumultuous day for the industry giant, Caterpillar Inc.
On March 2, 2017, law enforcement authorities entered three Peoria-area Caterpillar Inc. (NYSE: CAT) facilities, including the corporate headquarters, to execute a search and seizure warrant. The warrant is focused on the collection of documents and electronic information. Caterpillar is cooperating with law enforcement.

While the warrant is broadly drafted, we believe the execution of this search warrant is regarding, among other things, export filings that relate to the CSARL matter first disclosed in Caterpillar's Form 10-K filed on February 17, 2015, and updated in Caterpillar's most recent Form 10-K filed with the SEC on February 15, 2017.
The U.S. Attorney's Office in the Central District of Illinois conducted the raid in concert with three other federal agencies: The Federal Deposit Insurance Corporation office of inspector general, the Internal Revenue Service criminal investigation division and the Department of Commerce office of export enforcement.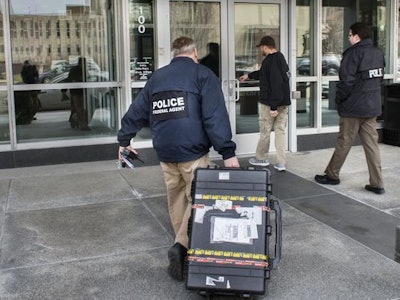 Learn more in OEM Off-Highway's Storify collection of the events as they unfold: https://storify.com/oemoffhighway/feds-raid-caterpillar-inc 
A Department of Justice spokesperson confirmed the investigation to Forbes by telephone, stating that Caterpillar's Peoria, Ill. headquarters and its offices in East Peoria and Morton, Ill. were subject to the law enforcement operation. Caterpillar also issued a statement confirming that law enforcement was on its premises, and that the company was cooperating.
Caterpillar's tax rate and its treatment of replacement parts sales has been the subject of scrutiny in Washington for several years. The machinery company has been dogged by accusations of using sham transactions to shift profits to low tax jurisdictions like Switzerland, saving billions in taxes.
Learn more in OEM Off-Highway's Storify collection of the events as they unfold: https://storify.com/oemoffhighway/feds-raid-caterpillar-inc