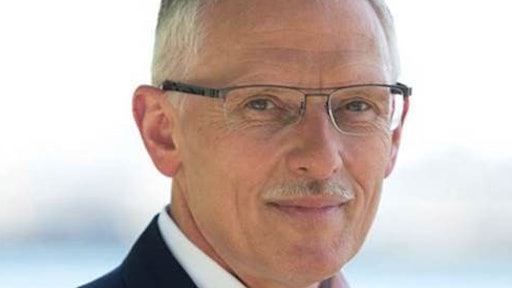 Dr. Wilfried Achenbach, Senior Vice President of Engineering and Technology for Daimler Trucks North America (DTNA), will serve as keynote speaker at the 2017 Green Truck Summit on Tuesday, March 14. His address will offer insights into the technology, energy and environmental issues that will shape the future of the work truck industry, based on his experience in truck mechatronics, a multidisciplinary field of engineering that combines systems, mechanical, electrical, telecommunications, control and computer engineering.
The Green Truck Summit is the premier alternative fuels and advanced technology conference held annually in conjunction with The Work Truck Show. Produced by NTEA – The Association for the Work Truck Industry, the 2017 Summit takes place March 14–16 at the Indiana Convention Center in Indianapolis, IN. Work Truck Show educational sessions begin March 14, and the exhibit hall is open March 15–17.
The summit kicks off March 14 at 8:30 a.m. with opening remarks followed by Achenbach's keynote address at 8:45 a.m. General sessions then run from 9:30 a.m.–5 p.m. Lunch is included, and a reception tops off the event from 5:15–6:15 p.m. Attendees can also choose from Green Truck Summit and Work Truck Show concurrent sessions March 15–16.
Achenbach is responsible for all product engineering and planning functions, including design, testing, styling, analysis and compliance. He is a member of DTNA's Operating Committee, the thought leadership team that guides the company's decisions regarding technological evolutions and developments to meet the future needs of customers and the environment. Fleet managers, truck dealers, equipment distributors, manufacturers and upfitters will benefit from his global perspective on how work trucks will evolve — in terms of technology, fuel and functionality — over the next 20-30 years, and how concepts evolve into actions to produce a reliable, production-ready vehicle.
"Being one of the handful of people in the world who sit in a position to influence the advancement of work truck technologies for the next several decades makes Dr. Achenbach a really interesting choice for keynote speaker this year," says Doyle Sumrall, NTEA Managing Director. "Among other things, he has a solid vision of vehicle electrification that closely parallels this year's Green Truck Summit theme of creating an impactful and efficient path to zero-emission commercial vehicles."
Prior to joining DTNA, Achenbach was responsible for mechatronics systems for Daimler AG in Stuttgart, Germany, focusing on electrical and electronics development for the next generation of European trucks. Concurrently, he led the mechatronics group within the global Daimler Trucks development organization.
Before moving to Daimler Trucks, Achenbach held various positions within the passenger car division, focused on driving dynamics and driver assistance, also spending several years in a senior executive position at Chrysler. He earned a diploma in physics and a Ph.D. in nuclear physics at Johannes Gutenberg University in Mainz, Germany.
Following Achenbach's address, Green Truck Summit attendees will participate in a variety of general sessions offering balanced perspectives from vocational truck and energy industry experts.