According to ACT Research's (ACT) latest release of the North American Commercial Vehicle OUTLOOK, yellow lights are flashing for the U.S. economy, and by Rate Pressure Analysis - OUTLOOK 1901extension for the North American commercial vehicle industry.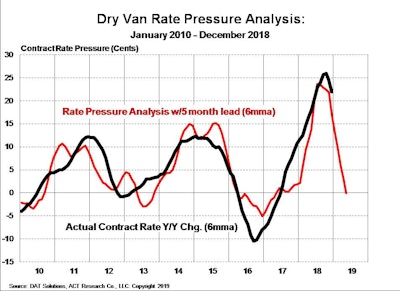 "Over the course of Q4'18, the list of indicators flashing yellow became longer and brighter for the U.S. economy," says Kenny Vieth, ACT's President and Senior Analyst. He elaborates, "While there is insufficient evidence to make a recession call, there is enough presently to suggest growing potential for sectoral recessions, à la 2015."
Regarding the transportation industry, he notes, "After several months of deterioration, the spread between contract and spot rates has been sufficiently wide for a sufficiently long period that ACT's rate pressure analysis is now calling for negative contract rates, if just, by Q2'19." Despite some caution creeping into the outlook, the heavy commercial vehicle market continues to benefit from a still-broad spectrum of supply and demand-side triggers.
Regarding ACT's medium-duty forecasts, Vieth says, "Preliminary December orders were modestly below the current trend, with orders averaging 25,000 units per month in 2018, which continued to exert moderate upward pressure on forecasts."