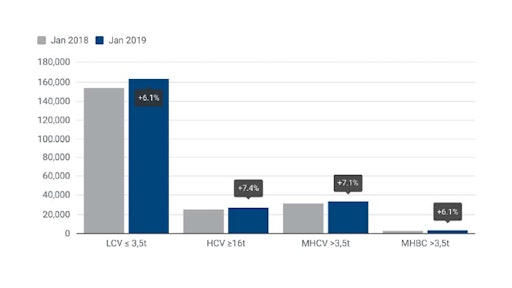 ACEA
In January 2019, the EU market for commercial vehicles grew by 6.2%. Compared to January last year, total registrations increased from 188,102 to 199,853 units, marking the highest January volume on record.
Total new commercial vehicles
Growth was sustained across all commercial vehicle segments and in all key EU markets except Italy (-1.3%). Germany (+15.8%) recorded the highest gains last month, followed by the UK (+9.7%), France (+8.4%) and Spain (+8.3%).
New light commercial vehicles (LCV) up to 3.5t
During the first month of 2019, registrations of light commercial vehicles across the EU increased by 6.1%. Vans made up almost 82% of all commercial vehicles registered last month, thereby making a significant contribution to overall growth. Among the major EU markets, Germany (+13.2%), France (+9.1%), the United Kingdom (+8.6%) and Spain (+7.9%) all performed very well, while demand in Italy (+0.4%) remained similar to January 2018 levels.
New heavy commercial vehicles (HCV) of 16t and over
January 2019 results in the heavy truck segment showed a strong uplift (+7.4%), with 27,948 units registered in the European Union. Except for Italy (-10.2%) all major markets posted robust growth in the first month of the year; with the UK (+31.1%), Germany (+26.9%) and Spain (+12.2%) recording double-digit increases.
New medium and heavy commercial vehicles (MHCV) over 3.5t
In the first month of the year, EU new truck registrations started the year positively, going up by 7.1% compared to one year ago. Looking at the five biggest EU markets, the United Kingdom (+24.9%) and Germany (+23.4%) saw the strongest growth, while demand for trucks fell in Italy (-10.2%).
New medium and heavy buses & coaches (MHBC) over 3.5t
January 2019 registrations of buses and coaches were 6.1% higher than in the same month one year ago. France and Germany, the segment's key markets, provided a crucial boost to EU demand (up 32.8% and 12.0% respectively). By contrast, UK (-42.4%), Spanish (-3.6%) and Italian (-1.7%) demand for new buses and coaches contracted in January of this year.