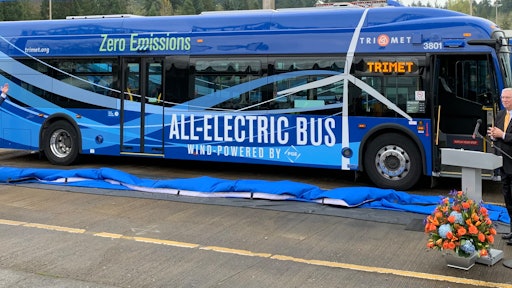 TriMet
TriMet—which provides bus, light rail and commuter rail service in the Portland, OR, region—announced on April 16 it was partnering with Portland General Electric (PGE) to power TriMet's all-electric buses on 100% wind energy. The buses will be powered by PGE's Clean Wind renewable energy program.
This is an initial step in the transit agency's efforts to transition to a non-diesel fleet by 2040.
TriMet's first all-electric bus in the fleet is a New Flyer Xcelsior CHARGE zero-emission bus which has undergone initial testing in the city since early March of this year. Four more electric buses will soon join it, all of which will be powered by renewable wind energy.

Instead of a diesel-powered engine, the electric buses use electric motors powered by energy stored within rechargeable battery packs. The buses are estimated to reduce greenhouse gas (GHG) emissions by 100-140 tons per year compared to a 40-ft. (12.2 m) diesel bus, and 75 tons per year compared to TriMet's current diesel-hybrid buses—of which it has eight. Regenerative braking in the buses enables kinetic energy to be captured, stored and reused by the batteries when necessary.
When recharging of the buses occurs at the transit depot, the electricity provided to do so will be supplied by renewable wind power from PGE, creating a more sustainable means of power generation and use. One of the many concerns with the growing use of electric vehicles is the amount of electricity that will be needed to power them, and the less sustainable means often used to create that electricty, such as coal which produces harmful emissions. With wind energy however, a renewable resource—wind—is utilized to generate the electricity without fear of creating more emissions or using a less plentiful resource.
Read TriMet's full press release about the partnership to learn more.
TriMet also recently announced it will be testing "renewable" or "green diesel" as part of its emissions-reduction efforts. It will begin testing the fuel in May.
While it performs like its petroleum-based counterpart, renewable diesel is made from sustainable, living or recently living resources such as natural fats, vegetable oils and greases. Because of this, it produces fewer emissions and reduces reliance on finite fossil fuels.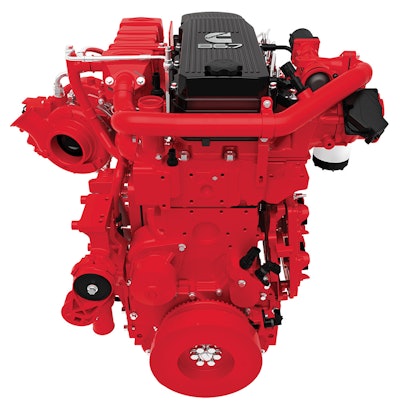 Over the course of 4 months, TriMet will test renewable diesel in 180 of its buses in East Portland. The majority of the fleet's diesel buses are equipped with Cummins engines certified to be 100% compatible with renewable diesel fuel, making it easier for the transit agency to test the fuel without having to make modifications to its existing fleet.
Learn more about this project, as well as other sustainability efforts TriMet is undertaking in the press release announcing the testing of renewable diesel.
Companies in this article