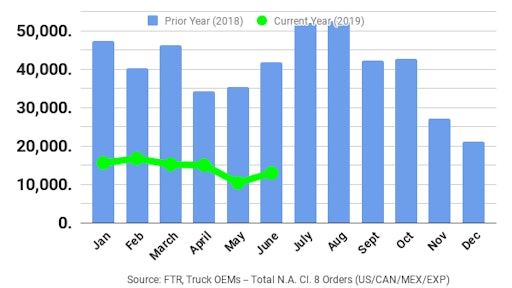 FTR reports preliminary North American Class 8 orders for July were 9,800 units, falling below a 10,000-unit threshold that has not been breached since 2010. Despite most order boards being opened for 2020 build slots, carriers appear in no rush to grab production capacity. July orders were 24% below an already soft June with a -82% year-over-year (y/y) comparison. Class 8 orders for the past 12 months have now fallen to a total of 288,000 units.
Jonathan Starks, FTR Chief Intelligence Officer, comments, "Fleets continue to take a wait and see approach to 2020 equipment. Potentially higher equipment costs, uncertain demand, and enough available capacity in the market are keeping order activity at bay."
Final data for July will be available from FTR later in the month as part of its North American Commercial Truck & Trailer Outlook service.