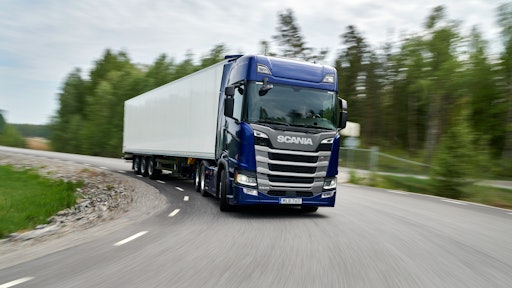 Scania AB
In September 2019, EU commercial vehicle registrations dropped for the first time this year (-10.0%), bringing an end to 8 months of consecutive growth.
Total new commercial vehicles
Demand fell across all segments and in all major EU markets, with the exception of Italy (+8.8%) and France (+2.5%). The UK – still facing Brexit uncertainty – recorded the strongest decline last month (-22.0%), followed by Germany (-11.5%) and Spain (-4.2%).
Nine months into the year, demand for new commercial vehicles remained positive (+4.6%) in the EU, despite the decline in September. With a double-digit increase (10.9%) Germany led this growth, but the four other major markets also posted positive figures so far this year: France (+6.1%), the United Kingdom (+5.1%), Italy (+4.9%) and Spain (+1.5%).
ACEA
New light commercial vehicles (LCV) up to 3.5t
September 2019 results showed a 9.4% drop in registrations of light commercial vehicles across the EU. The main reason for this decrease is that new van sales are subject to the WLTP emissions testing regime as from September 1, exactly one year after the test was introduced for all passenger cars. In fact, more than half of all EU countries posted declines in September (16 in total), with the United Kingdom (-23.5%) and Germany (-11.2%) recording double-digit losses last month.
So far in 2019, the EU market for new vans expanded by 4.4% to reach 1.6 million vehicles registered in total. Each of the EU's major markets did well during the first 9 months of the year: Germany (+11.2%), Italy (+6.9%), France (+5.9%), the United Kingdom (+4.5%) and Spain (+1.9%).
New heavy commercial vehicles (HCV) of 16t and over
In September, registrations of heavy trucks recorded a year-on-year decline for the third month in a row, falling by 13.8% to 22,887 units last month. Indeed, all key markets of the European Union recorded weak performances last month, especially Italy (-22.9%) and Germany (-16.3%).
From January to September 2019, EU demand for heavy-duty trucks went up by 5.3%, despite the slowdown over the last three months. This growth was largely driven by the United Kingdom (+16.0%), France (+9.2%) and Germany (+8.2%). At the same time, heavy-truck registrations decreased in Italy (-6.7%) and Spain (-1.4%).
New medium and heavy commercial vehicles (MHCV) over 3.5t
Last month, demand for new trucks was 13.4% lower across the European Union than in September 2018. As was the case for the heavy-duty segment, all major EU markets saw registrations fall in September. Italy (-22.7%), Germany (-12.3%) and the UK (-11.3%) posted double-digit declines.
Over the first 9 months of the year, EU truck registrations increased by 5.7%, even though demand was negative in the third quarter. The United Kingdom (+13.6%), Germany (+10.6%) and France (+8.0%) led this growth, while Italy (-6.4%) and Spain (-2.0%) performed worse than the year before.
New medium and heavy buses & coaches (MHBC) over 3.5t
In September 2019, EU registrations of buses and coaches were 6.7% lower than last year. Growth in the key markets was mixed. After a very strong performance in August, Spain saw a double-digit drop (-28.8%) last month. By contrast, French (+11.1%) and Italian (+5.6%) registrations increased in September.
Nine months into 2019, demand for new buses and coaches remained positive (+2.9%). So far this year, growth was largely sustained by Central Europe (+17.1%). Looking at the major Western European markets, France (+2.5%), Spain (+0.7%) and Germany (+0.3%) were the only countries that managed to post modest gains.