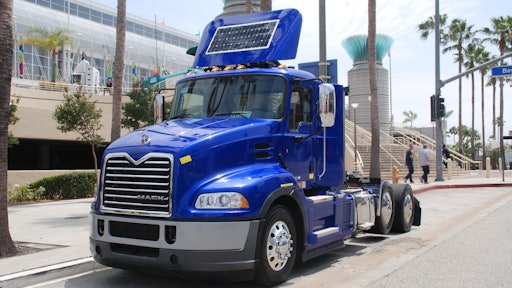 Mack Trucks continued to demonstrate its commitment to industry-leading technology advances in 2016 by introducing innovative products as well as laying the groundwork for future industry advancements.
"At Mack, we've always been determined to develop trucks and powertrains that help our customers achieve their desired business goals," says Jonathan Randall, Mack Trucks Senior Vice President of Sales. "We've done this through a focused effort on engineering products and designing services that offer real-world benefits to our customers, such as increased fuel efficiency or improved uptime."
Mack has consistently designed and engineered trucks and powertrain components – such as the introduction of the Mack Maxidyne engine in 1967, which revolutionized over-the-road trucking – beyond the scope of the traditional tractor or conventional straight truck. Many of these innovations currently are available for order, while some technologies continue to be cultivated for potential use in the future.
New Transmissions, GHG 2017 MP8 engine with Turbo Compounding Added to Mack Portfolio
Mack recently introduced three such innovations – the 2017 Mack MP 8 engine with turbo compounding and Mack mDRIVE HD 13- and 14-speed automated manual transmissions. With up to two low-ratio creeper gears, the new mDRIVE HD variants provide improved startability for heavy loads, while maintaining proper gearing for fuel efficiency at speed.
Available in direct or overdrive configurations, the new Mack mDRIVE HD 13-speed offers a low reduction gear ratio designed for easier startability on steep grades or when the truck is hauling a heavy load. The Mack mDRIVE HD 14-speed, available only in an overdrive configuration, adds a second ultra-low-speed reduction gear designed for curb pouring applications or low-speed, heavy-haul maneuvering. Both transmissions offer up to four reverse gear ratios.
The new Mack mDRIVE HD models share their architecture with the standard mDRIVE HD, including reinforced internal components and the same gear ratios for the 12 forward speeds. 
Available for order in Q1 2017 exclusively with Mack's Super Econodyne downspeeding package, the MP8 with turbo compounding offers highway customers increased fuel efficiency. Turbo compounding converts wasted energy from the exhaust into mechanical energy that is fed back to the engine. The system adds up to 50 additional horsepower, improving fuel efficiency by up to 8.8%.
The additional power generated by the turbo compounding system allows the engine to maintain full torque as low as 900 rpm. "This enables a broader operating range in top gear and also allows a truck to hold top gear longer when overtaking a hill, even with falling engine rpm," says Scott Barraclough, Mack Technology Product Marketing Manager.
The MP8 with turbo compounding is just one of many enhancements Mack made to its engine lineup, which includes the MP7, the MP8 and MP10, to meet GHG 2017 regulations. 
Several of the revised components and technologies found on Mack's 2017 MP Series engines – including the patented wave piston, turbo compounding and the common rail fuel injection system – were derived from research and development work associated with the U.S. Department of Energy's SuperTruck program. 
The SuperTruck program, a cost-shared, public-private partnership, aims to help accelerate the research and development of advanced efficiency technologies to improve the freight-hauling efficiency of heavy-duty Class 8 long-haul tractor-trailer trucks.
Along with its involvement in the SuperTruck program, and now SuperTruck II, Mack also has been involved in several advanced technology projects that have unique features and benefits for specific applications.
Alternative Technology Innovations Set Stage for the Future
One such advanced technology initiative is the Mack near-zero emission drayage trucks demonstration project, which includes two plug-in hybrid electric vehicles (PHEV) based on the Mack Pinnacle DayCab model. 
The first Mack drayage truck was built as part of a South Coast Air Quality Management District (SCAQMD)-sponsored project and is capable of zero-emission operation thanks to the integration of a Mack MP7 clean diesel engine with a proprietary parallel hybrid system and lithium-ion battery pack. Additional lightweight and aerodynamic-enhancing components extend the benefits of the hybrid technology and maximize zero-emission range.
This first prototype truck is currently undergoing testing in a drayage fleet at the Ports of Long Beach and Los Angeles as part of a partnership with Calstart and the California Energy Commission. It uses geo-fencing capabilities similar to those enabled by Mack's GuardDog Connect telematics platform, to switch between zero-emission and hybrid operating modes. Geo-fencing establishes a virtual perimeter as determined by GPS coordinates. The on-board hardware can then identify each time the truck passes through the perimeter.
When inside the zero-emission geo-fence (which includes locations with the heaviest freight traffic, such as a port) the truck operates in pure electric mode. When outside the zero-emission geo-fence – such as on the way to a rail yard or distribution center – the clean diesel engine is enabled, allowing for hybrid operation and recharging of the batteries.
Mack is now developing a second prototype truck which incorporates many improvements to components and software derived from operational testing of the first prototype. Enhancements include more power in Zero Emission mode and an intelligent geo-fencing algorithm to deliver even more emission reduction benefits. The second prototype vehicle will join its predecessor for evaluation in revenue service in 2017.
Mack Trucks is also working with Siemens to demonstrate a near-zero emission Class 8 drayage truck as part of the eHighway project sponsored by the SCAQMD. The project's goal is to reduce air pollution at freight-intensive locations and will take place on a one-mile section of eHighway that Siemens installed near the Ports of Los Angeles and Long Beach – the two largest ports in the U.S. 
The eHighway infrastructure covers select lanes of a highway with a catenary system similar to those used to power trolley or streetcars. The Mack truck connects and disconnects to and from the catenary system at any speed for dynamic power supply, thanks to a current collector supplied by Siemens, allowing for near-zero emissions when operating on the eHighway corridor.
The Mack prototype used in the demonstrations is a conventional Pinnacle DayCab model equipped with a proprietary and fully integrated plug-in hybrid electric driveline, offering significant fuel savings and emissions reduction benefits even when the truck is operating outside of the eHighway. 
Yet another vehicle Mack currently is testing is its LR refuse model retrofitted with the Wrightspeed Route 1000 powertrain. Mack is the first OEM to evaluate Wrightspeed technology within a Class 8 refuse vehicle.
Mack Evaluating Wrightspeed Electric Powertrain for Refuse Industry
The Wrightspeed Route is a range-extended electric vehicle powertrain that helps reduce fuel consumption and vehicle maintenance costs because it uses electricity to deliver 100% of the vehicle's propulsion. 
"As the clear leader in the refuse industry, Mack consistently seeks opportunities to pioneer new technology," says Curtis Dorwart, Mack Refuse Product Marketing Manager. "We're currently evaluating Wrightspeed's powertrain technology to see how it can most benefit Mack's refuse customers."
The system features an advanced plug-in-capable battery pack that enables a purely electric range of up to 24 miles. When the batteries' charge is depleted, an 80 kW, fuel agnostic Fulcrum Turbine Generator, which can operate on natural gas or diesel fuel, recharges the batteries, enabling Route-equipped vehicles to have unlimited range with refueling.
Additional recharging comes from the Route's 730 kW regenerative braking system, which generates electricity as the vehicle comes to a stop. Regenerative braking helps reduce maintenance costs, as braking force – and subsequent brake wear – is significantly decreased.
Electricity from the battery pack powers four Geared Traction Drive (GTD) electric motors, enabling the Route powertrain to power vehicles up to 66,000 lbs. on grades as steep as 40%. With full torque available from zero rpm, the Route provides a driving experience comparable to diesel-powered trucks.
Mack Trucks also recently began a demonstration of its Mack Pinnacle model powered by Dimethyl Ether (DME), a non-toxic, clean-burning alternative fuel that offers many environmental and societal benefits.
One of the most significant advantages of the fuel is that it produces no soot, eliminating the need for a diesel particulate filter (DPF). DME can provide up to a 95% CO2 reduction compared with diesel when produced from biomass or biogas. DME also can be made from North America's plentiful domestic natural gas supply, food waste, animal waste, grass clippings and other sustainable sources, offering the potential to help reduce dependency on foreign oil.