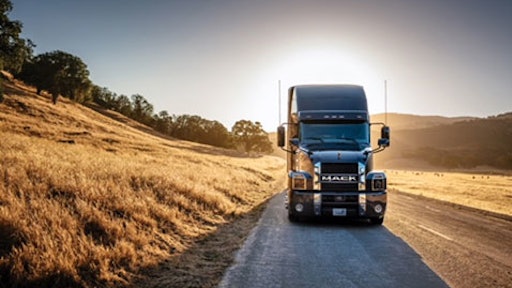 The Industrial Designers Society of America has awarded Mack Trucks' design team a Silver International Design Excellence Award (IDEA) in recognition of their work on the all-new Mack Anthem model. The team accepted the award at the 2018 International Design Conference IDEA Ceremony & Gala in New Orleans.
"For those of us in this field, being recognized with an IDEA award is among the top honors you can receive," says Lukas Yates, Mack Chief Designer – Exterior. "I'm extremely proud of the team effort that helped make the Mack Anthem such a striking statement to the trucking world."
With a commanding, distinctively Mack look, the Mack Anthem is the truck of choice for drivers wanting to make a statement. Yet despite its chiseled appearance, the Mack Anthem was designed with several new aerodynamic enhancements to improve fuel efficiency by up to 3%. In addition to a new hood and grille, a new roof, chassis fairings, front bumper and air dam were created to help the truck more easily cut through the wind.
Since 1980, the annual IDEA awards have celebrated the peak of design achievement. With 20 competition categories, the awards demonstrate the expansive nature of industrial design and the impact it has on daily life. Designers from around the world participate in the awards program, each striving for the career-defining achievement of winning an IDEA.