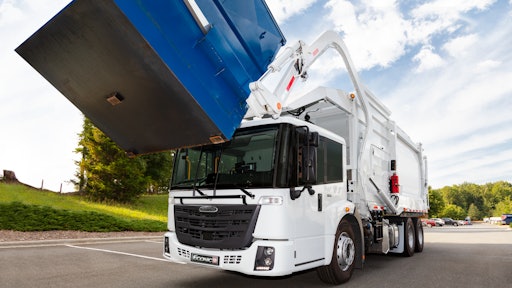 The new Freightliner EconicSD, the only cab-over-engine refuse truck in North America that features a collision mitigation system, will be on full display this year at WasteExpo 2019. The innovative, low-entry waste collection truck will be showcased in the Freightliner booth (#1402) along with an array of work truck solutions for the waste collection industry.
The EconicSD made its North American debut at last year's WasteExpo, captivating the refuse industry with its eye-catching modern design featuring next-level safety, uptime and productivity. The truck integrates safety and technology into its design inside and out, like no other waste collection vehicle on the market. The EconicSD is the first Freightliner vocational truck to feature the Detroit Assurance suite of safety systems. The truck comes standard with Active Brake Assist, Adaptive Cruise Control, and Lane Departure Warning technologies.

This truck also comes standard with Side Guard Assist – a particularly useful feature on refuse routes, which uses two radar sensors to monitor the proximity of the truck's passenger side for objects such as traffic signs, bicyclists, vehicles, etc. Additionally, the EconicSD features a rain/light sensor, which automatically activates headlights and wipers. The vehicle also features the optional Blind Spot View, consisting of multiple video cameras, making the driver more visually aware of their immediate surroundings and operating environment.
Spec'd with the Detroit DD8 mid-range engine with Detroit Connect Virtual TechnicianSM remote diagnostic service, the EconicSD brings industry-leading efficiency to maximize uptime for refuse fleets.
The EconicSD's low step-in height and spacious, ergonomic cab were designed with driver comfort in mind. An automated frame lowering feature further reduces the already low step-in height for easy entry and egress. Modern features such as a panoramic windshield, a 90-degree door opening and an aggressive wheel cut for superior maneuverability further contribute to the driver-focused design of the EconicSD.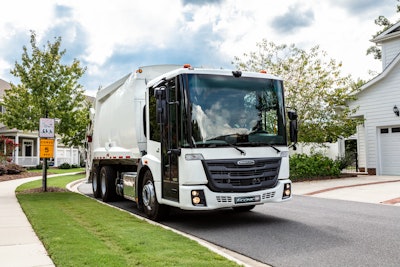 "The EconicSD and its technology-forward, modern design has been incredibly well-received by waste collection customers since we unveiled this vehicle at the 2018 WasteExpo," says Richard Saward, General Manager of Vocational and Government Vehicle Sales for Freightliner Trucks. "Leveraging the global prowess of Daimler, we are proud to offer a game-changing vehicle that brings next-level safety and innovation to the refuse industry -- and to the neighborhood and community streets where safety matters the most."
Also featured in the Freightliner booth are the Freightliner M2 106 vehicles with a wide selection of body configurations including side loaders, roll off hoists and grapple bodies.