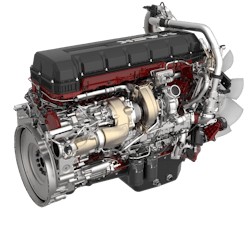 Mack Trucks
Mack Trucks has introduced several new features which aim to improve the efficiency for drivers, as well as their comfort and productivity when operating a truck.
These include a new engine with up to 3% more fuel efficiency and new seat designs. With these new features, the company is continuing to enhance its technology to improve operations for truck drivers and fleets.
New engine improves fuel efficiency
Mack Trucks has introduced a new version of its 13-L Mack MP8HE engine that improves fuel efficiency by up to 3% compared to the current MP8HE. Mack Anthem models spec'd with Mack's new extended chassis fairings and the Mack HE+ efficiency package, which includes the revised MP8HE engine, now deliver up to a 13% improvement in fuel efficiency compared with a baseline Anthem model*.
"From its inception, our work on the Mack Anthem model has been about finding ways to save customers money with improved fuel efficiency from superior aerodynamics and powertrain technology," said Stu Russoli, Mack Trucks Highway Product Manager. "We thoroughly revised our MP8HE engine to bring even greater efficiency benefits through our proven Mack Energy Recovery Technology."
Mack Energy Recovery Technology captures waste energy from the engine's exhaust, converting it back into mechanical energy delivered to the engine crankshaft as additional torque. To improve efficiency further, Mack engineers implemented an updated wave piston design that helps to evenly distribute the air/fuel mixture within the cylinder to burn fuel more completely and consistently than traditional piston designs. Additional efficiency gains came by increasing the MP8HE's compression ratio from 17:1 to 18:1 and adding an improved turbocharger and wastegate.
The Mack HE+ efficiency package bundles the MP8HE engine, the Mack mDRIVE automated manual transmission, Mack Predictive Cruise and a plethora of aerodynamic enhancements for the ultimate in fuel efficiency. The HE+ package can also be combined with Mack's all-new extended chassis fairings, which smooth airflow around the rear axles to deliver an additional 0.5% improvement in fuel efficiency.
The next generation Mack MP8HE engine will continue to be offered in 415 and 445 hp ratings with 1,760 and 1,860 lb.-ft. of torque, respectively.
Factory-Installed FlowBelow System further enhances fuel efficiency
Factory-installed FlowBelow Tractor AeroKit system are now available on the Mack Anthem highway models, further improving fuel efficiency by up to 2.23%. The system will be available for order beginning later this quarter.
"The Mack Anthem model boasts outstanding fuel efficiency, whether in base form or with the added aerodynamic components found on our Mack HE+ efficiency package," said Russoli. "Adding the FlowBelow system as a factory-installed option gives customers even more ways to maximize fuel efficiency through aero options that fit their applications."
The FlowBelow Tractor AeroKit system is a complete aerodynamic system designed to reduce aerodynamic turbulence as air passes over the rear axles of a tractor. The system combines center and rear fairings with aerodynamic wheel covers to improve fuel efficiency by up to 2.23%. Each of the components is designed with durability in mind and is also easily removed for quick maintenance and service access.
"FlowBelow is proud to partner with Mack Trucks and offer our Tractor AeroKit as a factory-installed option on Mack Anthem models," said Gordon Virginski, Vice President of OEM and Dealer Programs, FlowBelow. "Our solutions have helped drivers and fleets save more than 70 million gallons of fuel over the past 10 plus years, and we're pleased to be able to bring our expertise to Mack customers."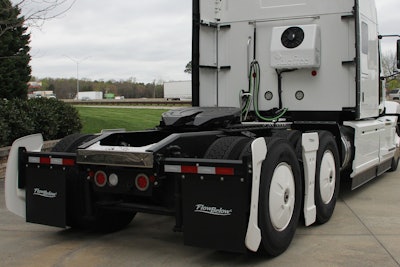 FlowBelow's Tractor AeroKit system complements a number of other aerodynamic options available for the Mack Anthem model. The Mack HE+ package for Mack Anthem models combines several aerodynamic components, including a roof fairing with trim tab, side fairings with extensions, chassis fairings with ground effects and an aero bumper with spoiler, with the recently announced next generation Mack MP8HE engine, Mack mDRIVE automated manual transmission and Mack Predictive Cruise. Together, these components deliver up to 12.5% improved fuel efficiency compared to a base Mack Anthem model.
The FlowBelow Tractor AeroKit is available in black or white on Mack Anthem 6x4 and 6x2 tag configurations. Wheel covers are available in black, white and chrome.
Improved operator comfort aids productivity
Mack Trucks is improving driver comfort and productivity with the introduction of Apple CarPlay for Mack infotainment and updated Mack Premium Comfort 2.0 seats in Mack Anthem, Pinnacle and Granite models. Both new features are now available for order.
"Drivers are the single-most important part of any trucking operation, and any features that boost comfort and productivity are key to recruiting and retaining them," said Russoli. "With Apple CarPlay and our new seats, we're helping customers put the best trucks out there to attract the best drivers."
Apple CarPlay provides drivers a safer, yet easier way to use their Apple iPhone and its capabilities while driving. Once connected, CarPlay displays key functions like navigation, phone controls and music on the Mack infotainment system. Customers whose trucks are spec'd with the infotainment system can upgrade to CarPlay with a simple software update at their dealership.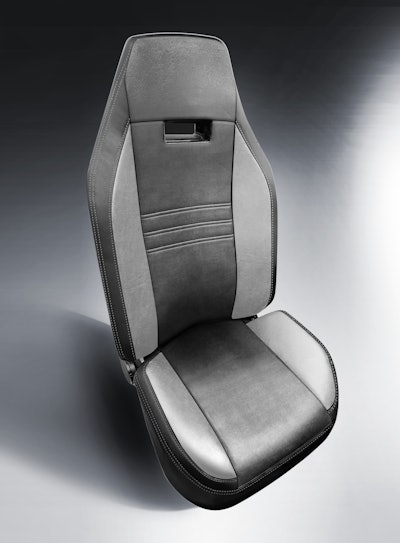 Mack's Premium Comfort 2.0 seats include revisions designed to maximize driver comfort. Featuring resculpted and recontoured seatbacks, Premium Comfort 2.0 seats provide additional back and shoulder support, while still maintaining all the current seat features, including air lumbar adjustments and available heat. Additionally, the seat armrest can now be fine-tuned via a tuning wheel under the front of the armrest to quickly and easily adjust the armrest to the appropriate position.
Apple CarPlay is available on all Mack Anthem, Pinnacle and Granite models equipped with the Mack infotainment system, while Mack Premium Comfort 2.0 seats are standard on all Mack Anthem, Pinnacle and Granite models for all trim levels in both the driver and passenger seat positions.