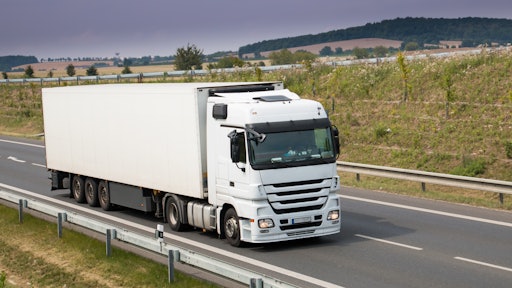 ©rebius – stock.adobe.com
In September 2021, commercial vehicle registrations in the EU decreased again (-12.3%), as the microchip shortage negatively affected sales volumes across all segments and in all major EU markets.
Total new commercial vehicles
Spain saw the strongest decline last month (‐26.7%), followed by Germany (‐18.2%), France (-16.1%) and Italy (‐10.4%).
Nine months into the year, demand for new commercial vehicles in the European Union remained positive (+19.1%), totalling 1.4 million units. Because of 2020's low base of comparison, each of the four big EU markets recorded growth so far this year: Italy (+29.7%), France (+16.8%), Spain (+10.4%) and Germany (+8.5%).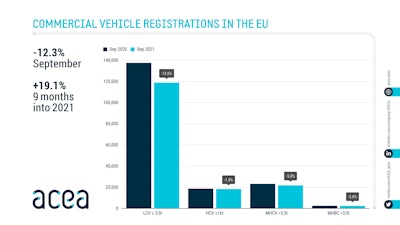 New light commercial vehicles (LCV) up to 3.5 T
In September, registrations of new vans contracted by 13.6% across the EU to 118,903 units, marking the third consecutive month of decline. The region's overall result was not helped by the performance of its four major markets, which all posted double-digit declines: Spain (-29.8%), Germany (-17.8%), France (-16.6%) and Italy (-13.8%).
Over the first three quarters of 2021, EU light commercial vehicle sales were still up by 18.7%, at nearly 1.2 million units, due to the substantial gains recorded during the first half of the year. The four key markets reflected the same trend, with cumulative growth still in positive territory despite the declines seen in recent months: Italy (+29.6%), France (+17.4%), Spain (+9.8%) and Germany (+8.1%).
New heavy commercial vehicles (HCV) of 16 T and over
After seven months of consecutive growth, EU demand for heavy trucks suffered a slight slowdown in September (-1.8%). Only Italy (+19.4%) managed to post growth among the major EU markets, while Spain (-12.2%), France (-10.8%) and Germany (-9.8%) all recorded declines.
From January to September, nearly 180,000 new heavy trucks were registered across the European Union, up 28.4% compared to the same period in 2020. With the exception of Greece (-9.2%), all EU markets posted growth so far in 2021, including the four major ones.
New medium and heavy commercial vehicles (MHCV) over 3.5 T
In September 2021, EU demand for new trucks contracted for the first time in eight months. Poland continued to perform well, posting a 34.7% increase last month, just like Italy (+13.7%). However, the weak performance of the other key markets brought the region's overall result down by 5.8% compared to September 2020.
So far this year, new truck sales grew by 23.4%, counting 217,000 units registered across the region. All major markets recorded double-digit gains during this nine-month period: Italy (+32.6%), Spain (+16.7%), Germany (+11.1%) and France (+11.0%).
New medium and heavy buses & coaches (MHBC) over 3.5 T
September registrations in the bus segment were down 3.8% compared to last year, totalling 2,377 units. Looking at the big EU markets, results were mixed. Demand contracted in France (-2.1%) and Germany (-26.3%) in particular, while Italy (+63.0%) and Spain (+53.3%) saw strong growth last month.
Nine months into 2021, new bus sales across the EU grew by 5.3%, primarily because of last year's low base of comparison. France, the leading market in this category with 5,103 buses registered, saw an increase of 18.4% so far this year, and Italy followed with similar growth (+18.2%). By contrast, demand in Spain (-6.3%) and Germany (-5.0%) declined during the same period.