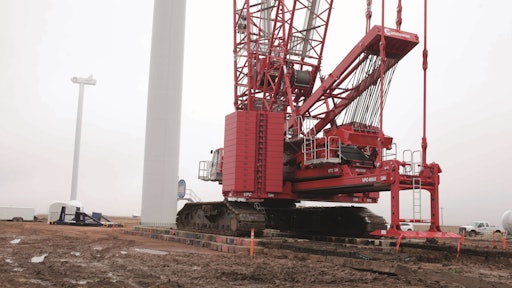 It has been nearly 3 years since Manitowoc debuted the MLC650 and its innovative Variable Position Counterweight (VPC) technology at CONEXPO, and since then, companies from around the world have been experiencing the power and versatility of this groundbreaking crane. For CONEXPO 2017, the MLC650 returns with a new set of enhancements that are sure to enable owners to maximize the utilization of their crane.
CONEXPO 2017 will mark the first time that the MLC650 will be equipped with its VPC-MAX and luffing jib attachments for a trade show. Plus, a new 3.5 m (11.5 ft.) wide boom insert kit will help customers maximize their utilization of the crane. With these enhancements the crane is more versatile, providing additional reach and capacity over the crane's already impressive capabilities.
"When the MLC650 and its VPC technology debuted at CONEXPO 3 years ago, we knew it had the potential to change the lifting world," says Harley Smith, Global Product Director of Crawler Cranes for Manitowoc. "And since then we've seen a dramatic shift in lifting strategy for many applications. The crane and its VPC are not only increasing efficiency and lowering operating costs for companies, we're seeing entire sectors transformed through new construction methods enabled by the crane's unique capabilities."
VPC prowess
The VPC system automatically positions the crane's counterweight to fit the required lift. The counterweight is automatically positioned along the rotating bed based on changes in boom angle and lifted load. Advantages for customers include reduced ground preparation, lower ground-bearing pressure and less counterweight, without sacrificing capacity. Customers will not have to buy, transport or install as much counterweight compared with a traditional configuration. The counterweight boxes are also standardized across multiple Manitowoc crane platforms.
The VPC-MAX attachment for the MLC650 raises the crane's capacity to 700 t (770 USt), an increase of 50 t (55 USt) over its standard configuration. The attachment provides capacities similar to wagon- or tray-mounted attachments, but requires significantly fewer components and assembly steps, reducing setup time and transportation costs.
The VPC-MAX includes a beam that automatically extends the counterweight beyond the rear of the crane based on the lifted load, increasing its load moment. With a smaller footprint than most crawler cranes lifting loads that weigh up to 700 t (770 USt), the VPC-MAX allows for optimized navigation at job sites where space is restricted. Because the counterweight attachment of the VPC-MAX on the MLC650 never touches the ground, higher-capacity lifts on barges that customers were never able to perform before are also now possible.
The MLC650 is designed to be easily transported anywhere in the world with its optimized component weights and dimensions. It has a removable live mast shipping module and its boom inserts are designed to allow luffing jib inserts to ship within them, which reduces shipping costs.
Improved Utilization
Manitowoc has designed several enhancements to be used in conjunction with the VPC-MAX attachment. Using its 110 m (361 ft.) of main boom in addition to 101 m (331 ft.) of luffing jib, the MLC650 can achieve a total configurable length of 211 m (692 ft.). In addition to increased length, the VPC-MAX significantly improves capacities, all within the framework of the most job site-friendly configuration in the market.
Another new enhancement to the MLC650 in its VPC-MAX configuration is a four-insert kit of 3.5 m (11.5 ft.) wide boom inserts that increase boom length and lead to higher tip heights and greater capacities. With the boom insert kit and VPC-MAX together, the MLC650 is able to provide both additional reach and capacity to users, further increasing utilization of the crane beyond its base configuration—in some cases up to 30% more capacity.
"The VPC-MAX with luffing jib and the new 3.5 m (11.5 ft.)-wide boom insert kit were designed with one goal in mind: to provide more utilization beyond what the base configuration of the MLC650 is capable of," Smith says. "By adding the insert kit that consists of only for inserts—and doesn't increase the cost of transporting or erecting the crane—customers are able to complete jobs that require more demanding lifting requirements from the same compact footprint, increasing their return on investment for this crane."
The MLC650 uses Manitowoc's patented FACT connection technology and is operated via Manitowoc's Crane Control System (CCS), a standard operating system across several crane models in different product ranges. CCS also enables quick and easy set up for the operator.
"The MLC650 with VPC-MAX is one of the most powerful and flexible crawler cranes in the market today." Smith says. "The crane and its technologies are nothing short of game changing in terms of increased efficiencies, capabilities and return on investment. We're extremely proud to have this crane at CONEXPO 2017."