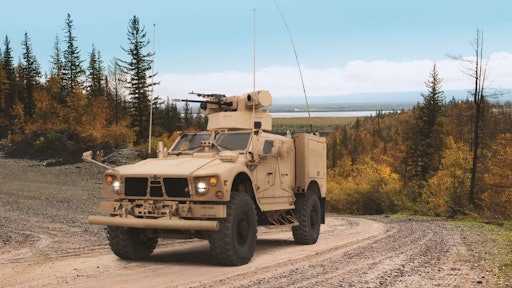 Oshkosh Defense LLC
According to Deepak Bazaz, Director of Artillery and Bradley Programs at BAE Systems, "In the current budget environment, the Army often has to choose between maintaining an exiting fleet and developing new capabilities. We're investing in research and development to demonstrate cost-effective options for the Army to address current gaps.
At the Assn. of the United States Army (AUSA) Annual Meeting in Washington, D.C., BAE Systems featured its next generation Bradley fighting vehicle concept. By leveraging existing technology from other BAE Systems vehicles, the company is able to pass along significant savings in both development time and vehicle cost. Part commonality among the vehicles also provides long-term cost savings over the life of the vehicle and simplifies part logistics and vehicle support.
Similarly, Oshkosh Defense LLC, an Oshkosh Corp. company, announced it will use over 80% of common parts to streamline maintenance, training and cost efficiency of its recently awarded FMTV truck and trailer contract form the U.S. Army.
During its 7 years of FMTV production, the U.S. Dept. of Defense (DOD) recognized Oshkosh Defense with the Value Engineering Achievement Award (in the Contractor category) for reducing product life-cycle costs while improving performance and reliability. The U.S. Army Tank-automotive and Armaments Command (TACOM) Life Cycle Management Command (LCMC) nominated its industry partner for the award based on Oshkosh-proposed improvements that resulted in $10.7 million of cost savings for the U.S. Army.
AM General is a part of the public-private partnership with the National Guard and Red River Army Depot to provide affordable upgraded and enhanced HMMWVs to keep the 230,000 active vehicles in theater. Vehicle modernization is a key focus for AM General to support the U.S. armed forces while saving taxpayer dollars and preserving vehicle readiness to accomplish domestic and foreign missions. Its modernization process starts with an in-depth assessment of existing HMMWVs and its customers' resources, followed by joint development of cost-effective methods for adding capabilities, flexibility and service life to existing vehicles.
The U.S. Marine Corps approved Oshkosh Defense to field its modernized Extendable Boom Forklift (EBFL-M) fleet. Oshkosh began delivering the EBFL-M vehicles toward the end of September 2016, and is scheduled to deliver 535 vehicles by late 2017 to both the Marine Corps and Navy -- 2 years faster than the program's projected completion date of 2019.
The updated EBFL-M vehicle is equipped with several new 'plug-and-play' features that increase loading efficiencies and operator safety during missions downrange. Modernization upgrades include forklift options to handle 7,000- and 11,000-lb. (3,175.1 and 4,989.5 kg) payloads with smaller attachments and a relocated hydraulic manifold to more efficiently load and unload aircraft.
The newly designed two piece EBFL-M cab features an armored upper cab option for greater operator protection and an armored lower compartment that houses the vehicles' systems. The removable upper cab can be easily replaced in the field with an armored cab without disconnecting any vehicle systems. Under the current contract, Oshkosh will supply 100 armored vehicle cabs.
Earlier in the year, BAE Systems was awarded a $109.7 million contract from the U.S. Army to convert 36 M88A1 recovery vehicles to the new M88A2 Heavy Equipment Recovery Combat Utility Life Evacuation Systems (HERCULES) configuration. The conversions allow the M88A2s to recover the Army's heaviest vehicles, such as tanks, without the assistance of another vehicle.
"The HERCULES is an integral part of the Army's Armored Brigade Combat Team and is essential to its recovery missions," says John Tile, Director of Recovery Programs at BAE Systems. "The ability to provide single-vehicle recovery for even the heaviest vehicles in today's fleet increases troop safety and provides significant cost savings to the Army." 
While cost-effective development, unique parts reduction, and existing vehicle modernization practices are essential focuses for military equipment manufacturers, safer vehicles and advanced technology implementation is always paramount for protecting soldiers. The first prototype of the upgraded Stryker Infantry Carrier Vehicle, known as the Dragoon, features a fully-integrated commander's station, upgraded driveline components, and hull modifications.
The vehicle updates were deemed necessary following Russia's 2015 invasion of Ukraine where Army leaders stationed in Europe were able to identify a "capability gap that threatened our forces in theater," according to Army Vice Chief of Staff Gen. Daniel B. Allyn. The Russians had upgraded and fielded significant capabilities while the U.S. was engaged in Iraq and Afghanistan.
And, as electronic warfare becomes an increasingly common threat to military operations, it is leading the development of a more robust and resilient autonomous vehicle with global remote operational capabilities. 
With the 2017 military budget expected to increase to $538 billion in funding with every capability funded tied to a particular security goal for the country, the coming years are poised for continued technology demand and vehicle development.