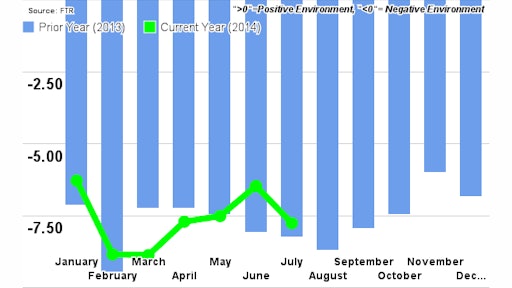 FTR's Shippers Conditions Index (SCI) for July fell 1.3 points from the previous month to a reading of -7.8, reflecting tightening truck capacity and a strong upward move in contract pricing ahead of the fall shipping surge. Contract markets are beginning to show their first significant reaction to the driver shortage which is increasingly impacting truck fleet capacity. Spot rates remain high as well. Field reports support FTR forecasts of increasing labor and purchased transportation costs. The Shippers Conditions Index is expected to remain in the current range for the foreseeable future as long as freight growth continues.

Jonathan Starks, FTR's Director of Transportation Analysis, comments, "The challenges in the industry continue as we head into the fall shipping season. FTR just concluded its annual transportation conference, and our numerous interactions with shippers, truck fleets and railroads only enhanced our conviction that the freight transportation markets remain strained. The silver lining is that the industry will be able to handle most of these challenges with only limited capacity shortages. The downside is that truck rates are continuing to move higher and are unlikely to stop that momentum this year. Also, even though outright shortages will be limited, it will take even more work, and possibly delays, to get your non-optimized loads moved. For the railroads, service issues and slow speeds are likely to continue until the winter - when volumes slow and the railroads will finally be able to add in some additional crews."

The Shippers Conditions Index is a compilation of factors affecting the shippers transport environment. Any reading below zero indicates a less-than-ideal environment for shippers. Readings below 10 signal that conditions for shippers are approaching critical levels, based on available capacity and expected rates.