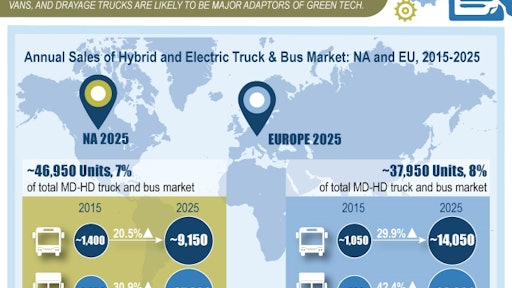 Frost & Sullivan
Impending emission regulations such as EPA-II in North America and Euro 7 in Europe, coupled with federal incentives to support low-no emission transportation and the rising profile of shale gas are reviving the market for alternate and clean powertrain technologies. Although diesel will continue to be the most popular fuel type, by 2025, 6.3% of all medium- and heavy-duty (MD-HD) trucks and buses in North America will have hybrid/full electric powertrains, while 10.9% will have natural gas (NG) powertrains. In Europe, 8% of all MD-HD trucks and buses will be hybrid-electric (H&E), while 9.9% will have NG powertrains.
Frost & Sullivan's latest analysis, "Hybrid-Electric Truck and Bus Market Growth Trajectories in North America and Western Europe," finds that EPA Phase II implementation from 2021 onward will keep North America on top when it comes to OEM use of H&E drives. Nonetheless, economic and political uncertainties will affect uniform implementation of Euro 7 standards across Europe, reigning in H&E drive expansion.
"The slew of launches by traditional truck and bus original equipment manufacturers such as Daimler AG and Volvo group, as well as start-ups like Tesla, Nikola and Proterra, has added impetus to the adoption of H&E technology in North America and Europe," says Frost & Sullivan Mobility Research Analyst Chandramowli Kailasam."Eventually, advancements in battery technology and charging infrastructure, as well as, volumes of scales achievable with giga factories will ignite the H&E demand for commercial vehicles."
Commercial viability, incentives, payload and range per charge will greatly influence truck manufacturers' adoption of H&E drives. Urban delivery, refuse and work trucks are likely to be early users of these powertrains. Meanwhile, all transit bus manufacturers in North America and Europe are expected to be mass producing e-Buses by 2019.
"Major truck and bus manufacturers are expected to host at least one H&E platform by 2020," notes Kailasam. "Various technologies are expected to co-exist in the next decade, as manufacturers and suppliers narrow in on the optimal solution through an iterative process in real-world operations."