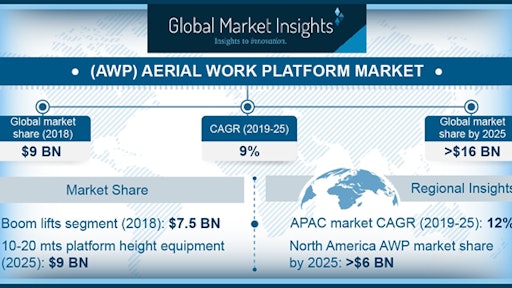 According to a new research report by Global Market Insights, Inc., Aerial Work Platform (AWP) Market to exceed USD 16 billion by 2025.
The global shipments are expected to grow at a CAGR of over 8.5% from 2019-2025. The AWP market is witnessing high popularity due to the integration of advanced technical features, such as CANbus, sensors, and telematics, as these technologies offer better safety parameters over the conventional platforms. By integrating CANbus technology, machines leverage a combination of various controllers and sensors, offering new operational features for the workers. The load-sensing technologies deployed in the newly developed MEWPs disable functioning in case of excessive weight, further providing more safety to the platform operators.
Moreover, the AWP market is experiencing the emergence of self-propelled access platforms that provide increased flexibility, stability, and security to the users. Easy transportation & operation of the self-propelled machinery is supporting the rising utilization in various application sectors including energy and oil & gas for maintenance purposes.
Personal portable lifts are gaining popularity among in-house maintenance and temporary construction applications for performing low-height operations. Due to technical advancements in machinery sectors, the low-level access platforms are being replaced by conventional ladders and scaffolding to achieve high safety levels. Several companies operating in the AWP market are developing new personal portable lifts offered as safe alternatives to the conventional ladders. For instance, in March 2017, JLG Industries, Inc. announced the launch of its low-level access solutions, LiftPod and EcoLift series.
In the AWP market, there is an increase in the demand for machinery with platform height between 20 and 25 m in the utility, rental, and construction applications. The demand is attributed to high flexibility and stability offered by these platforms at such working heights. Additionally, the machinery ensures operator safety with the telematics and sensor technology integrated into it. The aerial work platforms market products are deployed among various infrastructure development, utility work, building maintenance, security, indoor construction, window washing and repairing, electric line repairs, and sporting events, driving the industry demand.
In the AWP market, construction & mining applications was valued at around USD 3 billion in 2018 and are increasingly deployed in complex building & general infrastructure projects across the globe. Government projects mainly deploy efficient machines & platforms to provide enhanced safety and reduce the load on human workers. The rising awareness in the South-East Asian countries and other developing countries related to machinery & time-saving benefits is further rising the requirement for technically-advanced platforms to address the construction sector demand. Countries including South Africa, India, and Japan are witnessing several infrastructure transformation activities that are expected to procure AWPs in huge amounts, further supporting the market growth prospects.
The North America AWP market is expected to reach over USD 6 billion by 2025 attributed to several building maintenance & construction activities across the commercial and residential sector. The demand is also increasing due to the presence of technically-aware and economically-stable population, supporting the deployment of costly MEWPs. Also, high government support for utilizing newly manufactured products with safety parameters and reduction of upcoming worker accidents is driving high consumption of new products in the industry. Workers obtain certified training from the manufacturers and other organizations to ensure safety and reduce workplace fatalities, further adding to the MEWP market development.
The key players operating in the AWP market are Niftylift, JLG Industries, Inc., Snorkel, Haulotte, Terex Corporation, Aichi Corporation Skyjack, Tadano, Manitou, Altec, Holland Lift, and Sinoboom. The companies are investing in R&D activities to develop differentiated & eco-friendly machinery compared to their competitors. These companies are also adopting expansion strategies by developing manufacturing and distribution network across various regions to address the growing customer demand. Players are focusing on gaining government contracts and orders owing to huge infrastructure investments going on in the Asian and the Middle East and African countries. Manufacturers in the AWP market are adopting partnership & collaboration strategies to integrate enhanced components and technologies into existing products. For instance, in December 2017, Skyjack announced its partnership with Trackunit for providing telematics solutions and addressing the increasing demand for machinery connectivity features and connected fleet.