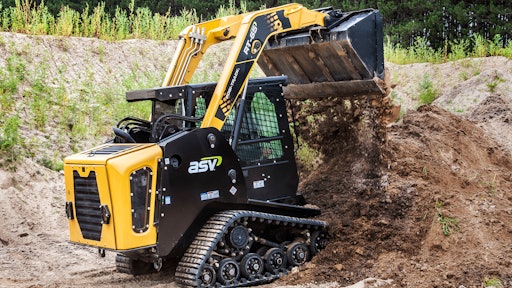 ASV
A recent study from Fact.MR indicates the global compact track loader (CTL) market is anticipated to reach a value of USD $4461 million by 2028.
The CTL market will benefit from growing construction activities across the globe. Key players in the market such as Deere and Co. and Caterpillar Inc. have recognized construction to be a highly attractive segment, primarily in developing regions such as India, China, and Indonesia. The construction industry segment alone contributed to around 49% of the total market share in 2018, which makes it stand out as a remunerative segment in the CTL market.
These versatile and cost-effective machines have persistently ruled in the compact equipment industry on the backdrop of their efficacy to work in all seasons. CTLs have successfully overpowered wheeled skid-steer loaders in terms of sales volume. Yet, the manufacturers operating in the equipment machinery industry aren't predicting the downfall of skid steers any time soon. While a few customers are still observed purchasing skid steers for traditional applications in which they are typically used, others are preferring CTLs for strength and robustness in certain applications.
Agriculture is also an attractive segment for the CTL market and is poised to create untapped opportunities for equipment manufacturers. Agriculture is rapidly expanding in terms of productivity and technology, which is creating a massive demand for technically-advanced equipment. The wave of agricultural demand and enhanced agricultural output owing to the expanding population seems to bode well for proliferation of compact track loader market.
Machines in the 65-80 hp (48.5-60 kW) range are anticipated to be the most dominant in terms of revenue in the CTL market. Up to 65 hp machines are likely to trail the 65-80 hp segment, followed by above-80 hp equipment.
APEJ (Asia Pacific excluding Japan) is estimated to prosper in the CTL market owing to high infrastructure investments. As per industry estimates, around 70% of global infrastructure investments is pumped into emerging economies. There is a huge demand for commercial and residential construction projects, which is foreseen to augur well for the construction equipment industry. APEJ is anticipated to achieve a compound annual growth rate (CAGR) of 3.6% in the CTL market during the forecast timeline, which is likely to present attractive opportunities for key players to leverage.