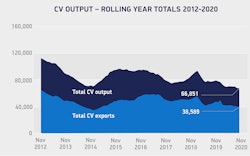 Society of Motor Manufacturers and Traders
The Society of Motor Manufacturers and Traders (SMMT) reports commercial vehicle and engine production in the UK declined once again in November 2020.
UK commercial vehicle (CV) manufacturing decreased -1.9% in November, with 8,605 units rolling off production lines, according to SMMT figures. While output for the domestic market rose 10.1%, with logistics and CV operators working flat out to meet growing demand for online deliveries, it failed to offset an -8.8% decline in exports, equivalent to a loss of 490 units, as stricter coronavirus restrictions closed off entire parts of key economies.
After production all but ground to a halt earlier in the year, output for the first 11 months is now down -16.1% to 59,539 units, with UK factories producing 11,419 fewer buses, coaches, vans, trucks and taxis than in the same month last year. Year-to-date, this loss comes at around an £825 million cost to the UK commercial vehicle sector.
SMMT says 94.1% of all commercial vehicle exports have been destined for EU markets so far this year.
Mike Hawes, SMMT Chief Executive, said, "While growing consumer demand for online deliveries has driven a need for new vehicles in the UK, ecommerce alone is not enough to make up the industry's exports shortfall, even in the run-up to the year's busiest retail period. A resurgence in coronavirus cases and the increasing fear of a 'no deal' Brexit as negotiating time runs out are already taking their toll, and we now, urgently, need an agreement with the EU that guarantees ongoing zero-tariff trade in order to allow the sector to recover and get back to long term growth."

Engine production falls 8.2%
A total of 189,883 engines were built in November in the UK, a decline of 8.2%. Production of domestic and overseas markets fell 7.8 and 8.4% respectively. SMMT says engine output has dropped every month in 2020 for a year-to-date output of -28.2%.
Hawes said, "The eleventh consecutive month of decline for UK engine production is extremely concerning, and while the coronavirus pandemic has been the overriding cause, a lack of clarity on trade with the EU and other markets has also played a role. We urgently need a deal agreed that guarantees tariff-free trade for all automotive goods from day one. Without it, recovery in 2021 will be nigh on impossible, with severe consequences for the sector, jobs and the wider economy."