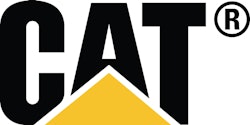 As part of a strategic decision to move production closer to the majority of customers who use these products, Caterpillar Inc. announces that it plans to open a new manufacturing facility in North America for small track-type tractors and mini hydraulic excavators. The decision to shift production from Japan is driven by proximity to a large base of customers in North America and Europe.  
The North American facility will become Caterpillar's global source for small track-type tractors. For mini hydraulic excavators, the new facility will provide completed machines for customers in North and South America. In addition, the company also plans to export partially assembled mini excavator base units to a facility in Europe, where final assembly will take place, improving delivery times for European customers.  
When fully operational and at capacity, the North American facility is expected to employ more than 1,000 people. The facility will be part of Caterpillar's Building Construction Products (BCP) Division.
"The markets for smaller track-type tractors and mini hydraulic excavators have evolved significantly in the past 30 years, with the majority of customers now located in North America and Europe," says BCP Vice President Mary Bell. "Producing these machines at a North American location will put us in the best possible position to serve our customers in the building construction industry," Bell adds.
Work at the new plant will include major fabrications, paint and final assembly. The company also plans to have an on-site product distribution center for small track-type tractors and mini hydraulic excavators produced at the new facility. These machines are currently made at Caterpillar's Sagami, Japan, facility. Once the transition to the new North American facility is completed, the Sagami plant will continue to serve a key strategic role in Caterpillar's global growth strategy as a high-tech component facility. The company will leverage the historical strengths in quality, product development, manufacturing and supplier collaboration at the Sagami facility with a particular focus on supporting the company's growing Asia/Pacific operations.
"As we go through these final stages of determining a location for this new state-of-the-art manufacturing complex, there are several important criteria," Bell says. "It will need to be a location that meets our requirements of optimizing product availability, minimizing logistics costs to our domestic and export customers, and that better positions Caterpillar to meet its overall business goals."  
The company hopes to make a final decision on the new facility's location by the end of this year with construction to begin in the first half of 2012.