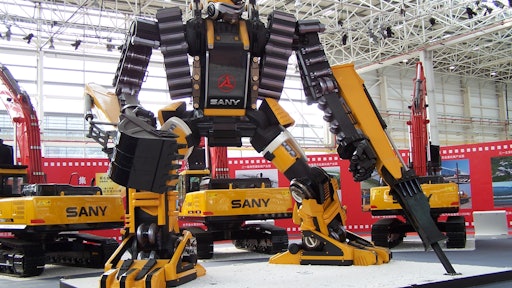 SANY has been named one of the three most innovative companies in China by Fortune China magazine. SANY Heavy Industry Co. jumped to the third spot from its rank of 13 in the 2011 listing.
Fortune China, the Chinese language version of the global business magazine published by Time Inc., honored 25 companies for innovation in its August 13 issue. Sixteen firms were new to the list in 2012. The top five include the online media company Tencent Holdings Ltd., SAIC Motor Corporation, SANY Heavy Industry, the web services company Baidu Inc., and China Building Materials Co.
"Innovation needs continuous input and attention," the editors wrote in an article accompanying the rankings. "Any slack can lead to being surpassed by competitors."
The article chronicles the improvements to the concrete pump made by SANY, driven by customer demands for higher pressures and more performance. Xiang Wenbo, president of SANY Heavy Industry, says continual investment in innovation is what drives SANY. "Technological innovation must be a top priority in our industry," he says. "Developing innovative products is crucial in order to thrive and lead."
SANY invests 5 to 7% of revenue in research and development each year, well above the average. More than 7,000 SANY employees are involved in R&D — half have master's degrees or doctorates. In addition to its R&D centers of excellence in China, SANY has opened research and development operations in the United States, Brazil, Germany and India.
"Management innovation, organizational innovation and technological innovation all drive competitiveness and profitability," Xiang says.
The magazine illustrated the story with a photograph of the SANY transformer, a concept machine built to resemble the Transformers line of children's toys. The giant SANY transformer has an excavator bucket at the end of one arm and a rotary drilling rig on the other. The iron creature was a hit at the Beijing International Construction Machinery Exhibition & Seminar (BICES) in late 2011. The SANY transformer is now displayed in the SANY factory in Lingang, south of Shanghai.
The top 10 companies on the list of innovators include:
Tencent Holdings Ltd.
SAIC Motor Corporation
SANY Heavy Industry
Baidu Inc.
China Building Materials Co.
Guandong Midea Electric Co.
China Mobile Ltd.
Zoomlion Heavy Industry
China Shenhua Energy Co.
Lenovo Group Ltd.