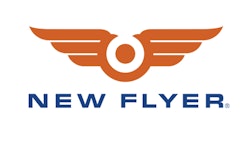 New Flyer Industries Inc., the leading manufacturer of heavy-duty transit buses in Canada and the United States, announced its order activity and backlog update for the first fiscal quarter ended March 29, 2015 (Q1 2015).
Bus Deliveries, Order Activity, and Option Expiry
New Flyer delivered 572 equivalent units (EUs) in Q1 2015, compared to 554 deliveries in the first fiscal quarter ended March 30, 2014 (Q1 2014). The total work-in -process (WIP) for the company at March 29, 2015 was 384 EUs, an increase of 26 EUs from the previous quarter.
New Flyer's new bus orders (firm and options) in Q1 2015 totaled 1,020 EUs.
At the end of the period, an additional 494 EUs of new firm and option orders were pending from customers where approval of the award had been made by the customer's board, council, or commission, as applicable, but purchase documentation had not yet been received by the company and therefore not yet included in the backlog.
Order activity in the period included:
New firm orders for 235 EUs (valued at $102.6 million)
New option orders for 785 EUs (valued at $360.2 million)
Options for 157 EUs (valued at $68.3 million) converted to firm orders
New Flyer's last 12 months (LTM) Book-to-Bill ratio (defined as new firm and option orders divided by deliveries) was 119% and has been greater than 100% for eight of the last nine quarters.

The New Flyer backlog and orders anticipated to be awarded by customers under new procurements are expected to enable the company to continue to operate at a corporate average line entry rate of approximately 51 EUs (including MiDi) per production week for fiscal 2015. Management expects the corporate average line-entry rate to remain stable at this level for 2015 as the company executes on the rationalization of the NABI bus product
lines to the Xcelsior platform. Production rates may vary from quarter to quarter due to sales mix and the introduction of the Xcelsior into the Anniston, AL, facility in 2015.
In Q1 2015, no option EUs expired. Remaining options in the current backlog will expire if not exercised.
Total Backlog
At the end of Q1 2015, New Flyer's total backlog was 7,193 EUs (valued at $3.57 billion) compared to 6,745 EUs (valued at $3.39 billion) at the end of the fourth quarter of 2014 (Q4 2014) and 7,683 EUs (valued at $3.69 billion) at the end of Q1 2014.

New Flyer's backlog consists of 30-, 35-, 40- and 60-foot bus lengths. Buses incorporating clean propulsion systems (such as natural gas, diesel-electric hybrid, electric-trolley, and battery-electric) represent approximately 75% of the total.

Funding Environment
On December 16, 2014, President Obama signed the combined Omnibus Appropriations and Continuing Resolution that will fund the U.S. federal government through the end of fiscal year 2015. The resolution extends transit funding to September 30, 2015, and results in full-year funding levels under MAP-21 of approximately $10.7 billion, which is $167 million more than the prior year.
On March 30, 2015, U.S. Department of Transportation Secretary Anthony Foxx issued a revised version of the GROW AMERICA Act, the Administration's proposal for a multi-year surface transportation bill. The revised bill extends funding through fiscal year 2021 and increases the overall authorization level to $478 billion. Other highlights of the revised bill include a 76% increase to transit formula grants, an increase to the state of good repair funding and a discretionary grant program dedicated to bus rapid transit (BRT) spending.
The proposal also calls for changes to the Buy America requirements that would increase the U.S. content requirements for transit buses from the current 60% U.S. content to 70% U.S. content in 2016. The U.S. content requirement would then increase to 80% in 2017, 90% in 2018 and 100% in 2019.
As in the previous version, the Administration recommends that surface transportation programs be funded through a restructured Transportation Trust Fund, which includes current Highway Trust Fund revenue supplemented by a transition tax on the foreign earnings that U.S. companies have accumulated overseas.
Economic Environment and Ridership
Preliminary data from the Nelson Rockefeller Institute indicates state tax collections increased in the third quarter of 2014 by 4% over the previous year. State tax collections include personal income tax and sales tax, both of which have increased for 18 of the last 19 quarters, and corporate income taxes have increased for the past five
quarters. Transit ridership in both Canada and the United States remains stable. The American Public Transportation Association's (APTA) ridership report indicated that as at December 31, 2014, ridership during 2014 remained stable. The report indicated an increase of 0.95% in all modes of U.S. transit ridership during that period compared with the previous year, with a slight decrease in bus ridership of 1.13%. The same report indicates Canadian ridership increased by 1.27% in all modes of transit ridership during the same period as compared to the previous year. Specific data regarding Canadian bus ridership however, is not available.
Transit Bus Demand
In 2008, New Flyer created the Bid Universe metric as an indicator for overall transit bus market demand and active bids in Canada and the United States. The Bid Universe is a point-in-time snapshot of the estimated EUs for: all requests for proposals (RFPs) received and in process of review at New Flyer, bids or proposals submitted by New Flyer awaiting customer action, and management's forecast of all expected EUs to be placed out for
competition over the next five years.
The number of EUs in the total Bid Universe at the end of Q1 2015 was 19,381 EUs. The total number of Active EUs (defined as RFPs received and in process of review at New Flyer and bids or proposals submitted by New Flyer awaiting customer action) at the end of Q1 2015 was 7,067 EUs which is an increase of 338 EUs or 5% from the previous quarter.

Management anticipates that the amount of bus procurement activity by public transit agencies throughout the U.S. and Canada should remain robust based on expected customer fleet replacement plans and active procurements.
New Flyer Aftermarket
The aftermarket parts business continues to show signs of growth, which is partially offsetting the slowing down of sales for the Chicago Transit Authority mid-life upgrade program as it approaches completion in the second quarter 2015.

Gross parts orders received by New Flyer's aftermarket business during Q1 2015 decreased 6.9% compared to Q1 2014, while parts shipments in Q1 2015 increased 22.6% over Q1 2014.
Quarter-over-quarter, gross parts orders decreased by 23.5% over Q4 2014, while parts shipments were up 6.7% over the previous quarter.
NOTE: All dollar amounts are stated in U.S. currency based on an exchange rate of U.S. $1.00 = CAD $ 1.26 to calculate the value of the Canadian contracts in this release.