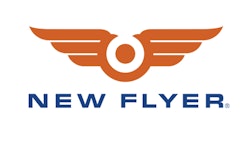 New Flyer Industries Inc., the leading manufacturer of heavy-duty transit buses in Canada and the United States, has announced its results for the 13-week period ended June 28, 2015 (2015 Q2). Full financial statements and Management's Discussion and Analysis (the MD&A) are available at the company's web site. Unless otherwise
indicated all monetary amounts in this press release are expressed in U.S. dollars.
Operating Results

Total bus inventory at June 28, 2015 increased 63 EUs from the previous quarter, which negatively impacted 2015 Q2 bus deliveries. The company scheduled the production of some NABI buses earlier than required by the customer to facilitate transition to Xcelsior-only bus production. Management expects to reduce the excess bus inventory through delivery of these buses prior to the end of Fiscal 2015.
The increase in 2015 Q2 bus revenue primarily resulted from a 2.1% increase in total bus deliveries and a 5.3% increase in average selling price. The increase in average selling price is the result of a more favorable product sales mix of bus types during 2015 Q2. The average selling price can be volatile when comparing two fiscal quarters as a result of sales mix.
The increase in revenue from aftermarket operations during 2015 Q2 and the 26-week period ended June 28, 2015 (2015 YTD) is primarily a result of incremental revenue from the Chicago Transit Authority (CTA) midlife overhaul program.
The increase in 2015 Q2 and 2015 YTD bus manufacturing operations Adjusted EBITDA as compared to the 13-week period ended June 29, 2014 (2014 Q2) and the 26-week period ended June 29, 2014 (2014 YTD) is primarily due to increased margins. Higher margins are primarily a result of a favorable sales mix and the cost savings achieved from transition to Xcelsior in Anniston. Management had anticipated and previously provided guidance that, on average, margins on orders planned for production in Fiscal 2015 are expected to be higher than the average margins achieved during Fiscal 2014. Adjusted EBITDA from bus manufacturing operations per EU can be volatile on a quarterly basis and therefore, management believes that a longer term view should be taken when comparing bus manufacturing operations margins.
2015 Q2 and 2015 YTD aftermarket operations Adjusted EBITDA increased compared to the 2014 respective periods, primarily due to the additional Adjusted EBITDA generated by the CTA midlife overhaul program. Profit margins have improved during 2015 Q2 and 2015 YTD primarily as a result of improved market fundamentals and the benefits to the product mix that have resulted from a far broader portfolio of services and parts offerings to customers.
The company reported net earnings of $12.4 million in 2015 Q2 representing an improvement compared to net earnings of $3.6 million in 2014 Q2, primarily as a result of improved earnings from operations offset by increased income tax expense.
Liquidity
The Free Cash Flow payout ratio is 42.7% in 2015 YTD compared with 61.2% during 2014 YTD. In May 2015, the company increased the annual dividend from $0.585 to $0.62 per common share.

As at June 28, 2015, there were $48.0 million of direct borrowings and $17.3 million of outstanding letters of credit related to the $115.0 million revolving credit facility (Revolver).
During 2015 Q2, the company increased its borrowings from the Revolver by $35.0 million to temporarily fund the working capital requirements primarily caused by increased inventories and decreased accounts payables.
U.S. Funding
The U.S. Administration's proposed Grow America Act, the revised multi-year surface transportation bill, was introduced to Congress on May 19, 2015 and continues to be reviewed by various committees. As a result, on May 29, 2015, President Obama signed the Highway and Transportation Funding Act of 2015 (the HTF) into law which extended the "Moving Ahead for Progress in the 21st Century" (MAP-21) authorization from May 31, 2015 through to July 31, 2015.
On July 31, 2015, U.S. President Barak Obama signed a bill to temporarily fund and ensure solvency of the HTF through to October 29, 2015. This bill is the 34th short-term transportation extension since 2009.
Given the uncertainty around negotiating a multi-year and sustainable funding mechanism, management anticipates additional short-term extensions to MAP-21.
Canadian Funding
On April 21, 2015, the Government of Canada announced through the Federal Budget that it would be committing to invest an additional C$1 billion per year in major transit infrastructure projects.
Investments will be made through a new Public Transit Fund and will be in addition to current funding programs already included in the New Building Canada Plan. New investments will start flowing in 2017-2018 at C$250 million to increase to C$500 million in 2018-2019 and C$1 billion per year ongoing thereafter.
Outlook
Management continues to focus on executing the transition of production of the NABI bus models from the Anniston, AL, facility to the Xcelsior platform. The completion of the transition is on target for the second half of 2015. Management expects the transition to allow for improvement in competitiveness by leveraging combined bus volume, production and purchasing for greater efficiencies.
Management expects to invest, in total, approximately $20.0 million in direct operating costs and capital expenditures to complete the transition by utilizing operating cash flow, leases and the Credit Facility. Of this total, the company had incurred $13.2 million, consisting of $6.0 million of costs and $7.2 million in capital expenditures as of June 28, 2015. Management anticipates these direct operating and capital expenditures will be paid back through captured cost reductions and synergies. Currently, the annualized cost savings are expected to be approximately $14.0 million.
Management believes pricing in certain types of bus competitions has normalized and expects that bus margins realized during Fiscal 2015 will be, on average, higher than those realized during Fiscal 2014. Management continues to pursue cost and overhead savings as a result of its decision to focus exclusively on the Xcelsior platform as well as in daily operations through its Operational Excellence initiatives.
During the first week of July 2015 there were no scheduled assembly line entries, providing an opportunity for employees to enjoy vacations and an effort to lessen future volatility in manpower. This resulted in a reduction of approximately 35 EUs being entered into production. The New Flyer master production schedule combined with current backlog and orders anticipated to be awarded by customers under new procurements is now expected to enable the company to operate at a corporate average line entry rate of approximately 50 EUs per available production week for Fiscal 2015. The production rates vary from quarter to quarter due to sales mix and the phased introduction of the Xcelsior platform into the Anniston, AL, manufacturing facility.
As disclosed in the company's July 15, 2015 press release, there were new firm and option orders of 1,238 EUs that were pending from customers where approval of the award had been made by the customer's board, council or commission, as applicable, but purchase documentation had not yet been received by the company. These firm and option orders were not included in the June 28, 2015 backlog. In regards to these pending awards, the company has now received contracts for 513 EUs.
With respect to the aftermarket segment, management reiterates its forecast of core aftermarket parts revenue growth at approximately 5% during Fiscal 2015. As a reminder, the aftermarket revenue generated from CTA mid-life upgrade program has ended as of June 2015, which represented 18.6% of the total aftermarket revenue during 2015 YTD. In addition, management continues to be engaged in a strategic review of New Flyer's aftermarket business to identify efficiencies through business and system synchronization.

New Board Member
New Flyer also announces that Paulo Cezar da Silva Nunes has been appointed to the Board of Directors of the company, which now consists of nine members. Nunes has deep experience in the manufacturing, distribution and automotive-related sectors having served in leadership positions for almost 40 years in Brazil with Dana Corporation and Racine Hydraulics. Nunes is now an independent automotive business consultant to Brazilian companies and currently serves on the board of directors of Cesbe S.A., a Brazilian construction company, and
Marcopolo S.A. He previously served as a long time board member of Sindipeças (the Brazilian Auto-Parts Makers Association). The appointment of Nunes was proposed by Marcopolo, New Flyer's largest shareholder, pursuant to the Investment Agreement between New Flyer and Marcopolo dated January 23, 2013. That agreement gives Marcopolo the right to propose one nominee as a director of the company. The Honorable Brian Tobin, Chairperson of the Board for New Flyer, says, "We welcome Paulo to the Board and look forward to his valuable contributions. We also see this appointment an important part of advancing our relationship with Marcopolo that
we began two years ago."