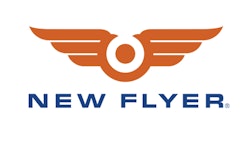 New Flyer Industries Inc., the leading manufacturer of heavy-duty transit buses in Canada and the United States, announces its order activity and backlog update for the third fiscal quarter ended September 27, 2015 (Q3 2015).
Bus Deliveries, Order Activity, and Option Expiry
New Flyer delivered 625 equivalent units (EUs) in Q3 2015, an increase of four EUs compared to 621 EUs in the third fiscal quarter ended September 28, 2014 (Q3 2014).
New Flyer's new bus orders (firm and options) in Q3 2015 totaled 1,133 EUs. Order activity in the period included:
New firm orders for 253 EUs (valued at $114.5 million)
New option orders for 880 EUs (valued at $400.6 million)
Options for 213 EUs converted to firm orders (valued at $120.1 million)
In addition, 1,169 EUs of new firm and option orders were pending from customers at the end of the period, where approval of the award to New Flyer had been made by the customer's board, council or commission, as applicable, but purchase documentation had not yet been received by the company and therefore not yet included in the backlog.
Between the end of the third fiscal quarter and the date of this release, purchase documentation has been received for 725 of the 1,169 EU's pending award. A separate press release outlining the details of the order will be issued once customer approval is received. This contract has been added to the backlog for the fourth fiscal quarter of 2015.
New Flyer's last twelve months (LTM) Book-to-Bill ratio (defined as new firm and option orders divided by deliveries) was 162% and has been greater than 100% for 10 of the last 11 quarters, demonstrating overall growth in New Flyer's total backlog.

The New Flyer master production schedule combined with current backlog and orders anticipated to be awarded by customers under new procurements is now expected to enable the company to continue to operate at a corporate average line entry rate of approximately 50 EUs per available production week for the remainder of fiscal 2015 and through fiscal 2016. Production rates will vary from quarter to quarter due to sales mix and as a result of the phased introduction of the Xcelsior platform into the Anniston, AL manufacturing facility in 2015. Work-in-process (WIP) at September 27, 2015 was 417 EUs, a decrease of 30 EUs from the previous quarter reflecting the transition to the Xcelsior platform into the Anniston, AL facility. This WIP is expected to reduce as the project is completed by the end of 2015.
In Q3 2015, 76 option EUs expired, compared to 119 option EUs that expired in the second fiscal quarter of 2015 (Q2 2015). Remaining options in the current backlog will expire if not exercised.

Total Backlog
At the end of Q3 2015, New Flyer's total backlog was 7,290 EUs (valued at $3.59 billion) compared to 7,011 EUs (valued at $3.49 billion) at the end Q2 2015 and 6,239 EUs (valued at $3.07 billion) at the end of Q3 2014.

In Q3 2015, 153 EUs were removed from firm backlog, where contracts were cancelled or expired without a notice to proceed being provided by customers for firm orders. One hundred buses of the 153 EUs removed from backlog were related to a contract where the customer declined to convert their firm order from a NABI bus model to the New Flyer Xcelsior. This customer has since issued a new Invitation for Bids and is now soliciting proposals for this order.
In addition to contracts for defined customers, New Flyer has focused on state procurements and cooperative purchasing agreements, with the objective of having available schedules from which customers within a prescribed region can purchase. New Flyer has successfully bid and been named on several state contracts. These contracts, however, are not recorded in backlog, as they do not have defined quantities allocated to New Flyer.
New Flyer's backlog consists of 30-, 35-, 40- and 60-foot bus lengths. Buses incorporating clean propulsion systems (such as natural gas, diesel-electric hybrid, electric-trolley and battery-electric) represent approximately 71% of the total backlog.
Economic Environment and Ridership
Public transit bus procurements in the US are eligible for 80% of the capital to be paid for by the Federal Transportation Administration, and each city, municipality and state have unique tax mechanisms to pay for the remaining 20% of the capital as well as bus operating costs. As a result, New Flyer carefully monitors federal and local funding.
Draft multi-year surface transportation authorization bills in the United States continue to be reviewed by House and Senate committees, with an objective that new legislation will be passed prior to the expiry of the current bill.
On July 29, 2015 a bill was passed extending the authorization of the Highway Trust Fund programs through October 29, 2015 at current spending levels. Debate continues within the various levels of government on the funding mechanisms to replenish the Highway Trust Fund on a long-term basis.
Given the uncertainty around negotiating a multi-year and sustainable funding mechanism, management anticipates additional short-term extensions to the current legislation.
Preliminary data from the Nelson Rockefeller Institute indicates U.S. state tax collections increased in the first quarter of 2015 by 5.8% over the previous year. State tax collections include personal income tax and sales tax, both of which have increased for 20 of the last 21 quarters, and corporate income taxes have increased for the past seven quarters. Although the data for the second quarter has not been published, initial revenue reports indicate continued growth in overall state tax collections as well as in major tax sources, with an estimated growth of 7.6%.
Transit ridership in both Canada and the United States remains stable. Although second quarter 2015 results are not yet available, the American Public Transportation Association's ridership report indicated that ridership in the first quarter of 2015 decreased by 0.66% in all modes of U.S. transit ridership compared with the previous year, with a slight decrease in bus ridership of 1.78%. The same report indicates Canadian ridership increased by 0.01% in all modes of transit ridership during the same period as compared to the previous year.
Specific data regarding Canadian bus ridership however, is not available.

Transit Bus Demand
New Flyer's Bid Universe metric reports active competitions in Canada and the United States, and provides an overall indicator of expected heavy duty transit bus market demand. It is a point-in-time snapshot of: i) EUs in active competitions, defined as all requests for proposals (RFP's) received and in process of review at New Flyer plus proposals submitted by New Flyer awaiting customer action, and ii) management's forecast of all expected EUs to be placed out for competition over the next five years.
The total number of active EUs at the end of Q3 2015 was 6,195 EUs which is a decrease of 1,376 EUs over the previous quarter, largely as a result of significant contract awards. The number of EUs in the total Bid Universe at the end of Q3 2015 was 19,420 EUs, which is a decrease of 1,278 over Q2 2015.

Management continues to anticipate that bus procurement activity by public transit agencies throughout the U.S. and Canada should remain robust based on expected customer fleet replacement plans and active or anticipated procurements.
New Flyer Aftermarket
Gross orders received by New Flyer's aftermarket business during Q3 2015 decreased 20.3% compared to Q3 2014. The dramatic decrease is a result of the now completed Chicago Transit Authority (CTA) mid-life bus upgrade program. Q3 2015 orders, when normalized for the completion of the CTA program, increased 7.6% over Q3 2014.
Total aftermarket shipments in Q3 2015 decreased 14.0% over Q3 2014, but when normalized for the completion of the CTA program, increased by 4.0%.
Quarter-over-quarter gross aftermarket orders increased 0.6% over Q2 2015, while shipments decreased 3.9% over Q2 2015. Both figures have been normalized for the completion of the CTA program.