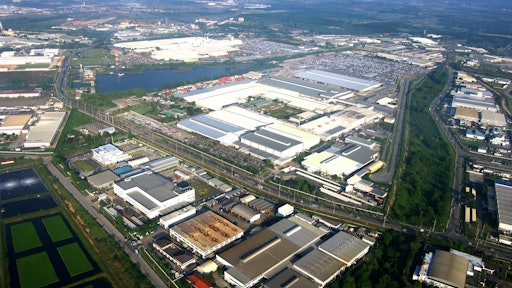 For the past several years, China has been viewed as "the" country in which to invest manufacturing efforts due in part to the lower cost of doing business there, such as labor costs. However, with the various socioeconomic conditions the country is currently facing, it may no longer be the bright spot of investment it once was.
This has made room for other countries in the region to step in as suitable areas of investment, such as Thailand. As the second largest economy in the ASEAN region, Thailand has become one of the world's largest manufacturers and exporters of products—including automobiles, heavy machinery, and electrical and electronic components. According to Chokedee Kaewsang, Deputy Secretary General of the Thailand Board of Investment (BOI), manufacturing investment has grown heavily over the past few years, reaching U.S. $50 billion in 2013 and U.S. $67 billion in 2014.
Japan is currently the largest investor, comprising 30-40% of total foreign investment in the country, while the U.S., China and Europe rotate from year to year as the second largest investor. While automobile and electronics production consist of 40% of the manufacturing investment from Japan, agricultural equipment is the second largest area with companies such as Kubota having set up shop in the country.
Thailand is geographically located in the middle of Asia, enabling companies who establish manufacturing operations in the country to easily export their goods to neighboring countries. BOI says there is an increasing need for more mechanized farming in the region, and that Thailand is a hub for exporting to the CLMV countries (Cambodia, Laos, Myanmar and Vietnam) which are still using traditional farming methods. Earlier this year, Kubota donated several tractors and harvesting machines to the Myanmar government as a means of growing market interest in mechanized equipment.
Why Thailand?
The World Bank has ranked Thailand as the 49th easiest place to do business in the world, and ranked it second among the emerging economies in East Asia. A number of factors have helped the country achieve these rankings, including the lower costs associated with doing business there. According to BOI, business costs are five to 10 times lower compared to a city like Tokyo, due in part to the fact that many raw materials—such as rubber and plastics—can be sourced locally. Bangkok is often ranked as one of the least expensive markets in Asia for prime real estate with average rent costing U.S. $30/sq. ft./annum.
Labor costs are also lower than in other countries, with recent figures indicating costs range between $6.75 and $9.75 per day for minimum wage. The labor force is a highly skilled one, as well, with more than 18,000 engineering and approximately 87,000 general science and technology students graduating from universities each year, and the country boasting an over 90% literacy rate.
Additionally, the country offers a lower cost of living and continues to enhance its modernization efforts. Mercer Human Resource Consulting's "Cost of Living Survey – Worldwide Rankings 2015" ranked Bangkok the 45th most expensive city in the world, putting it far behind other major cities in the region such as Hong Kong (second most expensive), Singapore (#4), Beijing (#7), Seoul (#8) and Tokyo (#11). Thailand has also been named a top destination for expatriates, surpassing popular destinations such as Switzerland and Hong Kong.
Infrastructure within the country itself and to other countries in the region is also a key benefit. The country currently has seven international airports, six deep sea ports and two international river ports, as well as 70,000 km (43,496 mi) of highway systems and 4,346 km (2,700.5 mi) of railway links to Malaysia and Singapore. It is also working to further expand and advance infrastructure in the country and between neighboring countries, including the CLMV countries in order to further aid the movement of labor and products.
Favorable governmental policies and the work of organizations like BOI are helping to make Thailand an attractive investment opportunity, as well. BOI, an investment promotion agency owned by the Thai government, works both in the country and abroad to encourage investment in Thailand from foreign companies. It operates offices in Thailand, as well as in various parts of the world including in New York City and Los Angeles in the United States. Over the past few years it has also begun to promote Thai companies interested in investing overseas.
As a means of making Thailand a more attractive option to foreign and domestic investors, BOI has developed several policies and incentives designed to lessen the financial burden of establishing an office or manufacturing facility. The newest policy put into effect on January 1, 2015 enables investors to receive up to 8 years of corporate income tax exemption, as well as exemptions of import duties on machinery, raw or essential materials used in manufacturing export products and other non-tax incentives. There are certain criteria that must be met in order to receive the incentives, such as investing at least 1 million baht (U.S. $28,089.91) and putting into place measures to reduce environmental impact as much as possible. Projects with an investment of 10 million baht (U.S. $280,990.70) or more are required to obtain ISO 9000 or ISO 14000 certifications, or similar international standards certifications within 2 years of full operation startup.
Part of BOI's outreach efforts include support services for investors at its One Start One Stop (OSOS) Investment Center. The OSOS brings various governmental agencies—such as the Ministry of Commerce, Ministry of Labor and Ministry of Energy—together into a single location. Here, investors can easily meet with representatives from these agencies to obtain the applications and documents, permits and work visas they may need without having to travel around to various offices.
For companies looking to establish an office or manufacturing facility in the country, they can work with Hemaraj Land and Development Public Co. Ltd., a developer of industrial estates, utilities, power, logistics parks and ready-built factories. The company owns eight industrial clusters in various parts of Thailand which are located near major highways and seaports for easy transportation of goods. By grouping production facilities into clusters, it prevents them from being spread out all over the country, keeping environmental impact to a minimum.
Hemaraj will build factories to meet the specific needs of a company, or rent out ready-built facilities. The company also monitors all utilities for the buildings within its clusters and provides maintenance services when needed.
The companies investing in Thailand
Besides Kubota, several other companies from the heavy-duty equipment industry—both OEMs and component suppliers—have established a presence in Thailand, including Liebherr and Kobelco. Liebherr's facility in the Rayong Province produces and distributes mobile truck mixers and stationary mixing plants for the Southeast Asian market.
Bossard Thailand, a division of the Bossard Group—a manufacturer of fastening solutions—recently announced it was moving its operations to a larger facility located near the Suvarnabhumi International Airport, one of two airports serving the Bangkok area. The company sees continued growth potential both in Thailand and neighboring markets. "The investment and the relocation were necessary, as the resources at the previous site were no longer sufficient," explained Bossard Group CEO David Dean in a press release about the new facility. "Bossard Thailand is thus optimally prepared for a further expansion of the business activities in Southeast Asia."
In 2011, Caterpillar Inc. began building two manufacturing facilities, also in the Rayong Province of Thailand, which are located in one of Hemaraj's industrial clusters. Caterpillar's Underground Mining Facility started production of underground mining equipment in October 2012, while the Rayong Tractor Facility began vehicle production in May 2013. Over the course of the next 5 years, both facilities are expected to reach full production.
Caterpillar's Underground Mining Facility produces only underground mining equipment, particularly haulage and loading equipment, for the global market. While Caterpillar has another underground equipment facility in Australia, the one in Thailand produces the majority of the products for the market and is continuing to expand the number of models it manufactures. Brad Johnson, General Manager of the Caterpillar Rayong Underground Mining facility, notes the underground mining market will grow in the coming years as mining companies have to go deeper into the earth to extract more material due to most of the surface product being depleted.
The Caterpillar Rayong Thailand Tractors facility is a 40,000 sq. m (430,556.4 sq. ft.) building for the production of medium track tractors—models D5R, D6R, D7R and D8R—for Asia, the Middle East and other markets with fewer emissions regulations. It is a final assembly facility in which fabrication, finish welding and machining are completed. Mark Hallick, General Manager of Caterpillar Rayong Thailand Tractors, says it is important for the company to be located near the markets it serves, which is why Caterpillar established its facilities in Thailand. The Middle East, for example, is a large market for medium track tractors for construction applications; shipping the finished product from the Thailand facility shortens the delivery route, reducing shipping time and costs.
In addition to customer proximity, Hallick says the BOI incentives and access to a variety of suppliers in the region helped Caterpillar in its decision to establish the Rayong facilities. Infrastructure was also key in the decision-making process. Because many OEMs and suppliers from the automotive industry were already established in the region, much of the necessary infrastructure for shipping materials and products was set up, as well as supply chains and the availability of manufacturing equipment, eliminating the need to start from scratch. Hallick does note the city in which the facility is located is making investments to further develop the infrastructure to ensure roadways are wide enough for transporting finished equipment.
Building local talent
Thailand's overall goal with bringing in foreign investors is to enhance the country's competitiveness in the global marketplace and further develop economic growth. As such, it has made several investments into its education system to benefit the wellbeing of the people while also providing a talent pool from which investors can build a local, skilled workforce.
In 1992, the Thai government approved the establishment of the Thai-German Institute (TGI), a joint venture between the governments of Thailand and Germany to help develop labor skills, as well as technology for the manufacturing sector in Thailand. The German government provides staff training and technology to the institute, as well as subsidizes some of its costs, while the Thai government provides financial support. TGI also receives funding from the private sector.
TGI consists of three main centers of industry focus—Machinery and Automation System Center, Mold Die and Machine Tool Center, and Maintenance and Industrial Management Center. Each center offers a variety of courses for students to gain skills in the area that best suits their interests. The Machinery and Automation System Center, for example, offers a Digital Engineering track which provides coursework in engineering drawing, CAD and other CAE tools, and prototyping. TGI trains students by providing both classroom and hands-on training to ensure they will be ready for jobs in the manufacturing sector.
The institute also provides R&D, consulting and manufacturing services to small- and medium-sized companies; it is even capable of manufacturing small batches of products for a company. Doing so helps TGI to provide the real-world training its students need, in addition to offering a service to local businesses.
Robotics and automation have become increasingly popular areas of study in Thailand, as well as more widely used in manufacturing. Because of this, King Mongkut's University of Technology Thonburi established the Institute of Field Robotics, known as FIBO. Here, students receive a multidisciplinary education which focuses on mechanical and electrical engineering, and computer programming—all of which are basic skills FIBO says companies have stated are required for their continued development.
Arbtip Dheeravongkit, Ph.D., Deputy Director of Education and Chair of the Robotics and Automation Engineering Program at FIBO, says project-based learning is a large part of FIBO's educational focus as it believes hands-on learning is the best method. In students' third year, they are given projects which have real-world applications. Dheeravongkit says this is designed to help better bridge the gap between education and how it can be applied in real life.
Through Thailand's educational initiatives such as FIBO and TGI, as well as the country's further modernization efforts, it is working to overcome the stereotype that it is a third world country. In doing so it aims to not only attract more business investment, but also better the lives of its people.
Companies in this article