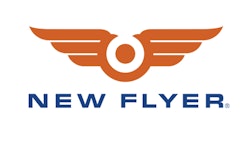 New Flyer Industries Inc., the largest transit bus and motor coach manufacturer and parts distributor in North America, has announced its results for the 13-week period ended July 3, 2016 (2016 Q2). The unaudited interim condensed financial statements and Management's Discussion and Analysis (the MD&A) are available at the company's website.
Unless otherwise indicated all monetary amounts in this press release are expressed in U.S. dollars.
Operating Results

Revenue from transit bus and coach manufacturing operations for 2016 Q2 increased by 68.3% compared to 2015 Q2, primarily resulting from a 71.4% increase in total transit bus and coach deliveries compared to the 13-week period ended June 28, 2015 (2015 Q2) and a 6.6% increase in the average selling price of new buses and coaches. The deliveries increased primarily as a result of the inclusion of MCI's new and pre-owned coaches. Similarly, bus and coach revenue for the 27-week period ended July 3, 2016 (2016 YTD) increased by 59.7% compared to the 26-week period ended June 28, 2015 (2015 YTD), primarily as a result of an increase in bus deliveries of 67.3% and an
increase in average selling price of new transit buses and coaches.
Revenue from aftermarket operations increased by 18.8% compared to 2015 Q2 and increased 22.7% in 2016 YTD compared to 2015 YTD, primarily as a result of MCI's aftermarket revenues. The pro forma aftermarket business revenue (which includes MCI) for 2015 Q2 was $124.5 million and $107.7 million when excluding the revenue from the mid-life overhaul program for Chicago Transit Authority (CTA). Therefore, the core aftermarket revenue in 2016 Q2 decreased 1.6% compared to the pro forma aftermarket revenue for the core business in 2015 Q2, but increased 2.7% in 2016 YTD compared to 2015 YTD. 2016 YTD also had an extra week compared to 2015 YTD.
Consolidated Adjusted EBITDA increased by 104.8% and 110.3% during 2016 Q2 and 2016 YTD respectively, compared to their corresponding periods in the previous year, which is primarily a result of increased unit deliveries and improved margins. Contributors to the increase in margin in the period is a very favorable sales mix (experienced in the past few quarters), combined with the full impact from the New Flyer and NABI product rationalization.
Margins vary significantly between orders due to factors such as pricing, order size, propulsion system, product type and components specified by the customer. Management cautions readers that quarterly transit bus and coach manufacturing Adjusted EBITDA can be volatile and should be considered over a period of several quarters.
The 2016 Q2 aftermarket operations Adjusted EBITDA increased 17.3% compared to 2015 Q2, primarily as a result of the addition of MCI's aftermarket business. As well, the 2016 YTD aftermarket Adjusted EBITDA increased 26.9% compared to 2015 YTD.

Net earnings increased by 180.9% compared to 2015 Q2, primarily as a result of improved Earnings from Operations offset by the increase in interest and income tax expense. This resulted in net earnings per common share (Share) of $0.58 compared to $0.22 per Share generated during 2015 Q2. Similarly, net earnings for 2016 YTD increased by 146.9% compared to 2015 YTD.
Liquidity
The company generated Free Cash Flow of C$60.8 million compared to C$26.4 million in 2015 Q2, primarily as a result of improved Earnings from Operations. The company declared dividends of C$14.2 million increased compared to C$8.4 million in 2015 Q2, primarily as a result of conversion of Debentures to Shares and the 35.7% annual dividend rate increase announced in May 2016. During the last 12 months ended July 3, 2016, there were 3.9 million Shares issued as a result of Debenture conversions. As at July 3, 2016, approximately 60% of the original $65 million of Debentures issued had been converted to Shares at a conversion price of $10 per Share. The current annual dividend rate is C$0.95 per Share. The company's policy of paying dividends changed to a quarterly basis. The first quarterly dividend on the Shares in the amount of C$0.2375 per Share (being C$0.95 per Share annually) was paid in July 2016.
The company generated Free Cash Flow of C$122.3 million during 2016 YTD compared to C$38.8 million in 2015 YTD. The company declared dividends in 2016 YTD of C$24.7 million compared to C$16.6 million in 2015 YTD. The 2016 YTD Free Cash Flow payout ratio of 20.2% improved compared to 42.7% in 2015 YTD.
The July 3, 2016 liquidity position of $242.8 million is comprised of available cash of $1.7 million and $241.1 million available under the Revolver compared to a liquidity position of $196.9 million at April 3, 2016. The liquidity has improved $45.9 million or 23.3% during 2016 Q2 resulting from improved cash flow from operations. Management believes these funds, together with equity and debt issuances, other borrowings capacity and the cash generated from the company's operating activities, will provide the company with sufficient liquidity and capital resources to meet its current financial obligations as they come due, as well as providing funds for its financing requirements, capital
expenditures, dividend payments and other operational needs for the foreseeable future.
Outlook
The company's Fiscal 2016 annual operating plan for the 53-weeks ending January 1, 2017 is focused on defending and growing its leading market position in the heavy-duty transit bus and motor coach markets through enhanced competitiveness and completing the integration of New Flyer and NABI's aftermarket businesses (referred to as Project Convergence). Management has now successfully completed the primary milestone for Project Convergence, being the consolidation of all aftermarket parts sales and operations functions to a single organization.
Management continues to gain knowledge and experience about the motor coach business and is actively developing a long-term integration/combination plan for operating the acquired MCI.
The focus has been on culture, facilities upgrades, investigating information technology harmonization potential, coach build quality and customer service. To date, MCI has performed to the acquisition case, and management believes approximately $5.0 million of the initially targeted annual cost saving synergies of approximately $10 million have been achieved through the rationalization of corporate costs and the coordination of basic sourcing and purchasing activities.
Management is taking the necessary time to evaluate and assess the various scenarios before determining further strategic actions to pursue longer term synergies and improved competitiveness. With the customized nature of the public transit bus and coach market, and the increasing U.S. content requirements resulting from the FAST Act, procurement synergies resulting from sourcing leverage are not easily attained. Further material changes must take into consideration an evaluation from several lenses such as: current supplier agreements, customer specified components, bus reliability and performance, and aftermarket serviceability and spare parts implications.
The current master production schedule combined with the backlog and orders anticipated to be awarded by customers under new procurements is expected to enable the Company to deliver approximately 3,450 EUs for Fiscal 2016 which compares to 3,265 EUs (New Flyer plus pro-forma MCI) in Fiscal 2015 (52-week period).
As previously reported on July 11, 2016, MCI received notice of an Executive Order by the Governor of New Jersey that required an immediate and orderly shutdown of all ongoing work under a contract to build commuter coaches for New Jersey Transit (NJT). MCI currently has a contract with NJT to build 184 coaches in the first year, of which 142 were to be delivered in 2016, to replace older coaches that are now past their useful life and are very expensive to maintain.
The company is closely monitoring the situation and as part of the orderly shutdown it will complete the NJT coaches already in process.
In addition, the company has adjusted its master production schedule to bring other customers' units forward, into production, allowing more time for an acceptable funding resolution in the state of New Jersey to be developed. At this time, the company has insufficient information to determine if its 2016 annual delivery expectation may drop below the 3,450 EUs for which it had previously provided guidance, but there is that risk. On July 18, 2016, MCI began its previously scheduled three week summer shutdown and during this period there are no production line entries.
Management maintains its guidance that the core aftermarket business (excluding CTA mid-life overhaul revenue) is expected to grow by approximately 5% in Fiscal 2016.