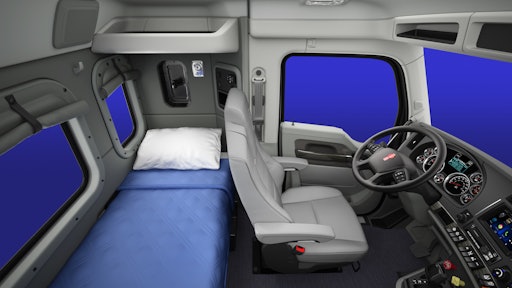 The new Kenworth 40-in. sleeper for the Kenworth T880 and Kenworth T680 will enter production next week.
Regional bulk haulers that prefer to operate a highly fuel-efficient and lighter weight truck with a compact, yet comfortable sleeping environment for optimum driver comfort, will find the Kenworth T680 equipped with the 40-in. sleeper a good fit for their operations.
In addition, the Kenworth T880 equipped with a 40-in. sleeper is suitable for vocational applications that use straight trucks, such as petroleum haulers or the tow industry. It is also suitable in open-deck or flatbed operations – hauling lowboys or other trailers where length and weight is a factor.
"The 40-in. sleeper offers drivers organizational features to make the space as efficient as possible for those who occasionally stay overnight," says Jason Skoog, Kenworth Assistant General Manager for Sales and Marketing. "The layout provides excellent flexibility and choice in meeting the operational needs of truck fleets and operators. In addition, it's 260 lbs. lighter than the Kenworth 52-in. regional sleeper offering important weight savings for additional payload."
Compared to the Kenworth 38-in. AeroCab sleeper, the 40-in. sleeper's 22 cu. ft. of storage space is greater, and its roof is 6 in. lower at 87 in., making the 40-in. sleeper the ideal height for vocational customer requirements. 
The new 40-in. sleeper features a 24 in. wide by 75 in. long liftable bunk that can be tilted up to 90 degrees for easy access to under-bunk storage. It offers a cell phone cubby, hooks specifically designed to hold hard hats as well as coats, and two standard toolbox doors. Fleets and truck operators may specify the Diamond VIT or Vantage interior.
To help drivers operating in tight locations, customers may order an optional 19 in. by 36 in. stationary or sliding window on the back of the sleeper, while also choosing to add two 19 in. by 12 in. outboard windows to go with the larger window. Some additional options include LED marker lights, extreme temperature insulation, premium speakers, side extenders, and stainless steel sun visor.
Both the T880 and T680 are now available with the new PACCAR MX-11 engine rated up to 430 hp and 1,550 lbs.-ft. of torque.