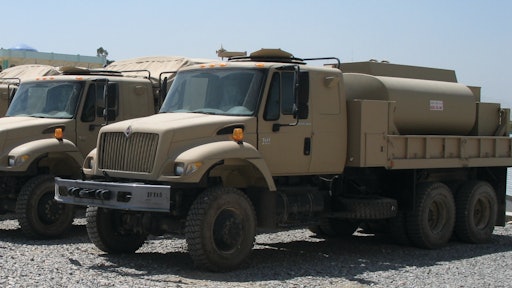 In 2005, U.S. Marine Officer Brad Watson was in active duty in Iraq when his armored humvee was destroyed by a roadside bomb. When he returned from combat, he came back with a new passion and personal interest in the developing MRAP (mine resistant ambush protected) program. The MRAP program was developed specifically to handle the development of roadside bombs or improvised explosive devices (IEDs), which had become so widespread and endemic in Iraq, that a vehicle was needed to handle the threat and protect the vehicle's occupants.
Watson became a program manager in the defense industry and became involved with Navistar Defense's MaxxPro vehicle program, their MRAP solution. "What my background brings as a program manager is a sense of urgency and firsthand knowledge of that the consequences would be had we not developed these lifesaving technologies," Watson explains. "On a daily basis I try to lead and inspire our team from that perspective—to pursue this program with an extraordinary sense of urgency. Lives depend on what we do." Since Navistar was awarded one of several MRAP contracts for OEMs in 2007, the company has built nearly 9,000 MaxxPro MRAP armored vehicles for the U.S. military in Iraq and Afghanistan.
A common perspective of military vehicles is one of design freedom. There are no emissions regulations to meet, no extreme cost restraints—only the best piece of equipment technologically possible to protect the lives of our soldiers. However, vehicle development and procurement can take years. In the immediate need of the MRAP vehicle, Navistar Defense decided to harness its proven reliability and established manufacturing system in its commercial vehicles to rapidly procure a solution.
The MRAP program was a rapid procurement program because lives were at stake and the war in Iraq needed a vehicle that was highly survivable quickly. That is a big part of the reason why Navistar Defense opted to utilize an existing vehicle design as the MaxxPro's foundation. "When we talk about things like survivability, we talk about things like armor and blast protection, but reliability and durability also contribute to survivability, in a way. If a vehicle breaks down outside friendly lines, that is now a threat and a danger to a soldier's life," Watson says.
"Leveraging the commercial background to develop a military vehicle is central to the story of MRAP," continues Watson. Navistar's 7000 Series WorkStar commercial truck shares the same DNA as the MaxxPro. The WorkStar truck was chosen as the basis for the MaxxPro thanks to its established history of durability and reliability. "When we were presented with the opportunity to develop a highly reliable, durable and survivable vehicle for the military, Navistar looked at its commercial vehicle line-up and selected what is today known as the WorkStar to be the basis for that truck."
Design parallels and differentiations
At Navistar's assembly plant in Garland, TX, the chassis for both vehicles roll off the same line. The MRAP vehicle capsule with bolt-on armor panels and the v-hull are added at Navistar's production plant in West Point, MS.
The v-hull design was built to channel the energy from an IED blast event out and away from the vehicle capsule, protecting the soldiers inside. Modified suspension rope seats, similar to those used in helicopters, are suspended from the cabin's ceiling to maximize a soldier's survivability and absorb energy from a blast event beneath the vehicle.
Transparent armor (a.k.a. windows) and the bolt-on composite armor are designed to defeat most threat weapons. "The MaxxPro leverages a bolt-on panel design which is one of its strengths," says Watson. "There is very little welding on the vehicle. It's modular and easier to work on because of that. This is all based on lessons learned in our commercial history."
The transparent armor has evolved since its first iteration on the original MaxxPro, now employing emergency egress windows in the event that an occupant is trapped in the vehicle.
The instrument panel and vehicle electronics between the WorkStar and the MaxxPro vehicle lines are very similar. "There are military (MIL) standards that the vehicle is held to that differ from what you find in the commercial environment," Watson adds.
In a recent press announcement, Navistar Defense said it plans to install new chassis on its MRAPs following an installation order worth $21 million from the U.S. Army Contracting Command for chassis upgrades for 2,717 vehicles. The retrofits are in response to the terrain difference between more urbanized Iraq (where the first MRAPs were deployed) and the more rugged off-road terrain of Afghanistan. Work will be conducted at the company's Mississippi facility and completed by the end May.
"We are focused on increasing the capabilities of our existing fleet with minimal impact to defense funding," says Navistar Defense President Archie Massicotte. "The vehicle reset line we established for this installation work can also be utilized to restore older vehicles to like-new condition."
Under the contract, Navistar will retrofit MaxxPro vehicles with its rolling chassis, DXM (Diamond Extreme Mobility) independent suspension, a MaxxForce 9.3 engine, 570 amp alternator and driveline.
"Keeping constricting budgets in mind, we continue to anticipate tomorrow's needs and develop new solutions to use existing assets," Massicotte says. "In addition to being ready for reset work, we already have options available that reuse the leftover chassis from this body swap." Armored cabs can be added to the old chassis, or a standard cab can be mounted for use as part of Navistar's commercial vehicle line. Another example of the value shared vehicle design structures can offer.
A survivability state of mind
While Watson says what he brings to the table with the MRAP program is a sense of urgency and first-hand experience, he also admits that Navistar Defense needed no assistance in establishing a strong work ethic. "When it comes to building this vehicle as quickly and efficiently as possible, Navistar's work ethic couldn't be stronger. That is part of the corporate culture here, and has been since Navistar became involved with defense vehicles going back all the way to World War I."
When Watson became involved with Navistar Defense two years ago, the project at hand was to develop the MaxxPro Recovery Vehicle (MRV), a modified MRAP vehicle designed specifically for damaged vehicle recovery missions. This is yet another example of Navistar leveraging its commercial vehicle expertise to get a vehicle delivered quickly to market. "We delivered the first MRV in less than 20 days after the contract was awarded, and the first three vehicles were fielded within 147 days after they received them." Watson continues, "For something of that complexity, taking an existing MaxxPro design and integrating an existing commercial wrecker body—the same wrecker body that is on highways today recovering vehicles—and fielding it that quickly is impressive for any company."
The MRV recently received the Red Ball Express Award at the Tactical Wheeled Conference. The award is given to organizations recognized for significant contributions to national security by developing or procuring tactical wheeled vehicles or contributing to technology critical to them. According to Dave Hansen, Marine Corps System Command's Join Program Manager for MRAP, the MRV stands as one of the most capable and complex recovery vehicles the Dept. of Defense (DOD) has ever fielded. It employs an elevating, rotating and extendable 30-ton boom, dual boom winches, towing winch, and an independent underlift capacity with an articulating towing crossbar. The vehicle can tow up to 55,000 lbs. and offer the same level of protection as the rest of the MRAP family of vehicles.
Leveraging military success in commercial products
The value of rapid procurement in military vehicles is a benefit gained from utilizing existing commercial vehicle platforms, but the lessons learned have in turn impacted how Navistar does business. The company will be leveraging and replicating the success of the quickness to market back into its commercial vehicle line, as well as reevaluating technologies implemented on military vehicles and putting them back into commercial vehicles is in the works.
"We are coming full circle as things that have come out of the military group are being considered for integration back into the commercial business. None of it is definite, but technologies such as the DXM independent suspension system are being considered for commercial industry integration," Watson confirms.
And, just as the MRAP program has impacted Navistar as a company internally, so too has it impacted how the DOD looks at contracts. The level of response a company can offer can mean the difference between life and death. Companies such as Navistar are now trying to be more proactive and anticipate the needs of the military, not wait for the government to request it. One such example is the company's Saratoga vehicle.
The Saratoga light tactical vehicle was introduced at the 2011 Assn. of the United States Army (AUSA) Annual Meeting and Symposium. The vehicle is targeted to fill the gap between the projected upgraded High Mobility Multi-purpose Wheeled Vehicle (HMMWV) Modernized Expanded Capacity Vehicle (MECV) and future Joint Light Tactical Vehicle (JLTV) programs.
The MRAP program has also helped to reshape the defense acquisition environment with such lessons-learned as procuring raw materials in advance, and being ready to act immediately upon contract award.
Companies in this article