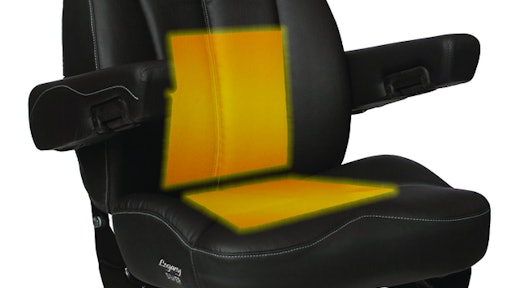 Seats Inc. has been named, "Manufacturer of the Year" by the Sauk County Development Corp. (Baraboo, WI) for a Large, For-Profit company within Sauk county. The award honors recipients for their significant contributions within Business Accomplishments and Contributions to Enhance the Community. Seats was founded in 1952 and started production in a 1,500 sq.-ft. factory with approximately seven employees.
Today, Seats employs (372) employees in three area facilities providing a full array of management, support, technical and manufacturing functions. Seats not only assembles finished seating products, but fabricates nearly all of the component parts to do so. They keep an inventory of nearly 30,000 different part numbers and facilitate the shipment of approximately 1,000 seats per day for the heavy-duty truck, emergency vehicle, delivery van, medium-duty motor coach, locomotive, construction equipment, and other over-the-highway and off-highway vehicle markets.
Business accomplishments
In spring of 2011, Seats will introduce their MV1 "Jump Seat". The MV1 Jump Seat is a collaborative project between Seats Incorporated and a new automotive vehicle company in Indiana. It provides seating behind a taxi cab's single driver's seat, while providing seating for two on the rear bench seat and room for two wheelchairs next to the driver.
Building on Seats Incorporated's knowledge in EVC technology, they have developed two new seating models for the locomotive industry – a passenger rail operator seat and freight locomotive seat.
Other products Seats Incorporated introduced in 2010 include;
Heated Legacy Seats
Midhigh Back COVERALLs
Microfibres Fabric Covered Seating
COVERALLs
Legacy Next Generation Seating
In 2004, Seats Inc.made a $3.2 million investment toward the purchase of spray skin technology equipment. This investment allowed Seats to offer a self-skinned product which provides better durability than competitive foam-in-place products. And, the end product is recyclable.
Seats noted their sales dollars per employee has increased by 38% over last year and their current employee count has increased 18% since April, 2009. Seats exports to Australia, Europe, Mexico and South Africa. Seats de Mexico (Saltillo, Coahuila, Mexico), their Mexico sewing operations facility currently employs (33) people.
In April, 2010, Seats Incorporated received its ISO 9001:2008 Certification. Their most recent ISO third party audit had no findings, reflecting a near perfect score. They offer Gainsharing (or qualitivity) bonuses to reward employees and as an incentive for continuous improvement. And, they feature quality focused education and improvement articles in their bimonthly newsletters.
Contributions to enhance the community
Seats employees have been involved in Annual Relay for Life, area collection drives, food drives, contributions to the United Fund and Ronald McDonald House, sending donations to troops overseas, hosting semi-annual blood drives and serving on the boards of many area businesses.
Seats Incorporated is a member of the Nordic Group of Companies in Baraboo. Each Nordic Group member company supplies a percentage of their yearly gross profits to the W.R. & Floy A. Sauey Family Foundation for donating to Nordic Group Member Company area causes according to the Foundation's guidelines. Since the Foundation's inception in 1998, Seats Incorporated has provided over $139,000 towards the Foundation's charitable activities including donations to area charities which focus on supporting children of the community and college / technical school scholarships to children of Nordic Group member company associates.
To assist in the wellness of their employees, Seats hired a Health and Wellness Coordinator to help educate employees and coordinate various health related programs. In addition, employees have access to a doctor which comes into the workplace and provides routine minor medical care and consultation for employees and their family members. As an enhancement of these services, Seats offers in-house physical therapy and a massage therapist is also available in-house one morning per week for a nominal fee. A company sponsored Weight Watcher's at Work program was intiated in February of 2010, recently a Lose for Life weight loss support group was started,and in the past a Biggest Loser competition was run by the Health and Wellness Coordinator .