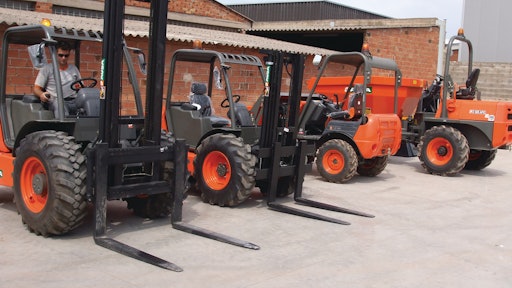 While most people picture bull fights and flamenco dancers when they think of Spain, the country is making waves in the world marketplace. Advancements have been made in a wide array of industrial sectors.
Thanks to ICEX (the Spanish Institute for Foreign Trade), OEM Off-Highway was able to participate in a week long trade mission to Spain to experience and witness first-hand this dynamic Mediterranean country.
ICEX is an agency that works with Spanish companies to promote their exports and facilitate international expansion. The event, America in Spain 2007, played host to over 90 different companies from the United States, encompassing 16 different industrial and technology sectors. ANMOPYC, the Spanish Manufacturers Association of Construction and Mining Equipment, made sure that each Spanish company we were introduced to was specifically geared towards the off-highway industry.
During the event, participants were given the opportunity to delve into the country's developing modern economy, as well as experience its exquisitely maintained and faithfully cherished cultural heritage. The trade mission had only three objectives during our stay in Spain: Introduce us to Spain's state-of-the-art industry and technology, explore prospects for new business relationships in Spain, and experience the warmth and hospitality of the people of Spain.
A keystone to international business
Spain has some special qualities that make it singularly qualified as an ideal international business community of the 21st century. Linguistically, historically and culturally, Spain can affiliate with over 560 million consumers in Central and South America as well as in most of the Caribbean. Geographically, Spain's close proximity to North Africa and the Middle Eastern markets create an impressive 264 million more consumers. A member of the European Union (EU), Spain has direct access and connections to the entire union, equaling around 406 million people. Of course, Spain itself contains an additional 44 million people creating a total potential market size of 1.2 billion consumers. Spain's ample coastline allows it to harbor some of the best sea communications available, with 53 international ports on the Atlantic and Mediterranean coasts allowing networking between the Americas, Europe and Africa with ease.
However, Spain's international presence is an infant at best when compared to the time other countries have spent exchanging goods. After World War II Spain was politically and economically isolated while under the dictatorship of Francisco Franco. Upon his death in 1975, his heir, Prince Juan Carlos, assumed the position of king and head of state, approving the Spanish Constitution of 1978 and establishing democracy. In 1986, Spain joined the EU, thus only giving Spain, at most, 30 years of international presence in the modern global marketplace.
Regardless, the economy has been growing at an alarming rate (more than twice as fast as the European average for ten years; 3.4% in 2005). Currently the eighth largest economy and the fourth largest investor in the world, Spain continues to swell as a full grown economic powerhouse. In the last 10 years alone, over 7 million new jobs have been created making Spain the OECD (Organization for Economic Co-operation and Development) country with the fastest rate of job creations. Close to two out of every three jobs created in the EU during 2005 were in Spain, according to Interés Invest in Spain, the leading government organization that supports foreign enterprises seeking to set up or expand their business in Spain and foreign investment.
Spain is a leader in innovation and industrial technology, providing solutions in industries such as biotechnology, machinery and industrial technology, renewable energy and water treatment. According to Interés and Ernst & Young, "Spain's geography and climate make it the perfect place for the development of some of the most important sustainable, renewable energy sources in the market. For example, Spain is the most attractive country in the world for the wind-generated electrical power industry." A study conducted by Ernst & Young in 2006 ranked Spain second among the top 10 countries investing in renewable energy.
Customer oriented
Consider that for many years, Spain was a self-sustaining entity, working solely within its own borders. For this reason, a large majority of the businesses in Spain are family-founded and -operated. The business style created in Spain was a personal approach, focused on building a relationship with the client, more so than chasing the all-mighty dollar (or euro in this case). To this day, the customer reigns supreme as the top-most priority of each and every company, willing to go to any lengths to please their clients.
AUSA, a family-founded and customer oriented company, prides itself on being an honest company that 'fights the honest fight'. Founded in 1956 in Manresa, Spain, AUSA is the largest manufacturer of site dumpers up to 10 tons, all-terrain forklifts up to 3.5 tons and multi-service vehicles in the world. AUSA sells its products in more than 70 countries and exports more than 35% of its production. The head office remains in Manresa with subsidiaries in France, the United Kingdom, Germany, China and the United States.
Says José R. Gómez, commercial director for AUSA, "We like to fight, but we like to have fun fighting." He explains that though they are in a competitive business market, AUSA strives to maintain friendly and courteous relationships with all customers, clients, and competitors. Furthermore, Gómez mentions that though they will continue to grow, they feel no need to rush growth in order to compete with the "big dogs." He says it is important to focus on maintaining a more personal relationship with each and every customer they have. It is AUSA's way of guaranteeing a quality product and a satisfied client. Working to ensure the most satisfaction for their customers as possible, AUSA conducts meetings between customers and its research and development team. As many companies have realized, it is a fast and efficient way to hear concerns and praises from the clientele, and allow users to feel influential with the development of the products.
AUSA enjoys and utilizes partnerships to help develop the product, the market, and customer satisfaction. AUSA, for example, has a relationship with U.S. compact equipment OEM Mustang Mfg. Co. Inc. According to Javier Davila, international sales support manager for Mustang, in the 1990's Mustang was looking to expand its export business and was looking for distributors with networks in place for their skid loaders. AUSA, coincidentally, was in need of a skid loader line to complete its product lines, and so began a fruitful partnership.
We like to fight, but we like to have fun fighting. — José R.Gómez
In the early 2000s, AUSA created AUSA Trading in order to differentiate OEM products from its own equipment. The Mustang skid loaders are painted in AUSA orange to maintain the AUSA product line tradition, or with the Mustang brand image on each machine. Furthering their relationship, Mustang provides support directly to the AUSA team. "Overall the relationship between Mustang and AUSA is very solid. We participate in equipment shows together; we often network with each other, and we maintain very open communication channels," says Davila.
Currently, AUSA's production and demand have grown faster than what the walls of the warehouse can hold, as products and parts seem to bulge out of the seams of its headquarters in Manresa. While it has continued to satisfy its customer's demand with quality machines made with in-house quality tested parts, AUSA does realize that continued growth is on the horizon, and its greatest concern is an inability to keep its customer satisfied. States Gómez, "We do not want to compete in volume. It is not in AUSA's interest to compete with the 'big brothers' of the industry." Within Spain's private market, AUSA is practically leading the way, and that is the way they would like to remain. Honesty and integrity are essential for this hard working company which would like to maintain the reliable and excellent product line that companies have come to know and respect.
One way AUSA ensures a quality product is an in-house testing facility where they test every product that comes through its doors. When choosing parts, AUSA has only three requirements: quality, cost, and distribution. As long as the parts it receives pass quality testing, are cost efficient, and are readily available, AUSA will use them.
While the company goes through some independent suppliers for its beds, counter-weights, and other components, some of its parts come from China. A common concern among AUSA's decision makers is the mounting unreliability with part quality. It is the ever present human error syndrome, which is why AUSA feels it is so imperative to have in-house testing on every shipment of parts.
The Roquet Group
A quality machine starts with the parts that go into it, and AUSA is no exception. One of AUSA's component suppliers, another family-run company, Pedro Roquet S.A., is located just north of Barcelona, Spain. The company has four factories in Spain where it designs, develops and manufactures cast-iron and aluminum hydraulic gear pumps and motors, directional control valves, solenoid valves, cylinders and castings for mobile equipment.
Founded in 1940 by Pedro Roquet Vilá and his two eldest sons, Roquet started as a workshop where the three would repair agricultural machinery and make rear-mounted fuel systems for cars. In 1951 Roquet started manufacturing hydraulic components, mainly for the agricultural industry. When a German tractor manufacturer, Lanz, (now John Deere) built a factory in Madrid in 1955 and needed hydraulic hitches, it asked the company to produce a special version of the hydraulic hitch for its tractors. Growth and diversification continued at a rapid rate through the next 25 years. But, when the political change to a democratic monarchy occurred, Roquet S.A.'s virtual monopoly in the Spanish market came to a halt. Prior to the political switch, Roquet had been able to provide a quality product for a low price, and combined with import tariffs, the political situation discouraged competition from abroad.
A new foundry was started in 1990 specifically to produce high-quality cast-iron, critical for hydraulic components. It was at that point that Roquet decided to concentrate on exporting. The early 1990s brought the Olympic Games in Barcelona and the World Fair in Seville creating exceptional economic growth for both Roquet and Spain. Competitors of Roquet also entered the Spanish market during this time, due, in part, to Roquet being unable to expand capacity quickly enough to meet the enormous increase in demand.
A decision was made in the late '90s to focus on specific core products: pumps, valves, power packs and cylinders. The most appropriate approach to this idea was to separate production facilities "with centralized design and development facilities with broad experience." The first step was building a new cylinder factory, Dinacil, in 1999 in Centelles, Spain. Fundiciones de Roda holds the cast-iron foundry. Tekor manufactures gear pumps and motors; and Roquet, the main plant in Tona, manufactures all other components and is the design and development center for the group.
Pedro Roquet is now finishing the installation of an automated line for its Dinacil hydraulic cylinder factory in Centelles. Dinacil was built in 2000, and in its first year of production made 32,000 cylinders. In 2006 the quantity had sky-rocketed to 350,000 cylinders. The automated line will allow for another 200,000 cylinders to be made per year. Roquet also plans to install another line with similar capacity when there is need.
Roquet S.A. supplies to such manufacturers as Kubota, AUSA (Spain and the United Kingdom), JCB, John Deere (Germany) and Terex (United Kingdom). Of its components, 65% of Roquet's total production is exported to around 50 companies. Richard Hall, sales director, explains that Roquet would like to increase the percentage of exports, mainly to medium and large sized OEMs, but is still very pleased with its current standing in the Spanish market.
Grupo Miralbueno
Another component supplier to AUSA is Grupo Miralbueno. It is composed of four companies active in both agricultural and industrial markets, and present in over 30 countries.
The four companies include Miralbueno Asientos y Componentes (Miralbueno Seats and Components), the group's head office located in Zaragoza, Spain, responsible for coordinating the other companies of the group. The principle activity is the commercialization of seats, components, spare parts, cabins, protective cabs and protective frames for both agricultural and industrial vehicles.
Miralbueno Otomotiv, is a manufacturing facility in Bursa, Turkey, dedicated to the production of seats. Miralbueno Cabins, also located in Turkey, is responsible for the production of the cabs. The final location, Miralbueno do Brasil, is located in Brazil and does the same principle activity as Spain's office.
This company is another example of a company that is willing to do almost anything for its customer. A branch of the company, MIPARTS, is a brand which Miralbueno uses to label all of the spare parts and accessories that come through its facilities. Whatever a client is looking for, Miralbueno finds. Whether it be filters, tools, hydraulics, tool benches, safety apparel or generators, customers will know that they can go through MIPARTS, thus Miralbueno, for any of their needs.
Discussing this with Benjamín Alonso Floría, sales manager for Miralbueno Asientos y Componentes, he says that Miralbueno is happy to be involved in every aspect of business, including commercial buying and selling, distribution, and manufacturing. He also mentions that there are sales representatives continually traveling the globe looking for more products to expand its current selection available to its customers.
"The customers we have are long-term customers," explains Alonso. "We supply them with good service and offer convenience." A convenience which stems from Miralbueno's desire to satisfy its customer's every need, regardless of whether it is related to its expertise of seats and cabs.
Miralbueno's global dimensions reach farther than just AUSA, as well. While Miralbueno does supply 90% of AUSA's seats for its machinery, other partnerships include global equipment manufacturers such as ARGO Group Italy and France (Landini), AGCO Group (Massey Ferguson), Case New Holland, Same Deutz-Fahr, and CLAAS Renault France, to name a few. Even with the extensive selection of goods and services offered by Miralbueno, the company continually pursue more opportunities to stay involved with the customer.
Willing to go the extra mile (or kilometer in this case) for the customer is a common theme that runs through Spanish business ethics. Not just a good customer, but a good partner is key to good business. Essentially every investment a Spanish business makes is a personal investment in a long term partnership with a person. The partnership is not with a company, but rather is with a person.
Trust, dedication and loyalty are evident in Spanish business relationships. AUSA's partnership with Mustang demonstrates the amount of trust and camaraderie Spanish companies work toward to have a successful relationship.
Roquet's personal foundry allows it to satisfy any request a client may have for a custom part, and Miralbueno's willingness to do whatever it takes, whether it is within its expertise or not, to satisfy its customer rounds off the examples of commitment and integrity of the companies.
Spanish hospitality extends beyond its hotels and courteous countrymen into its business sector. When a company invests in Spain, it is not investing in just a quality part or a quality machine, but rather a long term relationship with an honest company with seemingly endless commitment.
Companies in this article