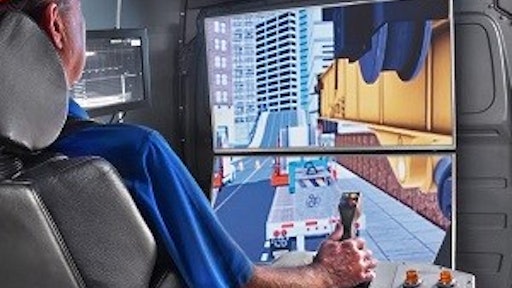 CM Labs Simulations, developer of Vortex training simulators, announces that J.R. Merritt Controls will be displaying a Vortex simulator, fully integrated with one of J.R. Merritt's operator chair systems and custom controls, at CONEXPO booth S82312.
Based in Stratford, CT (US), J.R. Merritt Controls provides innovative, custom joystick control technology and seating systems for a wide variety of applications, including crane and on- and off-highway applications.
Integrating J.R. Merritt's chair solutions and operator controls with the Vortex simulator for overhead cranes allows potential customers to experience the quality of their products "in action" versus just seeing them on display.
"With the simulator, we can set up the operator chair system so it's comfortable and adjusted properly for each individual operator, and then have them experience the increased productivity achieved by operating from a comfortable position," says David Marks, J.R. Merritt's VP, Sales and Marketing. "When they sit on our operator chair and use our products in a simulated environment, they immediately understand the benefits of our technology."
"Vortex simulators excel when it comes to providing a hands-on experience to highlight product capabilities," says Arnold Free, CM Labs' Chief Commercial Officer. "They allow innovative technology to be showcased in a unique and engaging experience for prospective customers."
A complete lineup of Vortex simulator training solutions will be on display at CONEXPO from March 7-11, at CM Labs/OETIO booth G72413.
Companies in this article